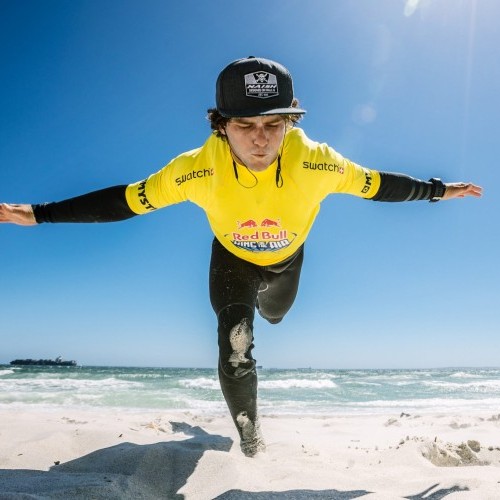 World's Best in Cape Town for Red Bull King of the Air
Sat 26th Jan, 2019 @ 2:00 pm
The globe's best big air kiteboarding athletes converge on Cape Town once again as the SA kitesurfing 'mecca' prepares for the illustrious Red Bull King of The Air 2019. Event organisers and kiteboarders alike are closely watching the weather as the official window period opens on Saturday. Kite Beach, Blouberg will again play host to this year's star-studded event.
Riders will have to master both the wind and the ocean in an attempt to rule the skies – with the ultimate goal of being crowned Red Bull King of the Air 2019.
The event window period extends from Saturday 26 January to Sunday 10 February 2019 to ensure that the 18 participants have the perfect conditions for big-air kitesurfing and will run on the windiest day within the window period.
The famous Cape Doctor gale-force winds are much anticipated, and event organisers will soon start the countdown to what is pipped as the pinnacle big air event on the annual kitesurfing calendar. Watch out for 48 hours and 24 hour alerts ahead of the competition.
This year, the competition plays host to a stock of past champions including:
Jesse Richman (USA), Aaron Hadlow (GBR), Nick Jacobsen (DNK) and defending 2018 champion Kevin Langree (NLD).
Also, expect a stellar field that includes Liam Whaley (ESP) and Lewis Crathern (GBR) who finished on the podium in 2018. There's also some local talent you should get down to Kite Beach to support with Red Bull Megaloop 2017 winner Josh Emanuel and Ross Dillon Player in the fore.
With familiar faces to the competition Ruben Lenten (NED) and Jerrie Van De Kop (NED) returning and GKA Kiteboarding 'Air Games' World Champion, Carlos Mario (BRA) making his debut at the event, young and old are encouraged to show the riders some love by coming down to watch them at the beach.
You don't want to miss a minute of this fierce battle as it unfolds, so be sure to keep your eyes on http://www.redbullkingoftheair.com as well as @RedBullZA's social channels 2019 for all of the alerts and wind condition update to make sure you get down to the Kite Beach, Blouberg for the most epic showdown yet!
The 18 confirmed participants:
Aaron Hadlow (UK) (2015, 2016 winner)
Aurelien Petreau (France)
Carlos Mario (Brazil)
Gijs Wassenaar (Netherlands)
Janek Grzegorzewski (Poland)
Jerrie Van De Kop (Netherlands)
Jesse Richman (USA) (2013 winner)
Joshua Emanuel (South Africa)
Kevin Langeree (Netherlands) (2014, 2018 winner)
Lasse Walker (Netherlands)
Lewis Crathern (UK)
Liam Whaley (Spain)
Marc Jacobs (New Zealand)
Nick Jacobsen (Denmark) (2017 winner)
Posito Martinez (Dominican Republic)
Ross Dillon Player (South Africa)
Ruben Lenten (Netherlands)
Sam Light (UK)
If you are aren't lucky enough to get to see the incredible tricks and mega loops in person, be sure to watch all of the action on Red Bull TV as it unfolds.
Featured in this Post
Comments