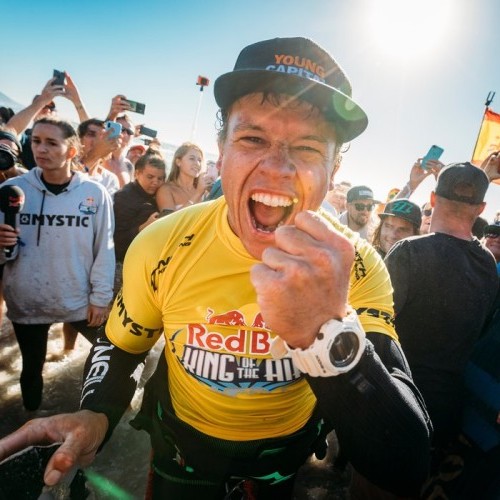 Red Bull King of the Air 2020 – Meet the Riders!
Sat 14th Dec, 2019 @ 10:13 pm
Past champions, local favourites and new faces will all vie for the 2020 title in the most prestigious big air kiteboarding contest in the world. This year, not only will the field see the most locals ever in the event, but it will also be the first time a woman compete for the crown when Angely Bouillot makes her debut!
"I'm really proud to be selected for Red Bull King of the Air 2020 after three years of trying," Bouillot, who qualified through the online video entry process, said. It's a real honour and am excited to prove that women have a place in these extreme events and my mission is to inspire young women to participate in more events like this."
Among the South Africans, Player and Downey both qualified through an innovative new qualification process. This process featured four satellite events around the world which together were billed as Fly to Red Bull King of the Air.
"Winning Red Bull Megaloop definitely gives me confidence going into Red Bull King of the Air," said Player, who, along with Downey (who won the Maui Kite Fest in Hawaii); Luis Alberto Cruz and Lewis Crathern automatically gained entry to Round One of Red Bull King of the Air through the series.
In keeping with the constant innovation of the event, the format will also change in 2020, seeing these four winners, along with 14 video entry winners competing in rounds One and Two of Red Bull King of the Air. These rounds will take place at a mobile venue, which offers the best conditions on the day, either the Witsand/Misty Cliffs area or Kite Beach, Blouberg.
From there they will advance to take on the top six riders from the 2019 Red Bull King of the Air event at Kite Beach in Round Three.
I see now what it takes to be at the top level and ride with the best riders in the world and I have a whole different mindset to the competition," Player said.
His sentiments were echoed by 2019 defending champ and three-time Red Bull King of the Air winner, Kevin Langeree. "I think the new format is really cool," he said.
"Those first two rounds will give some new riders a big opportunity to show what they're capable of and to eventually compete for the title," said the Dutchman, who outgunned Hawaiian Jesse Richman (2013 Red Bull King of the Air champ) and Liam Whaley (Spain) in 30-knot 'Cape Doctor' conditions during the 13-minute 2019 final to make him the winningest Red Bull King of the Air competitor.
Full Rider List
Top six from 2019 (in seeded order, into Round Three)
Kevin Langeree (NED)
Jesse Richman (USA)
Liam Whaley (ESP)
Nick Jacobsen (DEN)
Lasse Walker (NED)
Aurelien Petreau (FRA)
Fly to Red Bull King of the Air winners (in alphabetical order to Rounds One and Two)
Lewis Crathern (GBR)
Luis Alberto Cruz (DOM)
Stuart Downey (RSA)
Ross-Dillon Player (RSA)
Video entry winners (in alphabetical order to Rounds One and Two)
Steven Akkersdijk (NED)
Angely Bouillot (FRA)
Airton Cozzolino (ITA)
Ryan De Witte (NED)
Joshua Emanuel (RSA)
Janek Grzegorzewsky (POL)
Aaron Hadlow (GBR)
Clement Huot (FRA)
Marc Jacobs (NZ)
Posito Martinez (DOM)
Antonin Rangin (FRA)
Reno Romeu (BRA)
Oswald Smith (RSA)
Jason van der Spuy (RSA)
For more information on the 2020 Red Bull King of the Air, please click here.
Sat 14th Dec, 2019 @ 10:13 pm
Featured in this Post
Comments