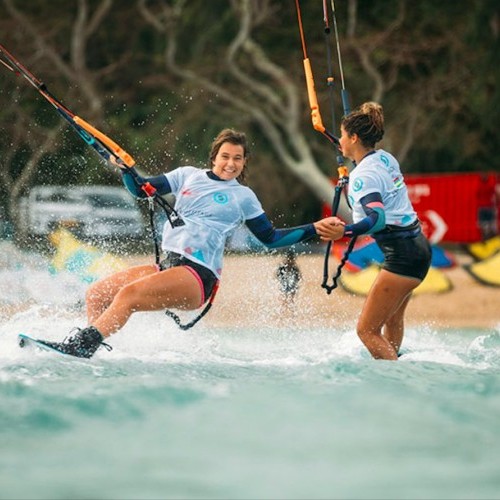 GKA Kite World Cup Mauritius: Day Three
Sun 8th Sep, 2019 @ 10:00 pm
Tee'd up for a big day on Monday! A much stronger wind was blowing early this morning, and the first men's Freestyle heats were on the water by 9 am sharp. The agenda was packed, and after a long and intense day of competition here at the GKA Kite World Cup Mauritius event, which is taking place in front of the Heritage Resort in Bel Ombre, we've reached the women's Freestyle semi-final and men's quarter-final stage.
This tees up a crucial day tomorrow which will no doubt prove pivotal in the search for this year's GKA Freestyle World Champion.
No doubt, the standout performer in the men was Nicolas Delmas. The French rider rode out of his skin for the highest heat score of the day with a 35.5 total in round two. Incidentally, he also amassed 31.3 from his four counting tricks in round one but finished second to Gianmaria Coccoluto who, in spite of tangling his kite in a tree, punched his way up to 31.7 points to still go on to win the heat.
There were several good performances throughout rounds one and two for the men, most notably from Liam Whaley, the 2015 World Champion from Spain looking imperiously smooth and untroubled. Current World Champ Carlos Mario had his round one heat done and dusted, unassailable with two tricks left to go and advanced directly to the quarters. It was a similar story for the tour's current leader, Maxime Chabloz, who also eased through. A special note must go to Oswald Smith; the South African has reached the quarter-finals and is the only rider competing in both the Freestyle and Kite-Surf wave disciplines this week. Having arrived here directly from Indo, he confessed that this is the first time he's ridden freestyle in two months. When he's on his game, he's a bit of a freak and naturally gifted with a kite in his hands.
In the women, current world champion, Brazilian Mikaili Sol, hasn't had the easiest ride this season, but clawed her way back to the top of the overall leaderboard last time out in Fuerteventura, holding a narrow lead over Pippa van Iersel in second.
Mikaili charged into her first heat today against Spaniard Claudia Leon, which produced one of the most entertaining and high standards of heats that we saw all day; tight and on a knife-edge until the very last trick. Sol didn't need a huge score on that trick, but we've seen her fail in the same situation this season.
No upsets today though, she stomped a backside 315 to win, but in the end, both women went through due to the way the heat draw fell with just ten women in the ladder. Both Mikaili and Claudia advanced, but Mikaili carries the higher seeding and the advantage of taking her trick attempts last in the semi-final.
Women's semi-finals line-up:
Semi-final 1
Nathalie Lambrecht (SWE)
Claudia Leon (ESP)
Bruna Kajiya (BRA)
Paula Novotna (CZE)
Semi-final 2
Therese Taabbel (DEN)
Pippa van Iersel (NED)
Rita Arnaus (ESP)
Mikaili Sol (BRA)
Men's quarter-finals (Round 3):
Heat 13
Joselito del Rosario (DR)
Nicolas Delmas (FRA)
Valentin Rodriguez (COL)
Gianmaria Coccoluto (ITA)
Heat 14
Oswald Smith (RSA)
Stefan Spiessberger (AUT)
Arthur Guillebert (FRA)
Carlos Mario (BRA)
Heat 15
Aron Rosslee (RSA)
Juan Rodriguez (COL)
Adeuri Corniel (DR)
Liam Whaley (ESP)
Heat 16
Posito Martinez (DR)
Louka Pitot (FRA)
Paul Serin (FRA)
Maxime Chabloz (SUI)
So we're set up for a big day tomorrow and expect a thrilling climax to both the men's and women's Freestyle! Will there then be time to switch back to the Kite-Surf wave? It's literally all happening in Bel Ombre this week!
There are two live event pages for the week: Freestyle or Kite-Surf depending on which discipline is running at the time, where you'll find the live ticker of heat info and the live scores over the coming days.
Sunday 8th September 2019
Location: Bel Ombre, Mauritius at C-Beach Club / Kite Globing
Words: Jim Gaunt
Photos: Ydwer van der Heide and Svetlana Romantsova
Featured in this Post
Comments