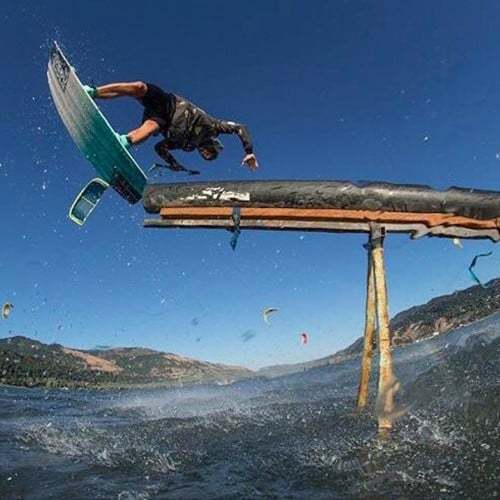 Patagonia Hood Jam – Final Results
Mon 30th Jul, 2018 @ 10:50 am
It would be an understatement to say this year's Hood Jam event scored epic Kiteboarding conditions. Ian Daly (local rider and judge for the event) said it best, "These are the best conditions I've ever seen for an event here".
With great conditions came excellent riding, the level was the highest and tightest in KPL history. NBDs (Never Been Done Tricks) were thrown in both the men and women's competition, whilst the top three men were separated by a mere point.
Guessing the order of the top five in the men's competition was a hard task but it was clear that Brandon Scheid, Ewan Jaspan, and Sam Light all had the overall consistency across features to take a podium spot.
Ultimately though it was the hometown hero Scheid who ranked first on four of six features and took out the top spot, Scheid closely followed 0.03 points behind by Jaspan then Light. Scheid's local knowledge and ability in the Slider Project park is second to none and it's no surprise to many that he's brought home the Hood Jam title for yet another year. Jaspan and Light are nipping closely at his heels and it will no doubt be another epic battle royal at the Kite Mansion in Brazil for the final KPL stop later this year!
The women's field was stacked and provided an interesting watch with new faces moving up the rankings. Julia Castro took out second place with an admirable display on the Cabrinha Funbox making a hit that could have easily topped the men's qualification round on that feature, unfortunately, though Castro didn't have the consistency across the park to make up the 4 point lead from Winkowska.
In third place was a new face, Katie Potter. Potter has been on a tear lately, riding solid at the SSS then progressing her riding over the last few months in the Slider Project park. It may come as a surprise to some that she took out the third position, yet if you had seen her in the park recently you'd know why she did with a fearless and fast-paced approach clearly impressing the judges. It was once again Karolina Winkowska however who showed us why she's four times World Kiteboarding Champion, taking a tactical yet aggressive approach to all features in the park, garnering her the top position.
The results:
With stop two of the Kite Park League tour over for another year stay tuned for the official event video and media on the KPL Facebook account!
Featured in this Post
Comments