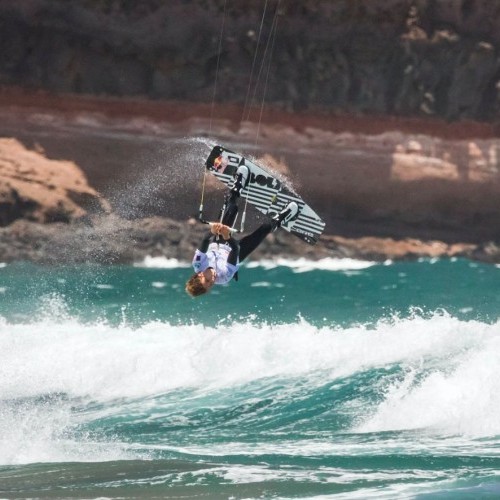 GKA Freestyle Gran Canaria – Semi-Finals Reached
Sat 15th Jun, 2019 @ 12:00 am
It's down to the Semi-Finals at GKA Gran Canaria! The plan for today (Friday morning) had been to roll straight back into the heats after Thursday's action wrapped up with just two heats left to run before the semi-finals.
The riders were back on the spot at Playa de Vargas at 09:00 this morning hoping for an early start but that was just the beginning of what was going to be a long day of waiting for the wind.
The wind would continually build up to a rideable strength and then back off, and by 5 pm it was looking worryingly like it wouldn't come in at all.
Then, just as it was beginning to look like a lost cause, it was on! Men's heat 15 was up first with three powerful riders from the Dominican Republic; Joselito Del Rosario, Luis Alberto Cruz and Posito Martinez taking on Liam Whaley for a spot in the semis.
Cruz lead from early on with a 317 for his first trick that earned him 7.3 points and the light wind was working in his favour with faltering conditions leading to two stoppages in the early stages of the heat.
Whaley then pulled it around, going from fourth to first with a double heart attack (6.83) and BS 315 (7.07).
From here, a pitched battle ensued with Cruz sticking a front blind mobe (6.83) to retake the lead. Whaley then moved back into first with a back mobe five (6.23) and, with just two tricks to go, he was leading but only by 1.53 points.
At this point, Posito Martinez came back from the brink and straight into second place with a 317 (7.37) putting him within reach of Whaley if he could have landed a 7.2 or more.
It wasn't to be though. Liam landed an FS7 (7.07) to put some distance between him and Martinez and Luis Alberto Cruz cruised back into second with a BS 315 (6.53) to go through to the semis alongside Liam.
Both riders had to work for it though. The fluctuating conditions meant that that heat took over 90 minutes to complete!
The next heat saw Carlos Mario underline just how cool of a customer he is against Paul Serin, Louka Pitot and close friend Set Teixeira. At the halfway point he was still down in fourth place with close Set leading, but he didn't look remotely phased.
He pulled into the lead with a KGB5 for 7.57 points, the highest scoring trick of the day up to that point, and then he racked up a series of similarly high scores to hold his position.
Set mounted a comeback late in the round, but it wasn't enough, and Mario won the heat with a combined score of 31.31 – one of the highest of the event so far.
From there, it was into the last heat of women's round two between Pippa van Iersel and Bruna Kajiya.
Pippa had the stronger start with a BS 313 (6.07 points), but she crashed her next three tricks and, although Bruna was scoring lower, she was still scoring. And that's what counts.
Bruna then landed a high scoring back to blind (6.6) to secure first place, and she ran away with the heat from this point on.
Unfortunately, Pippa didn't land any more tricks in the heat while Bruna finished her relentless barrage with a back to wrapped for 7.7 points, which was one of the highest scores from the women at this event.
Bruna's victory meant she would go straight through to the first women's semi-final heat against Therese Taabbel and fellow Brazilian Mikaili Sol.
Mikaili fired out of the gates with a slim chance (7.07) and an s-bend to blind (5.37) to take the lead, but the wind dropped out entirely as the sunset, and the heat was cancelled.
No more heats could be run today, so all hopes are pinned on tomorrow, the last day in the event window with the forecasted wind, to continue with the men's and women's semi-finals.
Check the heat ladders below to see what's coming up in both the men's and women's divisions.
First possible start, Saturday 15th at 11:00 am. Head to the GKA Freestyle World Cup Gran Canaria event page to see all the scores from today's heats and find all the heat reports from today's action here.
Report: Matt Pearce / All photos: Svetlana Romantsova
Featured in this Post
Comments