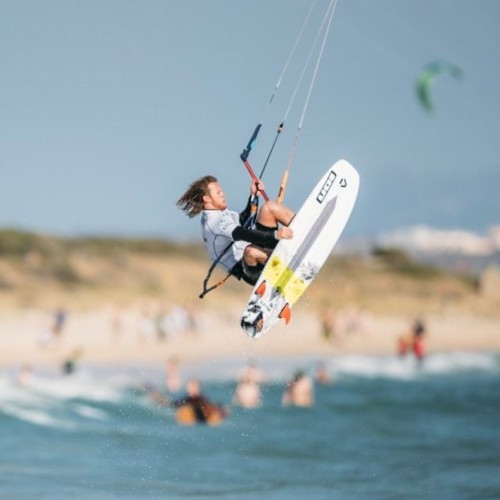 GKA Kite World Cup Tarifa – Closing Wrap-Up
Sun 7th Jul, 2019 @ 9:30 pm
The taste of final day glory on a 'Super Sunday' of cross-discipline kiteboarding competition in front of a packed Valdevaqueros beach at the Bibo Beach Club was oh so close… Tarifa you tease!
After five frustrating days of competition, taunted by low lying cloud which pushed back the thermal winds, or voodoo local effects playing hocus pocus right in front of the race director's eyes, we arrived at the beach this morning and were greeted by a very different scene: clear skies and the Poniente blowing.
Over 80 riders registered for this event, one of only a few truly cross-discipline official World Championship events ever seen, and with such strangely absent conditions this week, there were a lot of heats to get through. All riders were on the same page though and accepted a slightly shortened format for their heats to fight collectively for a result.
We flew through the afternoon heats, seeing both Men's and Women's Freestyle and Men's Kite-Surf strapless freestyle on the water, often switching from one discipline to the next in back-to-back heats. It was a real optical feast of kiting on the beach!
Maxime Chabloz continued his impressive charge towards the title this year, achieving the highest Freestyle heat score of the day, which was second only to Adeuri Corniel's opening heat tally of over 34 on day four.
Pippa van Iersel and Therese Taabel made it to the women's Freestyle final on Sunday, but as the wind dropped just before the second semi-final ran, the official result rocks back to the semi-final stage and eight women share the World Championship points.
Of course, we had already reached a final result for the women's Kite-Surf strapless freestyle back on day three, with Carla Herrera-Oria claiming back-to-back event victories and moving ahead in the championship.
The Kite-Surf men had reached the quarter-final stage before Sunday began. They managed to get through two-quarter final rounds, won by Simon Joosten and Mitu Monteiro but, again, as with the women's Freestyle, the result rocks back to the quarter-final stage.
Race director Juan Antonio Aragon is all too aware of how the World Championship point system works and, up against an incredibly tough time frame in the end, with a drought of normal conditions at this time of year here in Tarifa, by hook and by crook, we have an official points result for both men and women, across both disciplines.
This time on Friday night, with the way the forecast was looking, we'd have taken that! So… onwards and upwards!
The top finishing riders crowded on to their respective podiums and, just after GKA Secretary General Joergen Vogt had completed an ear-piercing rendition of Happy Birthday to Mitu Monteiro, event organiser Jaime Herraiz took to the mic to thank everyone.
"What can I say? Of course, we're a little disappointed with the wind this week, but you guys know me and know that I like a challenge. So we will be back bigger and stronger next year, and Tarifa will always have a place for all of you. Good luck with the rest of the world tour and we look forward to welcoming you all back!"
It has been a strange event. Tarifa has been a loyal venue for the GKA, and it has always provided truly classic moments. Airton Cozzolino delivered a real heat of brilliance on Thursday, and we'll hold on to that memory.
As Jaime went on to conclude, "We won't let the wind beat our spirit!" The wind brought us together, and we saw a united atmosphere this week, with riders like Carlos Mario riding a strapless surfboard alongside Mitu Monteiro. The two codes of expression-based kiteboarding disciplines came together and shared the emotions of competition.
For sure, we all leave here as a tighter unit, and who knows what the future holds? Will we see world-class Freestyle riders training hard to compete in two disciplines next year… to become the ultimate kiteboard rider? Don't put it past them!
What we do know is that the current Freestyle riders will be back in action at Sotavento on Fuerteventura, Spain from 19 – 24th July for round four, before heading to Bel Ombre on the beautiful island of Mauritius, where we'll see another double discipline event go off with Freestyle and Kite-Surf (wave discipline), from the 6th– 15th September!
Here's a summary of how far we reached in Sunday's competition after a busy, vibey day at Valdevaqueros:
Women's Freestyle Semi-Finalists
Pippa van Iersel
Therese Taabel
Pauline Valesa
Maureen Castelle
Claudia Leon
Paula Novotna
Nathalie Lambrecht
Mikaili Sol
Men's Freestyle Semi-finalists
Gianmaria Coccoluto
Luis Alberto Cruz
Adeuri Corniel
Maxime Chabloz
Jerome Cloetens
Stefan Spiessberger
Liam Whaley
Carlos Mario
Men's Kite-Surf Strapless Quarterfinalists
Kiko Roig Torres
Simon Joosten
Pedro Matos
Mitu Monteiro
Toni Ciliberto
Jan Marcos Riveras
Anderson Reboucas
Airton Cozzolino
Previous Result:
Women's Kite-Surf (Strapless Freestyle) Result:
1 Carla Herrera-Oria (ESP)
2 Sabine Beukelaars (BEL)
3 Barbara Sgardello (ITA)
4 Johanna-Catarina Edin (SWE)
For more information on the GKA Kite World Tour, please click here.
Words: Jim Gaunt Photos: Ydwer van der Heide
Featured in this Post
Comments