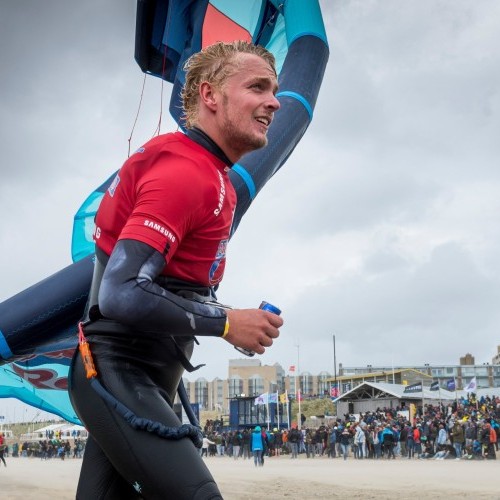 Red Bull Megaloop 2023 | First 10 Riders are Invited
Thu 16th Feb, 2023 @ 12:00 pm
Now that the dust from an unprecedented Red Bull King of the Air has settled, we're ready for the next chapter in the kiteboarding progression: Red Bull Megaloop. The wind window will be open between April 1st and November 1st. During those months, 16 of the world's best kiteboarders will be on standby to compete in the most extreme storm conditions.
Win a Commander Twin Tip by Eleveight, CORE's all-new Link harness, or an ultra-light board bag from Prolimit this issue in our FREE subscriber prize draw.
Today, the Sports Committee has invited the first 10 riders. The selection is based on performance in big air kitesurfing events and freeriding in massive storms. The team has been following these riders closely over the last few months. This resulted in a list of 7 riders, with 3 wildcards handed out to the title defender, the 2022 winner of Red Bull King of the Air, and 1 event wildcard.
The First 10 Invited Riders For Red Bull Megaloop Are:
Liam Whaley (ESP)
Giel Vlugt (NED)
Jamie Overbeek (NED)
Cohan van Dijk (NED)
Andrea Principi (ITA)
Jeremy Burlando (ESP)
Marc Jacobs (NZL)
Ross-Dillon Player (RSA) – Wild card defending champion
Lasse Walker (NED) – Event wild card
Lorenzo Casati (ITA) – Wild card winner King of the Air 2022
"Extreme big air kiteboarding is definitely progressing, and fast. We're seeing huge tricks being thrown with S-loops, double megaloops and short line loops. There is a new, upcoming generation that has clearly proven they're ready for their first Red Bull Megaloop. Let's hope that Mother Nature brings us the right conditions this year, so we can all enjoy the insanely high level of riding and flying at this great event." – Ruben Lenten
Video Submissions
To complete the riders list of 16, the other 6 additional invites will be handed out to the best submissions of the Red Bull Megaloop Qualifier series. All riders can submit their video to impress the judges and show their skills. The committee will judge the videos on extremity, execution, and flow.
Videos can be submitted until March 15th right here.
Red Bull Megaloop will take place at the Spot, Zandvoort Beach, the Netherlands, between April 1st and November 1st when the right storm hits the Netherlands. That means at least a steady 35 knots from South West or South / South West for at least 5 hours.
Featured in this Post
Comments