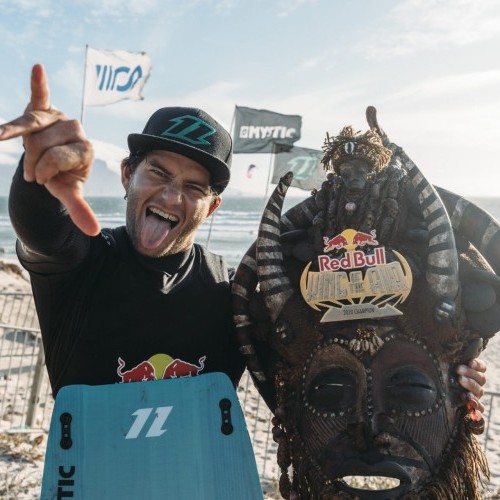 Red Bull King of the Air 2020 | The Highlights
Features / Thu 13th Feb, 2020 @ 12:39 pm
Now the dust has settled it's time to take stock and look back on one of the best KOTA's in the event's history, with the wind blasting the beach all day the organisers did an amazing job of getting the whole event finished in a single sitting. As the riders, judges and event crew gathered on the beach, tension filled the air, would Aaron Hadlow take the title once more, would Kevin Langeree fly on his new kites, or perhaps after last years event Jesse would take the crown after narrowly missing out.
There was an optimistic feeling of a strong and full day for King of the Air, with a promising wind forecast from the morning. Running it all in a full day is unusual, and over the years the event has become spread out over two or sometimes three days. It's how the South Eastern (Cape Doctor) has begun to blow, coming in mid to late afternoon. With 6-7 hours of competition required to complete the event, on a typical day, the riders meeting is scheduled for 15:00 with a first possible start at 15:30. The first day of the event window on the 1st of February presented the first opportunity of acceptable conditions, but it was not to be, with the wind not quite over the 25 knots average that the event requires.
Thursday the 6th of February would be the next opportunity, and with wind on the cards from the early morning, our riders briefing took place at 10:00 with a first possible start at 10:30.
What you could not see over the live stream from the comfort of your home, is the large number of logistics required to put this event on.
The Logistics include:
The scoring system needs to be running and working for judges and the public.
The live cameras have to be all set up and ready to film.
The event site had to be prepared with catering, toilets, editing suits, mobile offices, live stream booth, merchandise stand, VIP area, judging/media tower, weather station installed, and so on. All this is manned in 24 hours at least, 5 days before the 1st day and until the event is over.
Road closures put in place outside the event area.
Life-saving jet ski's and crew ready, medics and ambulances present.
WOO team ready.
All crew ready to go (judges, rash vest people, media people, reporters, MC's)
and thats probably just half of it…
It must all be in perfect sync, and with 8 years under its belt, it is. With a very experienced team who all know their roles, King of the Air runs smoothly.
In a bid to freshen things up for 2020 it would only be the previous years top six receiving an automatic spot in the main event. (previously top 10)
Kevin Langeree, Jesse Richman, Liam Whaley, Aurelian Petreau, Lasse Walker would be seeded 1-6 and able to relax knowing they would only start from Round 3.
The winners from the 4 Satellite' Fly to' events would receive flights covered and automatic qualification to the event. They incur a ranking of 1-4 in Round 1. This ranking decided by overall KOTA ranking since 2013, the start of the Cape Town KOTA.
#1 Lewis Crathern: Fly to Red Bull King of the Air #Taiwan
#2 Ross Dillan Player: Red Bull Mega Loop
#3 Stuart Downey: Maui Kite Fest
#4 Luis Alberto Cruz: Cabarete Kite Fest
The last 14 spots derived from the 12 best video entries and 2 local SA Wildcards; Oswald Smith and Jason Van Der Spy. These final #5 – #18 seed rankings for Round 1 being decided on overall KOTA ranking since 2013.
Why does ranking matter?
It means a lot to riders, and every one position higher you can get yourself ranked, arguably gives you a better draw. With a higher ranking, you are more likely to avoid the top riders on the way through the ladder. It is a common feature amongst sport throughout the world. It is the fairest way to decide who will face who on the way up to the podium. Ranked 1 in Round 3, the previous years' winner, Kevin Langeree for example, enjoys the luxury of riding in the last heat of that round (Wind is likely to be stronger, and he could have gained experience of the conditions watching the other riders)
12 Nations, 24 Riders, The first female in the event and the first rider using a strapless board are all ready to go and at 10:30 and it's 2X KOTA winner Aaron Hadlow kicking things off.
Round 1
Aaron starts of the event in style winning comfortably in Heat 1 Round 1 taking the direct route to Round 3. Ewan Jaspen impresses on his debut KOTA event, a rider that many feels should have been included in the event years ago. With multiple grab combinations during the key moments in mega loops, he progresses well through the early rounds.
Marc Jacobs impresses during this round. With so much talent and an ability to perform pretty much all the moves you see at KOTA, Marc is a strong rider thats results over the years have not reflected his ability. It is a good start from him, and he progresses to Round 3.
Ross Dillon Player, the winner of the Red Bull Mega Loop, wins the tight battle of the South Africans and forces Joshua Emanual into Round 2.
Experienced KOTA riders, Reno Romeu and Akkersdijk are split by less than 0.5 in favour of Reno in a very high scoring heat for Round 1. Airton, with a big score himself, has to settle with 3rd, but it must be stated he scores the highest score in this heat and in the whole of Round 1 with a 7.74. The judges were impressed with his technical ability, and he is matching the other connected riders with height.
Other mentions for Round 1 should go to Antonin Rangin, who smashed through to Round 3, and Posito Martinez, causing more misery to Lewis Crathern ousting him to Round 2.
Round 2
The round you do not want to be in, reserved for the 'losers' of Round 1! It's head to head to stay in the event and your last chance. There is nothing worse than going out at these early stages. Fully aware that the conditions are likely to strengthen over the day, it is worse then watching while injured, dreaming, thinking how well you could be riding if still in the event. It is the time for ultimate focus; to advance to Round 3 gives you another life back. The wind is still suitable though not nuclear; riders opting between 9m and 10m kites.
There are no surprises in this round, and the bigger names save there bacon and head into Round 3. Leaving the event but with notable performances!
Ryan De Witte puts in a powerful performance on his debut but is no much for Steven Akkersdijk.
Angely Bouillot, respected by the other riders in the event, bows out at this stage. It is clear the strong wings suit her riding style much more, but she has represented the ladies by competing here.
Clement Huot, the youngest rider to feature at 17, only just loses to the more experienced Stuart Downey, it is a good effort from the French Man.
Airton Cozzolino exits at this stage but has proven he can match the height of the other riders in these conditions. What he has done on a strapless board is incredible, and many of the fleets can't believe he is actually landing things and consistently… in both rounds. He has indeed achieved a better total heat score than 6 other riders in Round 2. Thats 50% of those riders in this round. For him, unfortunately, his opponent, Joshua Emanual, scores the 2nd highest score in this round. His KOTA is over.
Oswald Smith beats Jason Van Der Spy in the battle of South Africans, Van Der Spy loses by 0.5 but has ridden very well in both heats and is a victim of a tough draw.
Round 3
Here we are about to see the top 6, the big names from last years event are thrown into the mix! Back to three-man heats and the only heat of the event which features the flag out system where the 3rd place rider after 8 minutes leaves the water and heads to Round 4. The top 2 battle it out for a place in the quarter-finals.
Lasse Walker, one of last years' 4th placed finishers is the first big victim of the day, finishing 3rd in his heat. Is there an argument that the riders that have already been on the water have an advantage? Or is it just a tough draw for the Dutch rider? Marc Jacobs powers through in first and Ewan Jaspen takes 2nd albeit after a huge mega loop blow out where we see the jet ski and crash flag come into action. It is a big reminder to us all, there is danger within this discipline. He has damaged his ribs and looks like he may not continue in the event.
Liam Whaley with his 100% podium record still intact at KOTA, opens his first heat of the day impressively and wins comfortably with Posito Martinez riding well close behind in 2nd.
The excitable Jesse Richman lights up the beach smashing in the first 30+ score of the day with Joshua Emanual in 2nd.
Steven Akkersdijk is finding a good rhythm and advances into the quarters overpowering another of last years 4th placed finishes Aurelien Petreau, but Petreau has taken 2nd with a good heat.
Nick Jacobsen also starts his day off in style winning strongly from Stuart Downey in 2nd.
Those with a keen eye on rankings would have noticed that Aaron Hadlow winning his Round 1 heat would be destined to meet defending champion Kevin Langeree in the final heat of Round 3. The rivalry is still there between the 2, and both go hard at it, split by 0.9 Hadlow takes the win and last years champion now faces a tougher route through to the finals.
Round 4
It's last chance saloon, and for the 2nd time for some of these riders. From this moment on, there are no more second chances. There will be head to head heats all the way up to the three-man final.
In the all South African first heat of Round 4, Stuart Downey beats Ross-Dillon who just never seemed to get going into his big moves. Incredibly the first man to represent Australia at the KOTA is back out there albeit with a big rib injury. Ewan Jaspen is put out by just 0.66 by Antonin Rangin. Rangin really demonstrating some great board-off kite loop manoeuvres.
Also suffering from an injury, Lewis Crathern using a 10m opts for quality over quantity and edges out Aurelian Petreau in the closest heat of the event winning by 0.06. Joshua Emanuel continues up the ladder cruising past Lasse Walker. Joshua seems to enjoy the hard way through the ladder! Reno Romeu overpowers Posito Martinez who has represented the DR well at this event. Langeree puts an end to Oswald Smiths day, and the stage is set for the quarter-finals.
Round 5
The wind is building now, the Cape Doctor has arrived and perfectly timed as the day begins to climax. Work is over, the beach is full, thousands of spectators line the beach. The most epic day at Kite Beach since its relocation from Big Bay is underway.
3 riders in the quarters have come through the hard way, by riding in 4 consecutive rounds. Others are fresher, the likes of Jesse, Liam and Nick (last years finalists) have ridden just once, and this further highlights the benefits of starting in Round 3 and winning the important round skipping heats. One could argue though that Kevin won the 2019 KOTA the hard way, riding many heats; it can be done.
Starting off the quarter-finals, Lewis Crathern takes on Marc Jacobs. Jacobs impresses the judges with his variety and takes the win. Crathern the only rider to compete in 8 consecutive King of the Air events must settle for 7th this year.
Liam Whaley is next up and registers the 2nd 30+ score of the day and out for Stuart Downey. Downey also competing in his 5th straight heat also finishes 7th, the best position a South African will finish on home soil this year.
In the most anticipated heat of the day so far, Defending champion Kevin Langeree will go up against last years 2nd place finisher, Jesse Richman. It is an absolute heat of death that has been created by Aaron Hadlow. By finishing 2nd to Hadlow in Round 3, Langeree would have known this heat was looming even as he began Round 4.
It is a spectacular heat which if you just got to the beach you would think was a semi-final. Both riders are putting it all on the line, and there are high scores in this heat. With less than a point separating them after the total of three best tricks, Richman romps the impression score with an 8.2 over Langerees 6.8.
The judges rewarded Richman for huge variety including unhooking. Who said that unhooking would not feature at a KOTA event? It is clear the judges are rewarding the risk, and technical ability very well this year. Richman has always made the semi-finals (on 6 previous occasions) and makes it again for the 7th time. He has an incredible 100% rate of making the semi-final competing in 7x KOTA events, only missing due to injury along with Kevin in 2017.
Steven Akkersdij, looking ever more comfortable on the water, defeats Reno Romeu in the 4th quarter-final. Akkersdijk, missing due to injury in 2019, has been present in all but one of the KOTA events and by winning this heat boasts 5x top 5 finishes at this event. At this moment, only three riders in history can say this (Hadlow/Langeree/Richman). Brazilian Romeu has ridden well at this event and shows just why he is ranked inside the top 10 on the all-time overall King of the Air rankings. In the last quarter-final, Nick Jacobsen becomes the 5th person to make the 5x Top 5 list by ending Antonin Rangins run up the ladder. Rangin records a career-high of 7th place and has impressed this year with his consistency and variety.
The last rider to compete in his 5th consecutive heat of the day is Joshua Emanual and he is up against 2x winner Aaron Hadlow. Both riders push it and match each other, but Hadlow again demonstrates the ability to unhook. To further suede the judges in an incredible moment during the competition, Hadlow throws another board-off mega loop but this time using the fin to remove the board. He shows he can do it not only by the topside rail (with no handle) but also the same way a competitor is doing against him. It's a nail-biting wait to receive the impression score which seals the 2018 RedBull Mega Loop winners fate. The wait for a "South African King of the Air Champion" will have to go on as Hadlow advances to his 6th semi-final in KOTA SA history.
Semi-finals
Jacobsen is up against Whaley in the first of the 3 semi-finals. The semi-finals are massive heats and riders are just one good performance away from a place on the podium. A chance to stand there, with all the cameras on you. A moment that all competitors crave, but there is still work to do.
This heat is action-packed, and Jacobsen takes it by over 3 points. Whaley has tried everything to get through, this year showing his ability to learn new moves landing many kite loop board-offs as well as his usual handle passes and signature double backroll mega loops. Jacobsen was just too good in this heat, scoring a 9.02 for a kite loop board-off he has demonstrated that going as big as possible is still scores the most on the judge's sheets.
Richman takes on Jacobs in the 2nd semi-final. Both riders can match each other trick for the trick, but it's Jesse that is demonstrating more power. The kite looks more level during kite loops, and he registers 3x 8+ scores. Jacobs and Richman both demonstrate there unhooking ability and show yet again the importance of having this move up your sleeve. It becomes one of there three top scorers. Richman advances but Jacobs will be happy to achieve his career-high 4th place. Marc Jacobs is an incredibly talented rider, and there is no move he can't put his mind to in this style of event.
In the last of the semi-finals, Aaron Hadlow would take on 2014 finalist Steven Akkersdijk. Akkersdijk is having a great event, and this is his 3rd consecutive semi-final in a row when competing at KOTA. It is a great heat with both riders displaying mega loop board-offs and mega loop rotations on both tacks. The red flag comes up, and Akkersdijk is winning on points after the 3 best tricks are added up, but it is fine margins. The impression score comes in and in Hadlows favour. It is hard to split the riders, but clear to see Hadlow has unhooked during the heat, in fact, his big handle pass sits in his top three tricks.
He wins the heat by 0.36 and enters his 5th final. Only one other rider has competed in 5 KOTA final, but this year, he is not there.
With Langeree out, this will be the first Hadlow/Jacobsen/Richman final to date!
The final is upon us, after 7 hours of competition the wind is still good, with a 10 minute average of 30 knots.
It's clear from the start of this final that all three riders have different tactics. These riders have won the King of the Air event for a reason. Their attention to detail, especially in how tricks are being scored during the day is better than the rest of the fleet. A riders ability to do this is often overlooked, it goes unmentioned amongst other skills they posses such as the timing of their best moves.
The final began with all three riders logging scores and building their heat. Jesse is pushing the handless moves, very aware of the high scores he can gain by going high and combining them with multiple rotations. Nick is using his best weapon of the kite loop board-off and sticks to manoeuvres mainly involving kite loops with foot removal. 6 moves in fact, with 2 of them sitting in his top three tricks scores by the end. Jacobsen can perform these moves with the kite very much in the power zone during the loop and at impressive height. His loops are containing more power out of the three riders. Aaron is going for the full variety factor and is also building his score. It is close between them all. Hadlow stomps one of his new moves this year, the backroll mega loop board-off which eventually becomes one of his top three scoring tricks. By now, Jesse has banged in some big moves, 2 huge handle passes with rotations, stylish mega loops and a backroll mega loop board-off of his own score well. With 2 minutes remaining it could be anyone's, the riders are separated by just 0.51 – What a final!
Aaron ever realising its close and looking to edge ahead appears to go for a never been done (NBD) double back roll board-off and is painfully close to landing it, but it just crashed, Nick keeps pushing with a nice backroll mega loop to put another score on the board and then a big moment of the heat happens. Jesse Richman throws the first quadruple backroll mega loop and somehow sticks it on a breaking wave. It is the absolute definition of a controlled landing. Bizarrely it will not feature in his highest-scoring tricks but certainly will help towards his overall impression score.
In the last moments of the heat with seconds left there is another special moment. Hadlow sends a backroll mega loop, heads into a double and is seen to have unhooked before landing. It's not a big scorer and won't be enough to help him win. Perhaps the only people to know what Hadlow was thinking are the South African live stream commentator and Hadlow himself. Colin Heckroot stating "That's a move I've wanted to see". A glimpse into the future, perhaps? Most certainly a glimpse into the mind of Aaron Hadlow. Recognising that the only way he might be able to win this one is to do something new, and he decides now with seconds left in a KOTA final the right time for that.
The crowds gather on the beach, and the climax is almost over. Many of the riders, crew and spectators have seen the tide drop rise and drop again throughout one of the longest KOTA days in history.
The impressions scores come in favour of Jesse with his all-out explosive approach. Nick in 2nd and Aaron in 3rd. Most interestingly it is Aaron that has completed the most tricks in the final with 12 landed, Nick 10 and Jesse the least with 8, but KOTA has never been about quantity. Height and extremity in combination are what they keep banging on about, and in a fitting end to a great day, it seems nobody can complain about the result.
Jesse is only the 2nd person to win the King of the Air twice. The Hawaiian has won over the crowd with his all-out approach to kiteboarding; he is much respected amongst the competitors. This win comes 7 years on from his first, but it's so different this time! With his baby daughter witnessing the final, he will have quite a story to tell her one day about what went down on the beaches of baby Blouberg bedtime.
Thu 13th Feb, 2020 @ 12:39 pm
Italian/Egyptian Jen Tyler grew up on the sandy beaches of the Red Sea and has been on the IKSURFMAG & Tonic Mag team since 2017.
Featured in this Post
Comments