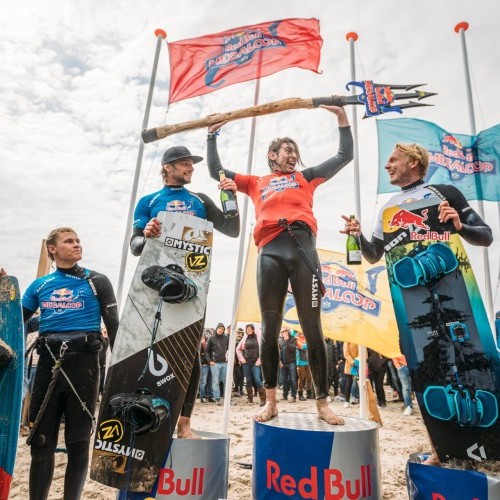 2020 Red Bull Megaloop – 16 Selected Riders
Mon 23rd Mar, 2020 @ 4:00 pm
The riders line up for this year's Red Bull Megaloop has been announced. Last month, the first 12 invited riders were already announced and to complete the list of 16 riders, the Red Bull Megaloop committee and judges have selected the last four riders out of 47 video submissions for this most extreme kiteboarding event in the world. Due to the current circumstances, the opening wind window postponed until further notice. Red Bull Netherlands and The Spot decided in light of health concerns and advice from the Dutch health authorities.
Invited riders:
Jesse Richman (USA) Winner King of the Air 2020
Ross-Dillon Player (RSA) Winner Red Bull Megaloop 2019
Oswald Smith (RSA)
Lasse Walker (NED)
Joshua Emanuel (RSA)
Steven Akkersdijk (NED)
Ruben Lenten (NED)
Kevin Langeree (NED)
Nick Jacobsen (DK)
Aaron Hadlow (UK)
Liam Whaley (SPA)
Louk Timmer (NED)
Video entries
Janek Gregorzewski (POL)
Maarten Haeger (NED)
Ewan Jaspan (SCOT)
Stig Hoefnagel (NED)
All riders have been selected, based on a combination of the ranking of previous editions and the level of riding – in particular, mastering the performance of the megaloop, one of the most extreme tricks in kiteboarding. Additionally, four riders have been selected by their video entries. The committee has judged the video's on extremity, execution and flow.
The Red Bull Megaloop committee has decided to award the video entries a place in the 2020 edition; the talented Janek Gregorzewski (POL) will be joined by three first time entries with the likes of Maarten Haeger (NED), Ewan Jaspan (SCOT) and Stig Hoefnagel (NED). All of these riders have been knocking on the door for a while and will now get a chance to shake things up in the all-star lineup of the 2020 Red Bull Megaloop.
The Red Bull Megaloop Committee states: "The committee and judges looked for riders that showed a combination of height, kite angle and the vertical ground covered in their megaloops. These four riders certainly checked those boxes of extremity. Added to that, they have shown great variety and technical difficulty in their megaloops. They convinced the judges with their overall control in extreme conditions with high-end performance and full completion of their tricks."
About Red Bull Megaloop

Red Bull Megaloop will be organized when the weather conditions are perfect. That means when the wind hits 35 knots or more. That's the time when these world's best kiteboarders only have one goal: ride hard, fly high and show the biggest megaloops. Find out more, right here.
Watch the 2019 Megaloop below!
Win a Lieuwe Shotgun Paradise Series Board this issue in our FREE subscriber prize draw.
Featured in this Post
Comments