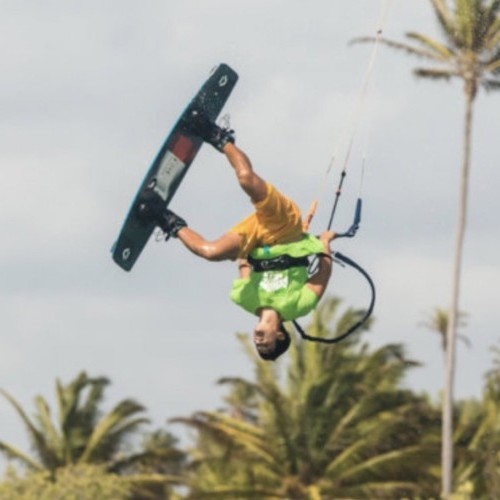 GKA Freestyle Highlights of Day 3
Fri 20th Nov, 2020 @ 9:35 am
It was day 3 at the GKA Freestyle Super Grand Slam here in Ilha do Guajiru and these are the highlights of men's rounds 4 and 5 and women's round 4!
With stronger, gustier wind and more chop on the lagoon than yesterday, conditions were definitely a challenge for the riders today, but that did not stop them from showing the most impressive moves and highest scores we've seen in the competition so far!
Highlights of Men's Rounds 4 and 5
Most impressive in heat 1 was Matteo Dorotini with his very powerful signature style, showing a near-perfect Hinterberger 5 as his best trick in the heat and winning by a comfortable margin. Edgar Ulrich, who was very unlucky in his heat yesterday, presented a lot stronger today. Landing most of his moves and even adding Big Air elements with a Kiteloop Board Off, he placed second after Dorotini and advanced to round 5.
Up against the "big guys" was young Brazilian Davi Ribeiro, starting his heat with an impressive 317 with a grab, but was unfortunately eliminated from the competition. Being the youngest rider in the event at only 12 years old, he is a force to be reckoned with and has already got the style and skills, but needs to fill out more and add some bodyweight to keep up with the older riders.
The biggest surprise in this competition so far was for sure Adeuri Corniel being kicked out of the race by his heat mates Alex Neto with one of the highest overall scores of 29.26 and Guilherme Costa coming in second in the heat.
Liam Whaley proved again he's in top shape, managing to score the first 10 of the competition with a huge Mobe 7 and already comfortably leading in his heat but trying for a 319 in his last trick attempt and unfortunately injuring his knee in the crash that ensued. Coming in second after Liam was Juan Rodriguez, who's intense training in the off-season paid off and secured him a place in the semi-finals.
All of us at the GKA wish Liam a speedy recovery, he is currently getting his knee injury evaluated in Fortaleza and we hope he will be able to return to the competition.
Find out who moved on to semi-finals after yesterday's rounds!
Highlights of Women's Round 4
In women's round 4, we witnessed the immense progression of women's freestyle kiteboarding, with the ladies riding in strong gusty wind and still managing to go huge and do it with style.
The first heat saw young Spanish athlete Claudia Leon landing moves she's never landed in a contest before, winning her heat against Katarzyna Lange from Poland, who came in second. Lange showed very stylish riding, not able to hide her background in wakeboarding: landing a solid Mobe and a Front to Blind, she's one of the few women who can land that move.
Brazilian talent Dioneia Vieira showed much stronger riding than yesterday but in the end, didn't make it through to the semi-finals.
Therese Taabbel and Pippa van Iersel, close friends but fierce opponents on the water, battled through the second heat with Pippa taking the lead, and Therese in a very close second place. They kicked out 3 x Brazilian Champion Estefania Rosa and young rider Alexandra Torres from the Canary Islands who showed much promise but was lacking some of that international contest experience.
Find out who will compete in the women's semi-finals today!
Featured in this Post
Comments