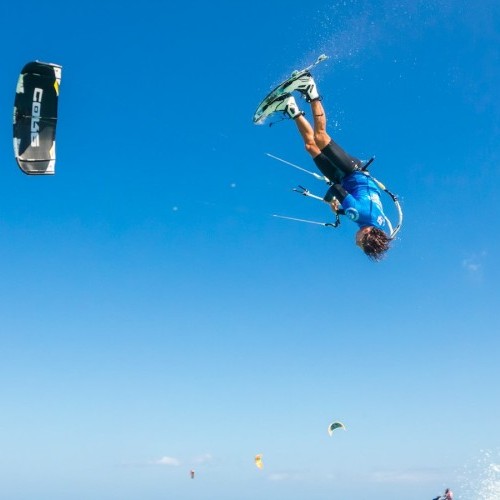 GKA Freestyle World Cup Fuerteventura – Day One
Sun 21st Jul, 2019 @ 3:00 am
After a couple of false starts due to changeable conditions, the main event got underway at 12:30 today. The riders had seven trick attempts available, and heat winners would progress on to round three while second and third place would go again in round two.
Adeuri Corniel stormed the first heat with an impressive opening salvo that included a BS 317, a double heart attack AND a slim 7 to secure the win and then Gianmaria Coccoluto regained his composure after a slow start to win the second heat.
After that, Maxime Chabloz put in a spellbinding effort. He not only scored a perfect 10 for a backmobe 7, but he also walked away with the day's highest combined score too of 32.34. You can bet Carlos Mario was watching that one!
Two more performances of note came from former World Champs Liam Whaley and Carlos Mario. Whaley combined more technical tricks like his high scoring BS 317 with purely stylish moves like his ultra-smooth double S-bend to blind.
Carlos went up in the final heat of round one against fellow Brazilian Alex Neto, and this was a supercharged one. Neto opened with a double heart attack, and Mario matched him with a bigger, cleaner one to pull ahead (by just 0.13 points). The barrage continued with yet more high scores, and Mario landed a front blind mobe which Neto answered with a Crowmobe 5.
It was tight, but Mario then drilled home a BS 315, a KGB and a 317 to pull ahead.
Men's Round Two Round-Up
This round was crucial for the riders who'd failed to win their round one heats. Last chance to stay in the single eliminations and everything to play for.
Stefan Spiessberger scored a convincing win in the opening exchange with a Crowmobe and a slim chance early in the heat, and he won with a trick still in hand.
Louka Pitot then beat Luis Calcano and Arthur Guillebert after Arthur ended up needing the medic's attention after a heavy crash put him out of action.
The wind had picked up by this point to around 25 knots, and there were some nasty slams as the riders trucked into tricks fully powered.
Nico Delmas then took a storming lead in the next heat leaving Guiliano, Neto and Teixeira trading places in a battle for second. Set Teixeira clinched it in the end and was getting very close to closing down Delmas too, but it wasn't to be.
Nico took it, and it was on to round three.
Men's Round Three Round-Up
The pressure increased in this round – the quarter-finals stage of the single eliminations.
Adeuri amassed a massive points led in the first heat and was the only other rider (alongside Maxime Chabloz) who managed a combined score above 30 today with a total tally of 31.77. Gianmaria Coccoluto was in pursuit, but Adeuri's final trick – a double heart attack – put further distance between them and he won the heat comfortably.
In the next heat, Louka Pitot opened up with a front blind mobe, Crowmobe and heart attack to take an early lead while Maxime Chabloz had a shakier start with a low scoring BS 313. However, a clean backmobe 5 followed up with a 317 brought Maxime back into contention and then a front blind mobe pushed him passed Pitot into the lead.
He didn't land his last trick, but he didn't have to. He'd already won, and he was by far the standout rider today.
Next up, Liam Whaley opened with a BS 317 that scored him a sturdy 7.47 points, and he never stepped off the gas from there to win the heat. Today's cross-off conditions were reminiscent of the famously challenging Levante winds he rides in at home in Tarifa, and he looked more than comfortable out there. He rode tactically and was watching his competitors see just how far he'd need to push it to beat them.
Colombian rider Valentin Rodriguez mounted a late challenge against him, and he landed a couple of high scoring tricks, but he wasn't sticking them as readily as Liam and, in competition, that's what matters.
Carlos Mario was faultless from the start in the day's final heat. It looked like he was holding back a little, perhaps saving his riskier tricks for the semi-finals, but he stuck a double heart attack followed by a front blind mobe and a KGB without missing a beat. He's a force of nature.
He followed that up with a BS 315 to secure his position, but he finished the heat still (potentially) within reach of Nico Delmas who had a stellar day today and finished second to also go through to the semis.
No huge scores from Carlos, but no crashes either and a very consistent run. Maybe he's holding something back for tomorrow? We will see!
Today's action finished at the end Men's Round Three with eight semi-finalists ready to roll tomorrow. See who made it through below.
Single Elimination Semi-finals
Semi-finals 1
Valentin Rodriguez
Nico Delmas
Adeuri Corniel
Maxime Chabloz
Semi-finals 2
Gianmaria Coccoluto
Louka Pitot
Liam Whaley
Carlos Mario
The women are up first tomorrow morning! First Possible Start at 11:30 AM. Be sure to tune in because the action will be live-streamed on the event page!
Report: Matt Pearce / All photos: Svetlana Romantsova / Video: Adam Sims
Featured in this Post
Comments