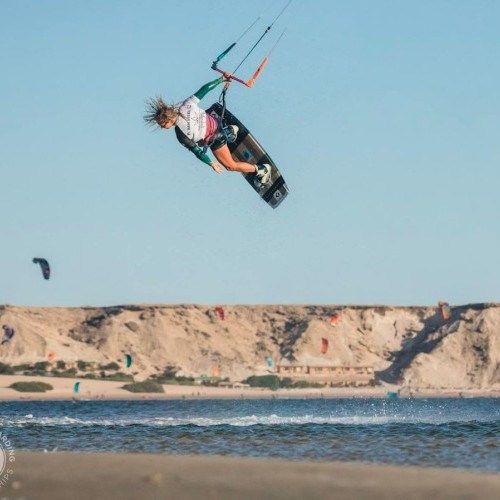 World Kiteboarding Championships, Dakhla – Elite Championship – Day Three
Thu 8th Nov, 2018 @ 6:35 pm
It was another windy day in Dakhla, Morocco for the start of Round 3 for the Men. The good conditions continued throughout the day, allowing the completion for Round 3 and the Semi-Finals for the Men and Round 2 for Women, with lots of twists and turns, and unexpected exits.
Heat 13
It was a close start for all four athletes in Heat 13, as it all came down to the final trick. Anthar Racca landed four solid tricks to start but then had several crashes which cost him points. Adeuri had a rough start but fixed the situation with a big Backside 317. He managed to maintain his lead and advances to the Semi-finals. Anthar Racca looked set to join him, just knocking out Kalu de Sousa and Stefan Spiessberger in a tight heat for all riders.
Heat 14
Heat 14 sadly saw Former World Champion Youri Zoon sustain an injury to his knee, and withdraw from the competition. Awful luck considering how well he had been riding for the start of the heat. Set Teixeira from Brazil wasted no time and landed a big KGB amongst his tricks. Despite crashing his last attempt, he advances to the Semi-finals, joined by young Maxime Chabloz from Switzerland. Louka Pitot from France came very close to advancing but could not quite score enough in his last attempts to get the second position.
Heat 15
After a short lunch break, the competition continued with Heat 15, another tight race to qualify for the Semi-finals from all four riders. Val Garat maintained his good, consistent riding landing an 8.87 Slim 7, and managed to stay ahead of his competitors. Gianmaria Coccoluto and the young Valentin Rodriguez from Colombia remained extremely close throughout the heat, with Coccoluto landing a Backside 315 and a 317. Rodriguez pushed his hardest but unfortunately crashed his last three trick attempts and failed to advance. Jerome Cloetens from Spain/Belgium also could not quite land all the tricks he was aiming for and did not advance.
Heat 16
Heat 16 was packed with lots of fierce competition, as current World Champion Carlos Mario hit the water to compete against wildcard Jonas Ouahmid, and two French riders Arthur Guillebert and Romain Giuliano. Carlos landed an impressive Backside 317 and Slim 7, but all riders struggled a little with the gustier wind and choppy water conditions. Arthur Guillebert worked hard to keep up with him, and landed five of his seven trick attempts, his effort was rewarded, and he joins Carlos Mario in the Semi-Finals. Ouahmid and Giuliano both rode well in the tough conditions but unfortunately could not advance to the next round.
Women's Round 2
Heat 5
The first Women's heat of Round 2 went to Pippa Van Iersel from the Netherlands, who landed a powered Backside 313 and S-bend to Blind. She took the lead and passed through to the Semifinals, and she was joined by Osaia Reding from France, who was delighted to be joining her.
Heat 6
It was a great day for Spanish rider Rita Arnaus who took Heat 6 by storm, performing a fantastic S-bend to Blind, Slim 5, and Backside 313. She was happy with her solid performance, and she advances to the Semi-finals. Maureen Castelle follows her through, landing an impressive Hinterberger Mobe. Claudia Leon rode an excellent heat but couldn't quite keep up to the rhythm of her more experienced counterparts.
Men's Semi-Finals
Semi – Final 1
Adeuri Corniel was unstoppable for Heat 17, going big on each attempt and stomping an amazing Slim 9 scoring 9.27 points. Set Teixeira crept up close behind him and landed several great attempts gaining many scores in the 8's. Gianmaria Coccoluto wasn't going down without a fight and landed a clean KGB5 and Heart Attack 5, but sadly missed out on advancing to the final after struggling with his final two attempts.
Semi-final 2
Heat 18 started with a bang; as all four competitors went massive right from the start, their desire to reach the finals was evident in each trick attempt. The level was insanely high; each rider pushed harder and harder with an eye to reaching the podium here in Dakhla. Current World Champion Mario stomped an outstanding Heart Attack 7, scoring a perfect 10, with flawless execution. Maxime Chabloz performed a powered Slim 7 scoring him 9.43 points. Carlos Mario advances to the final together with Maxime Chabloz, with Anthar Racca narrowly missing out on the spot.
This was just a taster of the insane action that we will see in Saturday's finals! Tomorrow the competition continues with the Women's semifinals and the men's small final. Be sure to tune in to the live stream, right here!
Featured in this Post
Comments