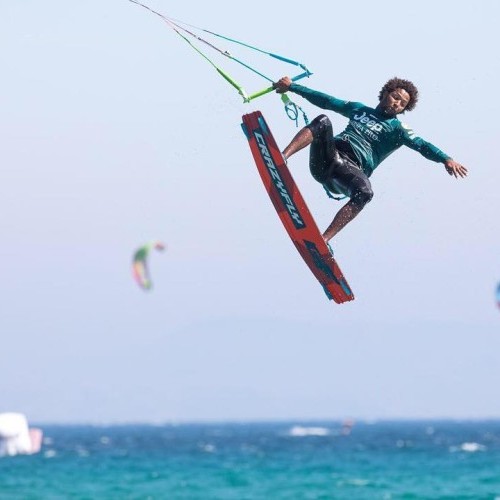 GKA Air Games Cabarete 2018 Kicks-off
Tue 10th Jul, 2018 @ 2:00 pm
The Air Games riders converge on Cabarete for stop three of The Kiteboarding World Tour
Barely a week after the Air Games took flight for the very first time in Tarifa, the riders will be back in action this week at the Air Games Cabarete 2018 which is taking place at the Cabarete Kite Fest from July 9 – 15th
39 riders from around the world have registered for the event – 26 men and 13 women – with a solid field of competitors ranging from former World Champions to hard-hitting local rippers as well as some of the most promising up-and-comers in the sport.
Cabarete has a long, proud history of hosting world class kiteboarding events and the steady, thermic winds are a constant feature of this iconic kiting location but another thing it's known for is its pool of formidable talent!
This is one of the true kiteboarding hotspots, churning out top-notch freestyle riders who make it their mission to take down visiting big name pros out on the water whenever an event rolls into town.
Unsurprisingly, the local riders will be out in force this week with eleven competitors in the men's division (nearly half the field) and two in the women's division! You can be sure they'll be looking to bring home the glory for Cabarete with the home fans no doubt getting behind them when the main event begins.
Check out the riders registered below
1: Jesse Richman (USA)
2: Maxime Chabloz (SUI)
3: Carlos Mario (BRA)
4: Posito Martinez (DOM)
5: Nicolas Delmas (FRA)
6: Valentin Rodriguez (CMB)
7: Valentin Garat (FRA)
8: Paul Serin (FRA)
9: Set Teixera (BRA)
10: Marius Hoppe (GER)
11: Edgar Ulrich (FRA)
12: Louka Pitot (FRA)
13: Luis Alberto Cruz (DOM)
14: Juan Jose Rodriguez (COL)
15: Joselito Del Rosario (DOM)
16: Aron Rosslee (ZAR)
17: Esteban Hernandez (COL)
18: Piolin Velez (COL)
19: Ariel Corniel (DOM)
20: Nisael Gomez (DOM)
21: Brayan Betance (DOM)
22: Robinson Hilario (DOM)
23: Adeuri Corniel (DOM)
24: Miguel Angel Rodriguez (DOM)
25: Rafelito Gonzales (DOM)
26: Andri Ramirez (DOM)
WOMEN
1: Mikaili Sol (BRA)
2: Hannah Whiteley (UK)
3: Pippa van Iersel (NL)
4: Gina Binh (GER)
5: Maureen Castelle (FRA)
6: Osaia Reding Commaille (BRA)
7: Rita Arnaus (ESP)
8: Suami Cavallo (ITA)
9: Alea Velez Patino (COL)
10: Paula Hermann (DOM)
11: Alexa Vargas (COL)
12: Madelyn Corniel (DOM)
13: Pauline Valesa (FRA)
The main event gets underway today. Skippers meeting is at 10:00 with a first possible start at 11:00. Stay tuned to our socials for updates as the action kicks off!
Find current tour rakings here.
Featured in this Post
Comments