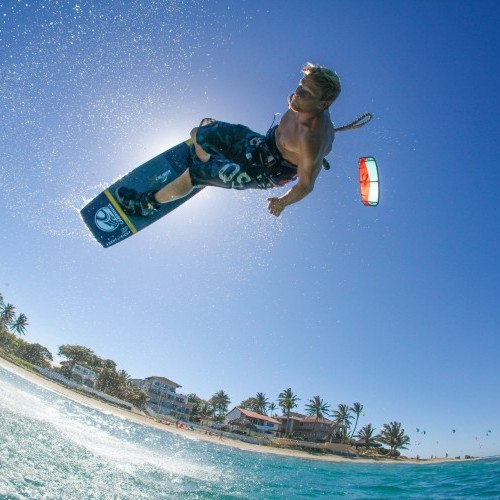 Cabarete
Dominican Republic
Why Visit?
Cabarete is one of the original kitesurfing meccas; people have been making the pilgrimage to this fantastic spot in the Dominican Republic for years. The wind blows all year consistently round, and the waves roll in during the winter. You'll find a relaxed cosmopolitan atmosphere and a town filled with people who love to kite. When the sun goes down, the party starts, and the nightlife is vibrant and great fun.
The kitesurfing can be world class, with lots of spots to choose from and a mix of flat water and waves there is something for everyone. It is a favourite spot for beginners and experts alike with many pro riders visiting throughout the year and a few that live here permanently.
Wind and Weather
The wind blows all year round, and during a good season, they have well over 250 days of kiteable wind! The windiest season is from April to September with October and November generally offering more rain and less chance of wind. The weather starts to turn in December, and you can be lucky and get good winds from then until March as well.
The air temperature ranges from around 26°C/80°F in the winter to over 30°C/86°F and above in the summer. The water temperature is warm, and board shorts and bikinis are the order of the day, you might want a thermal rash vest for those sunset sessions. You'll only need to pack one jumper, it stays warm all day and night, and you'll never wear socks either, so leave those at home!
During the winter the swells can be large and powerful, in the summer they are smaller, but you have more consistent wind. If you want to surf as well as kite head to Cabarete in the winter months if you're going to kite and are not bothered about the waves then visit in the summer!
Getting Around
Everybody gets around on motoconchos or "motos" they are flying up and down the strip day and night, and you'll never have to wait long to catch a ride. You can also hire care from 25 dollars a day or jump in a taxi. Be very vigilant when walking along the road or driving, the roads are hectic places.
Food and Drink
With such a cosmopolitan town there are plenty of different options for eating out. There are lots of Italian restaurants as well as numerous establishments offering the Dominican staple of chicken and rice. Expect to pay more for your food and drink if you are sat on the beach and a little less if you are on the main strip or a little out of town. There are two beers in the Dominican Republic, Presidente, and Bohemia; rum is also very popular although the rum, and cokes are very very strong, so be careful!
Visit Ali's Surf Camp in Pro Cab for a fantastic meal, the churrasco steaks and papas salteadas are fantastic.
No Wind?
The bustling town has lots to offer on the non-windy days with almost limitless activities to keep you entertained. Of course, there is great snorkelling and surfing, but you could float down the river in a rubber tire or fly down the zip-lines at the Monkey Jungle. There is even a pretty amazing circus school where you can learn all sorts of cool stuff and also fly the trapeze. If anyone ever tells you they are bored in Cabarete, check their pulse, they might be dead.
Internet
Cabarete also has a pretty good internet connection; you can get up to 10mb speeds here, so a lot of people come from all over the world to work online and kite all day.
Accommodation
There are lots of accommodation options, from cheap hostels and rooms to luxurious condos and hotels. The prices get more expensive the closer you get to the beach, and there are deals to be had if you choose to stay for longer than a month.
If you want to kite all day and not be bothered by the noise of the nightlife in town, stay towards Kite Beach. If you want to party all night and be able to stumble home stay in Cabarete town itself.
Featured
Montenegro is situated in the south of the Adriatic and is an extraordinary place. It offers an abundance of beauty, beaches, crystal clear lakes, the sea and incredible scenic mountains. In the mornings, you can wake up along the beautiful Adriatic coast, have lunch on the banks of Skadar Lake, and enjoy an evening walk in the Montenegrin mountains. Ulcinj…
If you're looking for a summer kitesurf destination with never ending wind, then Rhodes is the place to be. Kremasti is a very nice village in the north of the island which is not so touristic and where the IKO/VDWS licenced Air Riders Kite Pro Center is stocked with the latest North Kiteboarding gear. Going there is like visiting your kite family, the…
Maui is a can't-miss kiteboarding destination. With warm weather, consistent wind, and an endless list of no-wind activities, a visit to Maui is a no brainer. A strong, steady wind blows from the north most of the year. During the winter months, however, southerly Kona winds can light up the southern shores. The scenic crystal blue water and lush green…
Rou has been kiting since the sports inception and has been working as an editor and tester for magazines since 2004. He started IKSURFMAG with his brother in 2006 and has tested hundreds of different kites and travelled all over the world to kitesurf. He's a walking encyclopedia of all things kite and is just as passionate about the sport today as he was when he first started!
Been to Cabarete? What did you think?
Where are the Best Kitesurfing Beaches in Cabarete?
Kite beach is the most popular spot and enjoys a good mix of flatter water and waves on the reef. When it gets windy, it can get choppy on the inside, and during peak times it can get busy.
Hold off for an evening session or get out during lunchtime to avoid the masses.
Wind: Cross on from the right
Waves: Out on the reef
Shorebreak: No
Cabarete Bay is large and has lots of space; there are different spots to launch from as you move up towards Kite Beach. Generally, the water is choppier on this side of Kite Point. There are a couple of reefs out the back, and these offer great waves for kiting.
Keep an eye out for windsurfers the closer you get to Cabarete as that is where they all launch and ride from.
Wind: Cross on from the right
Waves: Out on the reef
Shorebreak: Sometimes
La Boca is the flat-water spot in Cabarete, it's a small lagoon at a river mouth, and it is where a lot of the pro riders go to train for freestyle.
As you get closer to the river mouth the spot widens, around the launch area though it is pretty tight and it can get crowded with a handful of kiters.
Wind: Cross Shore from the left
Waves: No
Shorebreak: No
Encuentro is regarded as one of the best waves in the Caribbean, they hold regular surfing contests here, and in the winter the waves can get heavy. In the afternoon the wind picks up the surfers head in, and the kiters come out to play! Watch out for the rock shelf just off the beach, and also be aware the waves can be heavier here.
Use a motoconcho to take you to La Boca, then do a downwinder to Encuentro and get another motoconcho to take you home!
Wind: Cross on from the right
Waves: Right-handers on the reef
Shorebreak: Sometimes
When is the Best Time to go Kitesurfing in Cabarete?
The windy months to go kitesurfing in Cabarete are January, February, March, April, May, June, July, August, September, December
Statistics
Do you know a good kitesurfing school here?
Kitesurfing Articles that Mention Cabarete
Issue 85
The best photos with nowhere else to go!
Issue 74
Samantha Chilvers is an artist who moved to the Dominican Republic with a pocket full of inheritance money with a view to creating some new works. She ended up falling in love with kiting and is now a pro on the Liquid Force team!
Issue 45
Cabarete used to be the place to go, but in recent years it has fallen out of favour with many riders, the thing is though, the wind still blows and the waves still roll in...
Kitesurfing Videos and News in Cabarete