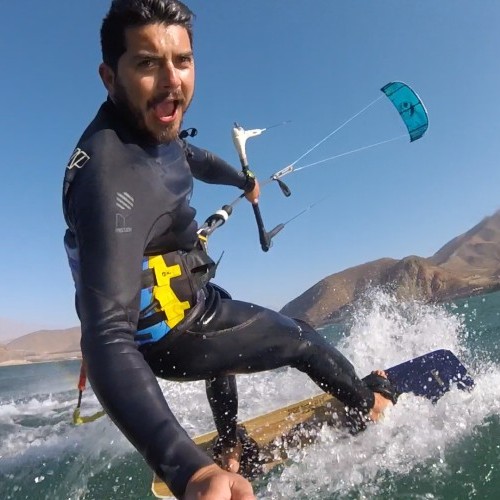 Why Visit?
La Vega de Pupuya is s a kitesurfing and windsurfing paradise, and if you like waveriding, you won't find a better place than this around. We're not far from the capital Santiago, and there is loads to see and do around here. La Vega de Pupuya is a quiet village, home to a mix of locals and riders that have come from all over the place to enjoy our ocean. We are also close to some of the best wineries in the region. At night, you can chill in the hot tub, and enjoy our clear skies!
Wind and Weather
Even though we are located in central Chile, we get a lot of wind; cold wind, so if you are close to the beach and directly in the wind, make sure you bring a jacket, once you are out of the wind, you can sit around it your swimsuit and enjoy the sun; when it's windy, it's always sunny! You can kiteboard all year round here, but the best months are between August and January, with winds ranging 20 - 30 knots during those months, and 15 - 25 knots for the rest of the year.
As the wind is cold and strong, we often see women riding 5m and 7m kites, and the men use 9m kites all year round.
Getting Around
La Vega de Pupuya and Matanzas are walking distance apart so that you can go back and forth easily. Everyone is generally extremely hospitable and accommodating here, and will offer you a ride to the beach or back home.
Food and Drink
You'll be spoilt for choice here in La Vega de Pupuya! You'll find fancy restaurants and local homemade meals. There is also a store where you can buy everything you need if you'd rather cook at home.
Make sure you try a local drink called Piscola and a cocktail called Pisco Sour... both of them are an explosion of happiness for the night, but I am not responsible for the next day's hangover!
Nightlife
There are two delicious restaurants called La Lobera and Márola in la Vega de Pupuya that I would recommend. They open from 13:00 and close around 22:00. If you walk to Matanzas, there are a few more there that are similar. During the summer months and long weekends, there is also a nightclub called Nenazo, and that stays open until 4:00.
No Wind?
We've got loads on offer! You can go mountain biking in one of the three big bike parks around, go surfing or SUP, kayaking, horse riding and more. If you don't feel like doing sports, you can visit the winery or the little rescue zoo we have or relax and enjoy the view with a glass of wine or a Pisco Sour!
Internet
A couple of restaurants and hotels offer free Wifi.
Accommodation
25 Nudos Lodge offers great accommodation for cabins up to 4 people! All the cabins are equipped with kitchen appliances, electric bbq, private terrace, a jacuzzi and a mind-blowing view! 25 Nudos Lodge is in front of the beach at La Vega de Pupuya, and in front of the best wind spot, so you can walk directly to your best wave to ride.
Additionally, there are any Air BnB's in the area too.
Featured


Coconut Bay is located just minutes from the international airport on a pristine stretch of sandy beach, along the exotic southern coast of St. Lucia. The resort's exclusive watersports complex, Surf Shack, is so well situated that you can be on the beach and getting ready to surf just 45 minutes after landing! The spot itself is suitable for all…


You'll be able to find wind, waves, and an epic adventure in Kaliantan. It's a spot that's likely to go boom on the tourist radar in the next few years so get in quick while it's still uncrowded. Kaliantan is located in southern Lombok; an enchanting coastal region that is prosperous with white sand beaches, palm trees, and local culture.…


Jeddah is located by the Red Sea in Saudi Arabia; which is one of the top destinations for Scuba Divers worldwide. As you may know, Jeddah is a 'commercial hub' and gateway for pilgrimages to Islamic holy cities like Mecca and Medina. Jeddah has consistent wind all year round. kitesurfing next to mangrove trees and super flat waters, it really is a dream come…
Mario Valdebenito is the owner and CEO of 25 Nudos Lodge at La Vega de Pupuya in Chile. He created this lodge to share this slice of paradise with others - Life is too short to spend it unhappy!
Been to La Vega de Pupuya? What did you think?
Where are the Best Kitesurfing Beaches in La Vega de Pupuya?
There are two restaurants in the area and you could easily end up spending the whole day here. This is a wavy spot though so keep that in mind.
Wind: south-southeast
Waves: 1.5m - 4m
Shorebreak: Left and Right direction, sand at the bottom
This spot is more secret because it's only accessible from the sea as you're not allowed to drive there. This is one of the perfect waves spots around.
Wind: south-southeast
Waves: 1.5m - 6m
Shorebreak: Perfect Left direction, sand at the bottom
This spot has a nice beach, a lot of stores which sell food, clothes and a couple of hotels. This spot can get a little gusty at times, though.
Wind: south-southeast
Waves: 1.5m - 3m
Shorebreak: Perfect Left direction, sand at the bottom
When is the Best Time to go Kitesurfing in La Vega de Pupuya?
The windy months to go kitesurfing in La Vega de Pupuya are January, August, September, October, November, December
Statistics
Kitesurfing Hotels and Accommodation in La Vega de Pupuya
Do you know a good kitesurfing school here? Submit it below.