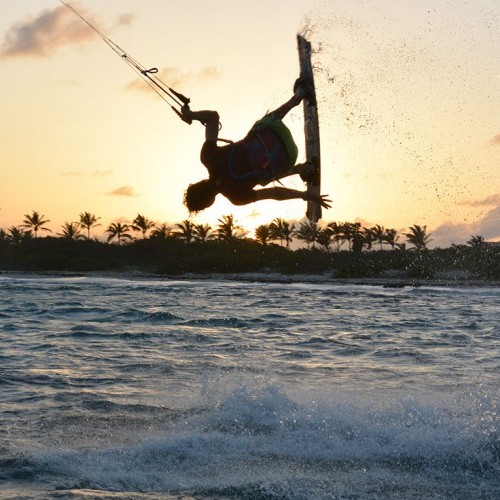 Anguilla and Saint Martin
Saint Martin
Why Visit?
St Martin is mainly known for its consistently dry climate and sunny weather. However, not everyone knows that its wind conditions are also consistent year round and the crystal clear waters offer a wonderful playground for everybody. Half Dutch, half French, the island offers a multicultural  atmosphere. You will enjoy the French fine cuisine, duty-free shops on the French side and the nightlife, casinos on the Dutch side.
Wind and Weather
Wind: 13-15 knots year round. It can blow 20 knots plus, but the average is 15 knots. Morning is always the best time to ride (until 11 am), with the wind picking up again at 3 pm. The various spots offer all conditions: flat water in the lagoon, wave riding on the reef, long swell outside of the bay and deep water for foiling. Normal wind direction: East. Average air temperature: 85 °. Average water temperature: 75°.
Getting Around
St Martin is a small island, so is incredibly easy to get around. 
Public buses are available (stop outside of town) with only $2 to go to Marigot or Philipsburg. However car rental is the best way to visit the island, though one day is enough to visit loads of spots on the island. In winter time, the traffic is pretty busy, so it's better to enjoy Orient Bay activities. You can rent cars right from your hotel or the centre for about $30-$40 per day.
Getting There
Airport Arrival:
 You'll fly into St Martin's Juliana International Airport (SXM).
Taxis / Transfers:
 We suggest that you use taxi service to reach your hotel. Taxi drivers are very familiar with the location of all properties. It takes about 35 minutes and costs about $40 per taxi to the hotels along Orient Bay.
Food and Drink
There are many beach restaurants open during the day: Kakao , Kontiki, Bikini, Orange fever (best pizzas), and on the Orient bay Village at night: Le Piment, Coté plage. Try fine French cuisine at Astrolable. Try the « Ti punch » a mix of white rum, sugar cane, syrup, and lime. You may also go at night in Grand- case, a local fisherman village.
Nightlife
St Martin is a Caribbean mecca for nightlife, every day has a party.
Sunday: Bikini beach and Kontiki (Orient bay, next to the school)
Monday: Rainbow Café  (Grand case)
Tuesday: Lady C (Dutch side)
Wednesday : Lady's night at Bliss (Maho, Dutch side)
Thursday: Salsa concert at Calmos Café ( Grand Case)
Friday: Soggy Dollar in Simpson bay ( Dutch side)
Saturday: everywhere on St Martin !
No Wind?
There are many activities on Orient bay, and also the Marine Park to discover with sea turtles, ray, even dolphins and whales in winter. You'll find many watersports such as diving, surfing, jet skiing, parasailing, flyboarding, hiking, Hobie cats, sea kayaks, snorkelling around Orient bay, SUP and boat excursions to Anguilla, ST Barthelemy. There is also a market in Marigot with duty free shopping which is worth a visit. You can also head into the mountains to the Butterfly and Lotery Farm and wander through the trails in the mountains.
Internet
Most of the beach bars have Wifi (free at Wind Adventures).
Accommodation
There is a lot of accomodations available in St Martin, so here's a few suggestions: Manu Gotels in Orient Bay, LA Plantation Hotel, Palm Court Hotel, Alamanda Hotel, La Playal Hotel, Blue Beach Hotel and Esmeralda Hotel.
Featured
With exceptional wind conditions daily, kiters of all skill levels fall in love with El Cuyo quickly. An Uncrowded, shallow water beach that offers students the safest, most reliable, and fun learning experience possible. El Cuyo promotes an accelerated learning progression in a laid-back island atmosphere. On the picturesque emerald coast of the Yucatan and full of authentic Mexican culture…
Parajuru is a small village located about 130 km south of Fortaleza. What makes this spot different from the other lagoons in Cerea, is that there are barely any crowds. This remoteness is perfect because you never feel like you are getting in the way others or vice versa. We are in Brazil, practising new tricks and often crashing and the…
Martinique is a stunning place to visit, and for a good reason! Even though it's not big, this 60x30 km island has loads on offer. The northern part is home to deep tropical forests, waterfalls, volcanoes, and black sands beaches with the river running through them, and the southern region is flatter with coconut trees and white sand beaches. The…
Emmanuel is the Wind adventures school manager sine 1998. He organizes kitesurfing vacations and also kite cruises to the nearby islands; Anguilla and St Barth.
Been to Anguilla and Saint Martin? What did you think?
Where are the Best Kitesurfing Beaches in Anguilla and Saint Martin?
Orient bay is the BEST kite spot in St Martin. The spot is only for advanced kiters, as the kiting area is 80 meters from the beach. Kiters should ride upwind to reach the kiting area and are not allowed on the first 80 meters swimming area (riding outside the yellow marks). The bay is 1.5 miles wide, so plenty of room with flat water, chop and swell . Sometimes it can get a little crowded with jet skis, parasails, and boats in high season . Flat water and waves close to Green Cay Island. The launching area is located between Kakao and Bikini Beach.  You will ride in crystal clear water with sea turtles, rays and close to the Marine Park, so lots to see!
Wind: Cross on from the right
Waves: Out on the Green Cay Reef
Shorebreak: Yes in winter with north swell
Nettle Bay is on the Caribbean side of the island, so the wind can be more inconsistent than in Orient Bay, but is kite-able when the wind is stronger (you'll find more windsurfers there). Choppy water, with a wonderful view of Marigot. It provides ideal conditions for freestyling and freeriding as well.
Wind: Onshore
Waves: No
Shorebreak: No
Other spots are on Anguilla and it's islands. You can reach them with a boat (day charter or cruise). These islands receive more wind than in St Martin (3 knots more generally). Rendezvous bay (Anguilla) is a flat water spot, with a long white sandy beach, perfect for intermediate kiters. The wind is a bit gusty close to the shore but get stronger and more consistent outside. The water is clear and that perfect turquoise we all love, the sun bright and the sand soft.
Wind: N and NE
Waves: No
Shorebreak: No
Dog island is a bird sanctuary with incredible colours. It offers flat and choppy waters, ideal for freestyle and freeride and it just 2.5 hours sailing from St Martin. The journey itself is jaw dropping.
Wind: E
Waves: No
Shorebreak: No
Prickly Pear is a beautiful island with a protected lagoon with flat water, but beware of the reef, it's very shallow. Just a 2 hours sail from St Martin (1 hour with motorboat), you can enjoy the journey as well as the destination!
Wind: E
Waves: No
Shorebreak: No
Sandy Island is a small bay off Sandy Ground beach in Anguilla. It is quite possibly the most beautiful place one will ever visit. A popular off-island getaway, Sandy Island offers visitors a sensational tropical experience. It's far away enough for that quintessential Robinson Crusoe feeling, yet close enough to stay connected to the mainland. It has a butter flat lagoon making it ideal for freestyle and freeride.
Wind: E
Waves: No
Shorebreak: No
When is the Best Time to go Kitesurfing in Anguilla and Saint Martin?
The windy months to go kitesurfing in Anguilla and Saint Martin are January, February, March, April, May, June, July, August, September, October, November, December
Statistics
Do you know a good kitesurfing school here?