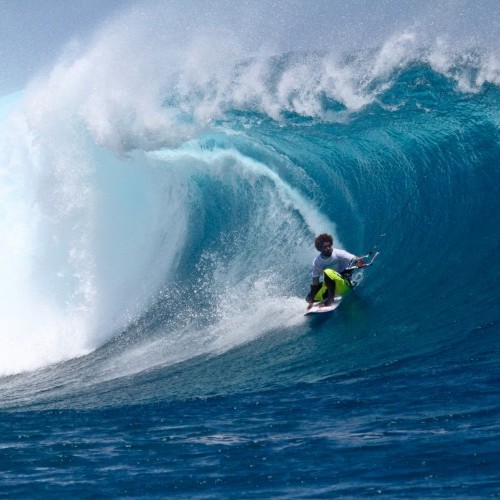 Why Visit?
Le Morne in Mauritius has to be one of the best spots for kiting on the planet; it caters for all abilities with a mix of flat water, easy waves and world-class barrels all within a 1-mile radius. The wind can be fickle, however, so while you can have the best week ever, you are just as likely to get skunked. To avoid this book a two-week trip and you should be guaranteed some great wind at some point. The Indian Ocean pumps with swell so even if the wind doesn't appear the waves will be world class.
There is a relaxed vibe on the island with a mix of cultures creating a melting pot of diversity, they drive on the left, have English road signs, learn French as the primary language, speak Creole and cook amazing Indian food. If you can get out of the resort and into the "real" Mauritius, you'll be greeted by friendly locals and vibrant towns with plenty of rum flowing in the evenings!
Wind and Weather
South Easterly trade winds offer stable conditions in Le Morne with the wind cross-shore from the left on the main beach. The best months are from June to November with 60% of the days offering above a Force 4. This is the winter season in Mauritius, but it is when the trades are most consistent. The air temperature during this season is between 20°C and 26°C, it gets up to 32°C in the summer, but the wind isn't as consistent; it still blows, but not as regularly.
The wintertime is also when the swells are most consistent in the Indian Ocean, you can get some fantastic waves here and if you get lucky on a good forecast prepare to have your mind blown!
Getting Around
Everything is right on the spot in Le Morne, so you don't need a car if you head here, the rooms in most of the hotels on the beach are just a few yards from the water's edge. You can roll out of bed and into the water in a matter of moments. The resort hotels can be pricey though so if you stay out in the sticks, then you'll need a car to drive to Le Morne, there is a free car park on the beach that turns into a bit of a tailgate party in the evenings!
Food and Drink
Mauritius is known for its fantastic food and fantastic rum, you can find all kinds of flavours here, and while the resort hotels always put on a great spread if you can venture further afield, you can find some real gems. Indian food is accessible along with fish of course, which has all been freshly caught from the Indian Ocean, which surrounds the island.
The Mauritians are famous for their spiced rum, flavoured with vanilla it is something special, but can quickly turn a quiet evening into something far more outrageous!
Nightlife
The resort hotels are predominantly full of couples on honeymoon, so don't come here as a singleton expecting to meet other like-minded souls! The bars in the hotels are generally quiet affairs and close around midnight. If you want to find a party then jump in a taxi and head to Flic en Flac on the weekends, you'll be welcomed with open arms by the locals who all love to party until the early hours!
No Wind
Sadly the wind can be fickle here, so you need to have a plan for the no wind days. Surfing, stand up paddle, snorkelling and of course lounging by the pool are the order of the day when the wind doesn't blow. You can also take a hike up Le Morne, the rock that overlooks the spot. The area used to be a refuge for slaves who had run away from their owners on the Island. When slavery was abolished a group of police officers went to tell the runaway slaves of their freedom. Sadly the visit was misunderstood, and the slaves leapt off the rock to their deaths. If you climb up before sunrise and sit there, it's a surreal experience that will leave you with chills!
Internet
Depending on where you stay on the connection, the new Riu Hotels in Le Morne have high-speed Internet, which works well. Mobile Internet is also very good although prohibitively expensive unless you have a local sim card!
Accommodation
There are several all-inclusive resorts around the spot, with varying standards of accommodation and pricing. Staying in the resorts isn't cheap, if you want to save money then try one of the pensions just a little way away from the spot. They cater to surfers, and you will most likely be able to car share to get to the resort.
Featured


With more than 300 sunny days a year and the mild Pannonian climate, Lake Neusiedl is more than just a kite, windsurf and sailing hotspot, it is an enchanting place to relax and recharge your batteries from your daily routines. The Lake Neusiedl is a steppe lake situated between the eastern parts of the Alps and the western part of…


Among the 17,000 Indonesian islands, Sulawesi is one of the five main (along with Java, Sumatra, Borneo and Papua) windiest spots in Indonesia. Sulawesi is also home to the two biggest Indonesian wind farms (Sidrap and Jeneponto) located in the south. Sulawesi is surrounded by pristine and warm waters and has recently become a trendy Asian kite destination for summer.…


Barbados offers conditions ideal for all water sports lovers. Consistently howling trade winds with beautiful, warm turquoise water and clean waves make it a playground for kitesurfers, stand-up paddle boarders, surfers, sailors, scuba divers and free divers. Regardless of your kiteboarding style, Barbados offers conditions for all; from freestyle, freeriding and wave riding. A lot of visitors get hooked on…
Rou has been kiting since the sports inception and has been working as an editor and tester for magazines since 2004. He started IKSURFMAG with his brother in 2006 and has tested hundreds of different kites and travelled all over the world to kitesurf. He's a walking encyclopedia of all things kite and is just as passionate about the sport today as he was when he first started!
Been to Le Morne? What did you think?
Where are the Best Kitesurfing Beaches in Le Morne?
To the left of the main beach and car park in Le Morne is the lagoon, this huge expanse of shallow flat water is perfect for beginners, freeriders and freestyle. You have a huge space to play with, and there are areas of flatter water behind small sandbars. Watch out for the coral underfoot though, if you are learning wear booties!
Wind: Onshore from the left
Waves: No
Shorebreak: No
The main beach at Le Morne is most likely the spot you will launch your kite from, it's closest to the hotels and offers the path of least resistance to the playground on the water. The beach shelves gently and is sandy. Further out there is a small reef called "Little Reef" which is perfect for learning to ride waves. On the inside, you will find flattish water although it can get busy during peak times.
Wind: Cross-Shore from the left
Waves: Little Reef offers small waves for learning
Shorebreak: Sometimes when the surf is big
This lumbering left-hander is where you graduate to after playing on Little Reef; it is a way out to see on the left as you stand on the beach. It's a gentle wave that breaks into a deep channel so is relatively safe. You can start by playing on the shoulder and build up your confidence to take off deeper and deeper as you improve your skills. It's an easy wave to ride but should still be treated with respect, especially when it is big.
Wind: Cross Off Shore from the right when you are on the wave
Wave: Left Hander breaking into a deep channel
Shorebreak: N/A
Chameaux is where things start to get serious the break here can be tricky to navigate as the angles are tight, but you can get some great right-handers travelling upwind on the barrelling wave, or if the wind is good, there are some great lefts too.
Wind: Cross-Shore from the right when you are on the wave
Wave: Left and Right Handers Shallow Reef
Shorebreak: N/A
The jewel in the crown of Mauritius! This is one of the best left-hand point breaks in the world. It can get fast and big often getting triple overhead. It breaks onto a shallow reef, and the consequences for failure are high. Only for experts, although you'll find plenty of less experienced riders out here on the smaller days. Fortunately, when it gets big, the crowds stay on the beach, and you can get as deep as you dare!
Wind: Cross Off Shore from the right when you are on the wave
Wave: Left Hand Barrelling Point Break
Shorebreak: N/A
When is the Best Time to go Kitesurfing in Le Morne?
The windy months to go kitesurfing in Le Morne are June, July, August, September, October, November
Statistics
Kitesurfing Hotels and Accommodation in Le Morne
Do you know a good kitesurfing school here? Submit it below.
Kitesurfing Videos and News in Le Morne