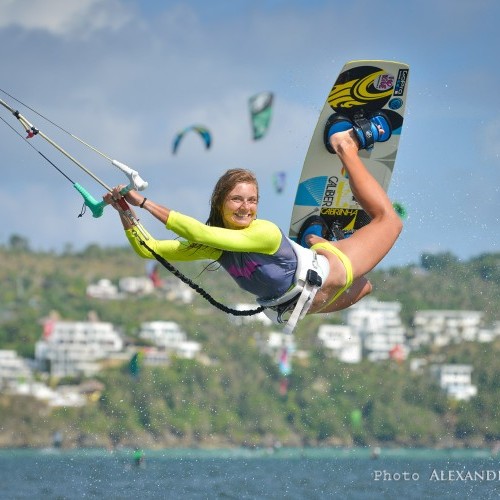 Why Visit?
Boracay is a tropical island located in the centre of the Philippines. This small paradise is just seven kilometres long and one kilometre wide at its narrowest point. The beginning of the tourist boom started in the late '70s when a German writer published a book about the Philippines describing Boracay's exceptional beauty. In addition to its natural values, Boracay has a large number of superb dining options, as well as a fantastic nightlife scene. It is also known for the best wind conditions in Asia during winter time, so you will meet a lot of windsurfing and kitesurfing enthusiasts enjoying the wetsuit free weather with the wind often blowing between 15 – 25 knots.
Wind and Weather
There are 7,107 islands to choose from in the Philippines for your kiteboarding experience with warm, crystal-clear turquoise water, white beaches, friendly people and steady wind. The main Kiteboarding season here goes from the middle of October until the end of March, making it the perfect getaway from a cold European winter. From the end of October to the end of April, the North East (Amihan) wind constantly blows between 15 and 35 knots all over the Philippines. Throughout the rest of the year, the Philippines experience winds from the south-west (Habagat). The Habagat season does not provide constant wind, and this is the season when we turn to dive, surfing, wakeboarding, and any other water sports. Now put your boardshorts on and get out here!
Getting Around
If you arrive at Caticlan, transferring to the island is quite straight forward, 75 pesos environmental fee, 100 pesos terminal fee, 100 to 150 PHP pesos tricycle, 25 or 30 PHP pesos for the ferry (15 minutes from Caticlan to Boracay and vice versa), and if you have heavy bags some money for the porter boys (usually PHP 20 per bag), It's very easy to go around the island using motorbikes or trikes.
Food and Drink
Boracay has developed into a dining destination. The island has given birth to fine restaurants, some of which have branched out to the metro, and food finds that are worth travelling for. Meal prices for the evening meal range from around P200 up to perhaps P2000 per person, depending on what and where you eat. Slightly lower rates can be found at establishments catering for locals. Prices for local beers and drinks made with local spirits (e.g. the ever-popular local rum) currently range from about P50 up to the top end price of about P200.
Nightlife
Boracay is famous for its parties, and you'll be sure to have a great time! There are local bands, DJ's, full moon parties and great locations for meeting other kitesurfers and locals.
No Wind?
There are lots of activities you can do in Boracay including lots of diving schools, jet skis, other watersports and some of the best spas in the world which are a great experience. Another good adventure is the day trips to the surrounding islands and meeting with the local people.
Internet
The Internet is available everywhere on the island and is strong enough to stream movies. If this isn't enough, you can upgrade to faster internet. Other than that, there are plenty of bars and restaurants which offer wifi for free. The local kite school also has free wifi.
Accommodation
Where you choose to stay depends on three things - the time of year, your budget, and of course resort reviews.
From June to October- I advise you to stay on the Eastern coast. This is because, during this time, there are strong winds from the South West which dominate the Boracay landscape. Resting on a white beach at this time means that the waters will be rough and the beach will be windy. Not typical Boracay for a tourist! (This advice also works in other islands in the Philippines).
From  November to April - Stay on the West coast (White beach, Angol point)
White beach is full of places where you could stay, and there are more all over the island
Boracay is very hot so it will be a good idea to get accommodation with air conditioning. There are lots of air-conditioned places to stay by the White Beach which are reasonably priced.
Featured
The Babaomby spot situated on Madagascar's Emerald Sea lagoon gathers a beautiful and diverse playground for kitesurfers with excellent wind conditions. The spot is ranked among the ten windiest spots on the planet by Windguru and offers everything a kitesurfer dreams about: safe conditions in shallow and crystal clear waters, two wave zones easily accessible only a 15-minute ride away…
With the island's nickname being 'wind-ridden one', it is no surprise that Keros bay is an idyllic kitesurfing destination during the European summer season. Boasting postcard-worthy beaches, crystal-clear waters, ancient archaeological sites and home to some fantastic wildlife, Limnos Island is a pearl of the Aegean Sea! The island vibes are so chilled here that they are, in fact, artic.…
In 2015 Craig Cunningham named Atins as his #4 favourite flatwater spot in the world. Located 600km west of Fortaleza, Atkins serves as an endpoint for many legendary downwinders. Set in the Delta of the River Preguiças the meandering river mouth creates ever-changing sandbanks and knee-deep lagoons. Along with its consistent strong winds, typical for these shores, kiters encounter perfect…

Been to Boracay? What did you think?
Where are the Best Kitesurfing Beaches in Boracay?
Bulabog beach is the most popular spot and enjoys a good mix of flat water and waves on the reef. However, when the wind gets stronger, it can get a little choppy on the inside and during peak times it can get busy. Early morning sessions are the best due to stronger winds earlier and depending on the tides the water is more or less flat.
Wind: Onshore
Waves: Out on the reef
Shorebreak: No
When is the Best Time to go Kitesurfing in Boracay?
The windy months to go kitesurfing in Boracay are January, February, March, October, November, December
Statistics
Do you know a good kitesurfing school here?
Kitesurfing Videos and News in Boracay
6 years ago
One of the best #wipeoutwednesday vids we've seen! This guy genuinely kiteboards straight into powerlines, electrocutes his kite and shreds it!! Don't try this at…