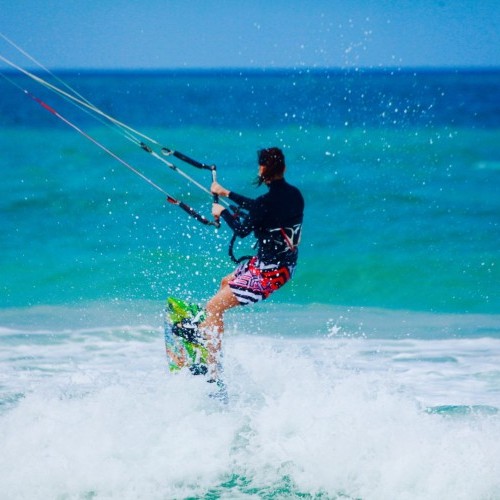 Why Visit?
If you're looking for the perfect getaway vacation that involves water, beaches, water sports and a serene nightlife, you can't get any better than Boa Vista! It is the must-go-to-location for beach and water lovers.
Boa Vista is located on the eastern side of the Cape Verde Islands and is the third largest island in the group. Boa Vista, which translates to "good views" in Portuguese, is well known for its dunes and beaches and has many kitesurf and windsurfing spots for visitors to enjoy. It has an array of water conditions including flat spots that are ideal for novice and improving kitesurfers and windsurfers. Its clean waves are ideal to begin trying wave riding.
The majority of the island's accommodations are located on the west coast near the city of Sal Rei.
Wind and Weather
Boa Vista is a great place to learn how to kitesurf. With wind averaging between 15-30 knots in high season with many options of beaches around the islands picking up a variety of swells and wind directions, there's always one spot that's on. One beach may have two-meter waves, while the next may have none and be flat. Flatwater is perfect for learning on because you needn't worry about the waves and can mainly concentrate on the kite and your board.
The best time to come to Boa Vista is in the winter between November and May, with January, February, and March generally seeing the most intense winds.
This pleasantly tropical destination benefit from average annual temperatures of between 26°C and 30°C.
Getting Around
Taxis are readily available in the resort areas and are generally of a good standard. Although they work on a meter, they can at times be 'creative', so it is always worth agreeing on the cost before setting off. A journey trip to Sal Rei should cost you around €10.
The most inexpensive way of getting around is the 'aluguers' buses that are easily identified and drive around the town and are often full of passengers. Just remember to give them a shout-out once you've reached your destination and want to be dropped off!
Island to Island
Flying is the most practical way of travelling between the islands. Binter operates Inter-island flights and the tickets should roughly cost you between €50-100€ per way.
Food and Drink
The quieter island of Boa Vista do not have a wide selection of dishes, and the limited menu may well be what they have prepared for the day. You will find a variety of restaurants in the central town of Sal Rei offering local dishes as well as some Italian cuisine and many will have live Cape Verdean music at least once a week at night.
Prices do vary - expect to pay the equivalent of between €15-€30 meal with local wine if you choose a restaurant on the beach.
If you choose a restaurant outside the beach area with locals the prices are between €5 to €10 and local beer will cost you about €1.5 (they are quite small)
Local drinks that you need to try on the island should definitely include; Grogue (locally produced from sugar cane to make this strong alcoholic drink) Fogo wine (very pleasant when drunk at the right time but can be hit and miss depending on the age of the grape) and Caipirinha (Brazil inspired cocktail made with sugar cane and local liquor)
Nightlife
Nightlife in Cape Verde generally stems from traditional live music and dance. The natural sounds of Africa, combined with European and Latin instruments have resulted in the charming and upbeat Creole music that is famous within the archipelago.
Much of the Cape Verde nightlife is hotel based. However, the locals' lively spirit is evident in the main resort areas at the weekends, where you can just as easily join them in a local restaurant, music bar or disco shimmying to the local rhythmic beats.
No Wind?
There are many different and exciting activities available on the islands in the form of excursions, day trips, island tours and immersing yourself in the local scene!
Our numerous excursions and experiences will allow you the possibility of exploring and discovering the best of Boa Vista's attractions, though many may prefer just to lay back, soak up the sunshine and embrace the languid pace of life that makes Boa Vista so desirable.
Whale Watching is a BIG one! Humpbacks whales carry out seasonal migrations between their high-latitude feeding areas and their low-latitude breeding grounds. The Cape Verde Islands are one of the two breeding sites for the species in the North Atlantic. March and April is the peak of the breeding season and also the time when these acrobatic whales can be sighted off the west and south-west coast of Boa Vista.
Internet
The Internet is quite a new phenomenon around Boavista, but a few hotels and restaurants will have wifi! Your best bet is to get a local pre-paid sim card. You can either go to the Unitel or CV Movel shop on the main street in Sal Rei and buy a sim card for 1€, top it up for 10 € (that will give you 5 Gb of data) and that is fast and reliable. I was able to stream Youtube and make Skype calls, even at the beach!
Accommodation
The Iberostar is an all-inclusive resort hotel which overlooks Chaves, a seemingly endless stretch of white sand, considered by some to be the most beautiful beach in the whole of Cape Verde.
The well-equipped rooms are of a good size and standard, and each has a terrace. The hotel offers a variety of amenities including air conditioning, TV, pool bar, beach bar, sauna, watersports and more!
There are other options around the area including other hotels, apartments for rents as well as air bnb.
Cape Verde
Error getting country data...
Featured
The Turks and Caicos Islands are famous for their endlessly beautiful turquoise waters and stunning beaches. As a kiteboarding location, the country still flies under the radar, allowing visiting kiters to enjoy pristine waters with relatively few other people. The main island of Providenciales (locals/regulars call it Provo) is home to a spot with world-class learning conditions, along with many…
2km wide and 12km long, Sankt Peter-Ording is home to a beautiful wide landscape featuring the biggest beach in Germany. One of the best things about the beaches is that when the kitesurfing season starts (from Easter until November), there is no need to walk the beach to get to the kite spots as all the beaches are accessible by…
Why Visit Rottnest Island sits off the west coast of Perth, visible on the horizon on most days; it's a mere 18km from the mainland. Steeped in history, it is now a protected nature reserve, accessible by private boat or two ferry companies that operate daily trips to the island. Home to white sandy beaches, crystal clear waters and the…
Simão Brado is the owner of the Boavista Kite at Iberostar Hotel. They offer all kite and surf lessons/rentals, tours and activities around the island of Boavista.
Been to Boa Vista? What did you think?
Where are the Best Kitesurfing Beaches in Boa Vista?
The spot at Boavista Kite at Iberostar offers a side-shore wind, but it is not always accessible. From December to February there are waves, so they teach with boats. The first lessons are generally on the beach, and then they teach from a boat in front of the hotel. When it is not possible they move the lessons to their other boat in Sal Rei Bay.
Wind: Side-shore
Wave: Yes
Shorebreak: Some
The spot lays on the south-western tip of the island, but be cautious as there is no room for error at this spot; 500m downwind and you are out into the open ocean with no rescue around, or if you are lucky, you are washed onto volcanic cliffs.
However, for experienced riders, Varandinha brings lots of fun with their big and slow waves. The wind is side-off-shore from the right.
Wind: Side-off-shore from the right
Wave: Yes
Shorebreak: Yes
Pont Antonio is a nice bay with side-onshore wind and some waves. Quite a big flat area between waves, so you can practice freestyle tricks here too. You will need a 4×4 car to get to this spot. Pont Antonio is generally safe for beginners with steady onshore winds, but maybe not the easiest place to learn because of the waves.
Wind: Side-onshore
Wave: Yes
Shorebreak: None
At this big sand-castle-hotel, there is a lagoon with completely flat shallow water, but with gusty winds. You can go here by car, scooter, or do a downwinder from the city with the kite.
Wind: Gusty off-shore
Wave: None
Shorebreak: None
Morabeza Beach is walking distance from the city. The wind is side-off to off here, so super gusty. But no chop, only flat water. The waves are generally smaller than on the other spots on the west side. However, the wind is cross off-shore and gusty which makes riding waves pretty tricky. Getting back to shore requires good upwind riding skills and sometimes may take a while.
Wind: Side-off to off (gusty)
Wave: None
Shorebreak: None
Kitesurfing excursions at Boa Vista
For the best kitesurfing experience on Boa Vista, you need to go on excursions to different beaches around the island. The spots near the city are good, but there are so much more to see! You can rent a driver with a 4×4 pickup-truck for around €60. The kite centres can hook you up with a driver and with people that want to come with you on the excursion for splitting the bill. Pack your kites and 2-6 persons per car, and check out what the island has to offer.
When is the Best Time to go Kitesurfing in Boa Vista?
The windy months to go kitesurfing in Boa Vista are January, February, April, May, November, December
Statistics
Do you know a good kitesurfing school here?
Kitesurfing Videos and News in Boa Vista