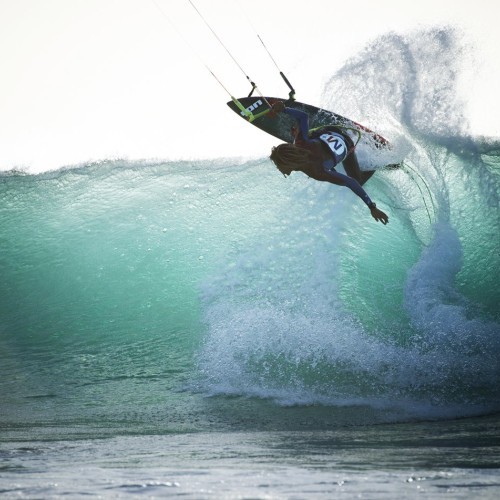 Why Visit?
Cape Verde is gaining more and more popularity amongst kitesurfers, and for a good reason! This small west-African archipelago is blessed with perfect winds and enjoyable air and water temperatures; making it the ideal escape from brutal European winters! It is an excellent destination if you want to get started with wave riding, different waves and different spots for all levels and it is equally as good for free riders who want to use their twin tip boards.
Wind and Weather
The Island of Sal is the most popular touristic and kitesurfing destination in Cape Verde. It's about a 6hr flight from most European main cities and pretty much guarantees strong and consistent from the end of October till April!
Even though it's not too cold, remember to bring your long wetsuit, its always better to be warm on the water. The air temperature is a pleasant 20°, so you usually won't need more than a sweater during the day and a light jacket in the night.
Getting Around
The most popular destination is the Island of Sal (Ilha do sal), home to wave-kitesurfing-world-champions like Mitu Monteiro, Airton Cozzolino (current GKA world champion) and Matchu Lopes. Several favourited charter companies organise direct flights from the UK and Europe, making it very convenient and easy to get to the island.
You'll land in the small town of Santa Maria, and the centre of all kitesurfing and nightlife activities is just a 20-minute taxi ride. I strongly recommend you get your accommodation in Santa Maria because once you are here, you can easily go to the kite beach every day. The ride will cost you about 5€ per way, and you can share it with your friends or with random kiters you'll meet at the beach. Renting a car is also possible, but it is quite expensive, and you'll only need a car to get to the kite beach, everything else is within walking distance.
Food and Drink
Plenty of both! Santa Maria offers great local and international cuisine, deadly Caipirinhas, good cocktails, and beers!
Nightlife
Santa Maria is a unique and vibrant town, and you won't be disappointed! There are plenty of nice bars with live music, BBQs on the beach, happy hour, and a few clubs if you want to stay out late! It's a small town, so it will take you a couple of days to get your barrings, but then you'll know what's going on where - and the vibe is great!
No Wind?
No wind days are rare and don't happen in the winter! But if it does; you can go diving or rent an electric bike or quad and take a tour of the island. In case of light wind, have a day out on the water on a sailing boat, there are a few nice boats that organise daily trips.
Internet
You will find wifi connection in several bars and hotels, but the best option (same as most places) is to buy a local sim card directly at the airport or in town.
Accommodation
There is a range of different types of accommodation from 5* hotels to cheap rental apartments, as well as a few air BnB and surf houses close to the spots.
Cape Verde
Error getting country data...
Featured
Punta San Carlos is one of the most rad places on the planet; if you are into riding waves, then you must have heard about this fabled spot already. It's been frequented by windsurfers and surfers for over 40 years and is now home to a proper camp that has been set up and run by Mr Punta San Carlos,…
Copenhagen, Denmark's capital, sits on the coastal islands of Zealand and Amager. It's linked to Malmo in southern Sweden by the Öresund Bridge. There are more than 20 different kite spots within one hour of Copenhagen. Sydvestpynten is the name of the most famous spot and is no more than 20 minutes outside of the city centre by car. Denmark in…
Find yourself in the unspoiled nature, enchanted by the rare beauty of small towns, inspired by the culture and traditions of this land and experience the emotions of outdoor activities. Lake Como was not only a romantic travel-destination for poets like Stendhal, Mark Twain and Flaubert but also birthplace and habitation for many celebrities (Madonna, George Clooney, Gianni Versace, Ronaldinho…
Founder of Sick Dog Surf. Born and raised in Milan but always on the move, Roberto spends summers in Egypt organising awesome kitesurfing cruises and winters in Cape Verde with his kite camps! You can join him in a kitesurfing adventure (if you dare!)
Been to Sal? What did you think?
Where are the Best Kitesurfing Beaches in Sal?
Kite beach is by far the most popular spot on the island. It offers a good mix of flatter water and waves, so is very popular amongst wave and twin tip riders. During high season, it can get a little busy so it usually better wait for a late afternoon session or for everyone to take a lunch break. The wind is a very comfortable cross-on, so perfect for beginners and Kite Beach is also one of the few places on the island where you can learn to kitesurf (most schools teach here)
Wind: Cross on from the left
Waves: Yes
Shorebreak: Yes
Ponta Preta is an advanced kitesurfing spot especially when it is big! Ponta Preta recently hosted  2018 GKAevent and for a good reason. With good swell, it generates a long ride that closes dangerously close to the rocks (offshore winds help you to get out of it though). Challenging but rewarding!
Wind: Offshore
Waves: Yes
Shorebreak: Yes
A short downwinder from Kite Beach, you reach Ponta Leme. Home to a very nice left wave (with the right direction of the swell) When it's on (and it doesn't happen often) it gets busy, so keep your eyes open and be prepared!
Wind: Side-on
Waves: Yes
Shorebreak: Yes
When is the Best Time to go Kitesurfing in Sal?
The windy months to go kitesurfing in Sal are January, February, March, April, October, November, December
Statistics
Do you know a good kitesurfing school here?
Kitesurfing Videos and News in Sal