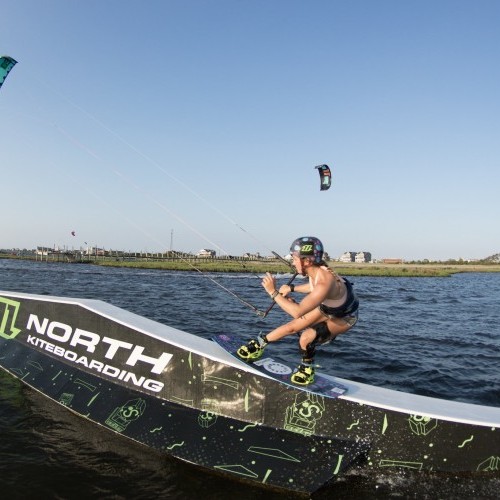 Why Visit?
Cape Hatteras is a beautiful, thin and small island situated in an extraordinary place in North Carolina. In Hatteras, you can truly relax. If it's windy, you go kiting. If it's not, you can go surfing and on the rare no wind or wave day you can go biking, suping, jetski tours or relax at the beach.
Wind and Weather
Year round, Cape Hatteras sees winds from around the clock as far as direction is concerned. This is ok since Cape Hatteras is 35 miles away from the mainland and any wind obstructions, making any wind direction a clean and steady wind to kite in. It is the steadiest wind I have experienced in a while!
Generally, spring sees a good mix of SW and NE winds with some NW and northerly winds. Summer sees the NE die out and the SW take all the glory, with a few S and SE showing up in August and September. Fall winds show the SW fading away, replaced by NW, N and NE. Winter sees a pretty even mix of every direction on the compass with northerly winds being cooler and southerly winds being warmer.
Getting Around
You need a car to get there and to get around.
Getting There
Easiest option: take a plane to Norfolk International Airport (ORF). Norfolk International Airport is the closest major airport. It's about a two-hour drive from REAL. It's a major airport serving coastal Virginia as well as Virginia's Eastern Shore, northeast North Carolina and the Outer Banks. Air service is provided by American, Continental, Delta, Southwest, United Express and US Airways offering access to hundreds of cities.
Car rentals are available from the airport from all of the major providers. Renting a car is the most cost effective and practical way to get here and get around. If renting a car isn't an option for you, there is also an airport shuttle that can drive you to Cape Hatteras.
The Dare County Regional Airport (MQI) is 30 minutes away from REAL and accepts most size private planes and jets. They offer fueling and charter services, and Enterprise Rental cars are available for pick up at MQI.
Other nearby airports include Newport News, Virginia (PHF) and Raleigh-Durham, North Carolina (RDU).
Food and Drink
You have quite some good selection of food in the OBX, Watermen's Bar and Grill is my favourite. The menu is just insane. You can drink the tap water.
Nightlife
Hatteras is quite chilled unless you come for Triple S Invitational. Events are here and there, but it is more of a place to chill.
No Wind?
Go surfing, suping, jet ski tour, biking, checking around the place...
Internet
The internet here is excellent and will have you covered for most things.
Accommodation
The usual thing in OBX is to rent a house in between a bunch of people. Also, you can stay at Real Watersports.
USA
United States dollar (USD)
Featured


Gökova Bay is situated in the west of Turkey and surrounded by the warm and clear Aegean Sea, amazingly it is still one of the relatively unknown spots in Europe which means you can enjoy riding here without battling amongst the crowds. The bay itself is 3km wide which means there is plenty of space for everyone! Each afternoon from…


With the island's nickname being 'wind-ridden one', it is no surprise that Keros bay is an idyllic kitesurfing destination during the European summer season. Boasting postcard-worthy beaches, crystal-clear waters, ancient archaeological sites and home to some fantastic wildlife, Limnos Island is a pearl of the Aegean Sea! The island vibes are so chilled here that they are, in fact, artic.…


The rugged scenery and unspoilt nature around Lagos and the Costa Vicentina Natural Park are breathtaking. Our region has one of the biggest and best-preserved coastlines in Europe. Some of the most beautiful places are only accessible by water, which makes it extremely exciting to explore this region on top of a SUP board or under a kite. Sandy beaches,…
Julia is a kitesurfer from Fuerteventura riding for North Kiteboarding. After her shoulder injury she decided to spend her winter in The Philippines and she visited some amazing spots she decided to share with us. Her best result was Vice European Junior Champion in 2013 and she also did some world tour stops where she got 9th place.
Been to Cape Hatteras? What did you think?
Where are the Best Kitesurfing Beaches in Cape Hatteras?
Cape Hatteras is a huge flat water lagoon perfect for kiting. Most of the entries are private path's, but you'll find your way to the water through Real Slick.
Wind: Normally side shore.
Waves: On the outside of the lagoon.
Shorebreak: Not inside the lagoon.
When is the Best Time to go Kitesurfing in Cape Hatteras?
The windy months to go kitesurfing in Cape Hatteras are January, February, March, April, May, June, July, August, September, October, November, December
Statistics
Kitesurfing Hotels and Accommodation in Cape Hatteras
Do you know a good kitesurfing school here? Submit it below.
Kitesurfing Articles that Mention Cape Hatteras
Issue 71
Aaron Hadlow and Laci Kobulsky have been working on a new feature-length film called TWENTY, in this issues instalment, they tell us what went down in Cape Hatteras for the Park Section of the movie!
Issue 69
Ryan Osmond took a chance, ditched his tedious job, and followed his dreams. Now, his backyard is the REAL Watersports slick, and his day-to-day has him creating photos and videos with the best riders in the sport. Get to know this British/American media producer who is equal parts talent, dedication and hard work.
Kitesurfing Videos and News in Cape Hatteras