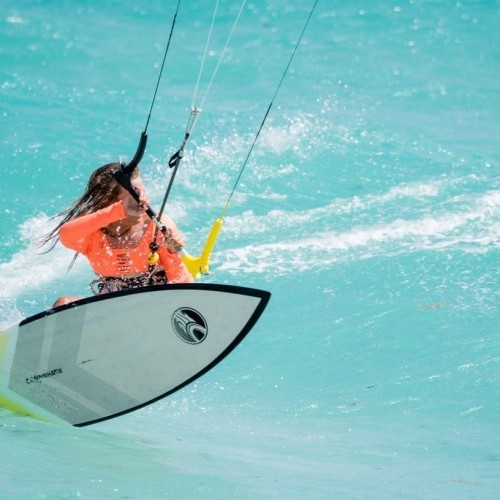 Why Visit?
Barbados offers conditions ideal for all water sports lovers. Consistently howling trade winds with beautiful, warm turquoise water and clean waves make it a playground for kitesurfers, stand-up paddle boarders, surfers, sailors, scuba divers and freedivers.
Regardless of your kiteboarding style, Barbados offers conditions for all, from freestyle, freeriding and wave riding. Many visitors get hooked on the island because of the wave break at Silver Rock Beach, known as "The Best Left" in the Caribbean.
Other popular surf breaks are a short distance away from the main kite spots, creating a favourable scenario for your dreams' kite and surf holiday. The spots are ideal for beginners as well as advanced riders.
The Kitesurf Intl by KiteSirens is an excellent place to start and offers you loads of tips on your trip to Barbados!
Wind and Weather
The windy season runs from November to July, with trade winds ranging between 20-28 knots, with some days coming in at 28-30 knots. The wind blows day and night consistently and typically comes from the east, varying in degrees of north and south, meaning you will enjoy mainly side-onshore conditions.
The best months for waves are from December to February. The south swells are typical, positioning Silver Rock as a famous reef break. When the wind blows, south conditions are ideal for a downwinder from the southeast spots to the south coast.
The weather temperature ranges between 27- 30ºC with tropical sunshine. Therefore, wetsuits are unnecessary but should be replaced with rashguards and lots of sunblock for full days under the sun!
Getting Around
The best way to get around in Barbados is with a car, and many car rental companies offer special deals throughout the year. Public transportation is also a reliable option, with buses referred to as "ZRs". Number 11 is the line that covers the coast, making it easy and affordable to get to the grocery store or other places along the coast.
Food and Drink
Barbados has various cuisine options, from the famous local Macaroni Pie and Flying Fish to the Coucou. Many restaurants also offer a blend of other foods from different cultures: Indian, Thai, Jamaican, European, and many others.
You can't miss Moo's Restaurant, located at Ocean Spray Beach Apartments. Here you will be served a farm-to-table approach that prepares meals with local organic products. Right in between the main kite spots, Moo's Restaurant is a convenient place to relax and enjoy a tasty and healthy meal in front of the ocean.
Barbados is known for its friendly and vibrant rum shops; saying that, you find one almost around every corner. So don't leave the island without trying the local rum and beer!
There are local places very close to the kite beach where you can get food and drinks. London Bar opposite Silver Rock is a star option.
Also, for good sundowners with views and dreamy Caribbean sunsets by the ocean, consider driving to the west coast, where you will find upscale beach bars and restaurants.
Nightlife
Barbados is an authentic place if you want to party and blend into the Caribbean lifestyle. The south coast is where most of the nightlife action happens. The coastal road from the kite beach to Bridgetown, the capital, has nightclubs and several beach bars.
The Fish Fry at Oistins is a popular stop on Fridays to start your night, followed by Harbour Lights, a nightclub right on the beach. Saint Lawrence Gap is another option which is just a short drive away from Oistins and the kite beach. Here you'll find different bars and restaurants.
During the windy season, look out for many live local bands playing Caribbean music blended with international tunes in many of these locations.
You can also find a few surf beach bars close to the kite beach. Here you can have a drink while watching a stunning sunset and listening to a local live band, and these bars are where most of the kitesurfing community hangs out. Don't miss the kitesurfing parties and events at Kitesurf Intl by KiteSirens!
You will find more options to go out at night on the West coast, including the bars and nightclubs on Second Street in Holetown. Also, consider the dress code at the West coast parties!
No Wind?
On no wind days, the main activity in Barbados is surfing; there is always a wave! For both advanced and beginner surfers, there are various accessible breaks to choose from. Freights Bay, Surfers Point, and South Point are some of the world's most recognised surf breaks on the island, and these are just a five-minute drive from the kite beach.
There are many other activities to do to discover the island from the ocean, such as scuba diving, SUP, SUP Yoga, snorkelling around shipwrecks and sea turtles, freediving, sailing or just enjoying a relaxing beach day in calm turquoise waters.
Other amazing places are the Animal Flower Cave, the famous rum distilleries, the Oistins Fish Market, Harrisons Cave and more. In addition, there is an array of exotic beaches to visit, like Bathsheba with its world-famous surf break Soup Bowl, Bottom Bay, The Crane Beach, Sandy Lane, Gibbs Beach and Pebbles Beach, to name some.
Doing an island tour is an excellent way to enjoy the contrast of the four different faces of Barbados: from cliffs and exotic countrysides to calm and turquoise beaches.
For more information on things to do in Barbados, click here. KiteSirens partners with top businesses on the island to offer specials on accommodation, car rentals, island tours, activities, and water sports packages.
Internet
The Internet connection on the island is stable and reliable. Almost every restaurant and coffee shop has an available Wi-Fi connection in hotels and apartments. You can also buy an affordable pre-paid SIM card at one of the local phone providers to have a connection at all times.
Accommodation
If you are going on a kite trip, we highly recommend staying close to the kite beach. Ocean Spray Beach Apartments is a top recommendation since it's snuggled between the two kite beaches, Long Beach and Silver Rock, just a two-minute drive or 15 minutes walk away.
Barbados
Error getting country data...
Featured
With the island's nickname being 'wind-ridden one', it is no surprise that Keros bay is an idyllic kitesurfing destination during the European summer season. Boasting postcard-worthy beaches, crystal-clear waters, ancient archaeological sites and home to some fantastic wildlife, Limnos Island is a pearl of the Aegean Sea! The island vibes are so chilled here that they are, in fact, artic.…
The main kiteboarding spot in Cancun is Isla Blanca, which is one of the dreamiest places you'll ever visit. A 10-mile strip of protected land extends away from Cancun, with the ocean on one side and miles of waist-deep, butter flat water on the other. This, combined with white sand, consistent winds, turquoise water and the most incredible birds will…
Sakalava Bay is a kitesurf jewel spot, reachable via sandy road from the concrete road stretching from Diego to Ramena village. It is the most beautiful bay in Diego Suarez area and the only one gathering perfect wind direction, flat water, waves and protection from the reef. Since the ground is sandy, the risks of getting injured are minimized.  At…
KiteSirens is an organisation empowering women to follow their dreams and adopt a healthy lifestyle through the sport of kitesurfing. To accomplish this mission the co-founders of KiteSirens, Carolina Dickenson and Andrea Rabasa operate Kitesurf Intl -with a home base on the tropical island of Barbados. The heart of the organisation is Sun Tribe, a non-profit project that fights against sexual abuse and social exclusion through kitesurfing camps for young women.
Been to Barbados? What did you think?
Where are the Best Kitesurfing Beaches in Barbados?
Silver Rock is the most popular kite spot, with fun kickers on the inside and clean waves on the reef. This is the spot where most of the kitesurfers and windsurfers go for its incredible wave riding conditions.
Wind: Mostly cross on, coming from the left
Waves: Out on the reef
Shore break: Mostly at high tide
Long Beach has its name for a reason! It's a mile-long stretch of white sandy beach with uncrowded waters. From Long Beach, you can enjoy endless sessions or go on a downwinder to Silver Rock.
Wind: Mostly cross on, coming from the left. On days when the wind is more north, Long Beach is more ideal than Silver Rock for beginners to intermediate levels.
Waves: Out on the reef
Shorebreak: Yes, especially during the peak months. Super fun to play with at the west side as there is a shore break wave to kitesurf! If you haven't kited with a short break before, be sure to visit Kitesurf Intl by KiteSirens on your way to get tips on how to cross it.
Besides these two main spots, the island is full of beaches and breaks to discover, go and explore when the wind blows more south.
When is the Best Time to go Kitesurfing in Barbados?
The windy months to go kitesurfing in Barbados are January, February, March, April, May, June, July, November, December
Statistics
Do you know a good kitesurfing school here?
Kitesurfing Articles that Mention Barbados
Issue 41
Hannah Whiteley heads to the Caribbean island that has a chilled out vibe and some excellent kiting conditions!
Kitesurfing Videos and News in Barbados
7 years ago
Silver Point, Barbados is a legendary surf spot. Watch as Ralph Boelen hits the reef and films with his GoPro mouth mount! Great edit, except…