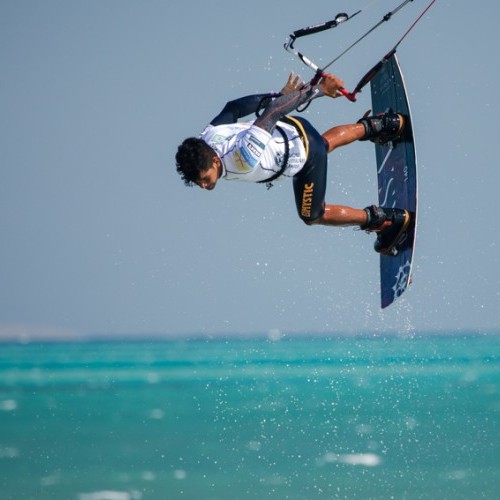 Why Visit?
El Gouna is a small town by the Red Sea that was established in 1989. EL Gouna originally started with a couple of hotels, and not much to do. I remember I used to dread going there as a kid! Over the past decade, El Gouna has thrived into one of the cosiest and most humble towns you will ever visit. The locals are warm-hearted and welcoming, and the people you meet are from all walks of life, from all over the world. The friends that you make there are friends for life. Once you visit El Gouna, you will always visit again.
Kitesurfing Centers / Schools
In El Gouna; to Kitesurf you need to be signed up with a centre/school. All the kitesurfing centres/schools will provide storage for your equipment, so you don't need to carry it back and forth from your hotel daily. They will have bathrooms/showers and a restaurant at the facility as well as a full team assisting you in launching and landing your kites, packing your kite if you want and even washing your kite at the end of your holiday. The team will also have a rescue boat in the water in case needed. The cost of a week of kiting at the stations is approximately 45 GBP.
Wind and Weather
In Egypt; we only really have two seasons, summer and winter and El Gouna is windy all year round. During the summer (from March until October) the air temperature is between 25c-35c. Summer peaks around July and August and can easily reach 40c. The water temperature will be around 25c-30c during those months. No wetsuit is needed, but we do recommend you bring a lycra and SPF50+ sunblock. During the summer months we have more frequent days of wind, but fewer days of strong wind (over 30 knots)
During the winter months (from October until March) the air temperature will drop to about 16c and the water to about 19c. It only really gets cold (for us) January and February where the air temperature can reach about 12c. During those months you will need a wetsuit, a 4:3mm full suit is perfect. During the winter time, there are usually fewer days of wind (70% of the time) but stronger winds when it does come through! Overall, El Gouna is windy and pleasant all year round.
Getting Around
The best way to get around in El Gouna is via Tuktuk which charges a fixed amount of 15EGP/per person (which is roughly 50p) regardless of where you are going in El Gouna. Most Kitesurfing Schools will also have a Mini-bus that with be able to pick you up and drop you off after kitesurfing at the spot. Taxi services are also available.
Food and Drink
El Gouna offers over 100 restaurants along Abu-Tig Marina and Downtown from fine cuisine to casual dining as well as a variety of cafes and coffee shops. Most hotels in El Gouna also offer The Dine Around Program, which gives hotel guests an excellent opportunity to taste as wide a variety of the town's fabulous food as possible. The Club House, downtown, is one of the oldest restaurants/beach bars around and they offer the closest thing to a home-cooked meal! Malu's Deli is also top of the list when it comes to delicious food.
Nightlife
El Gouna has something happening every night of the week. If you ask any locals, they will advise you about where to go that night or switch on El Gouna TV channel; they keep you updated with everything that is going on. It's a small town, with a small community, so everyone knows everyone and parties together. Thursday night is the BIGGEST night in El Gouna as it's the start of the weekend (Weekends are Friday and Saturday in Egypt) so El Gouna becomes quite busy, and everyone heads out to Bartender, Duport or Aurora.
On Fridays, it's "Kite Night" at Rush Sports Bar, and that is one of the most popular nights of the week as well, all the kitesurfers from all the different schools end up at our local sports bar for some epic tunes. The Bar stays open till 2 am and normally will stay busy up until then too, especially if there is no wind the next day. Another party night is "Urban Sunday", and this kicks off at the Club House starting at 11:00 pm they will blast RnB and Hip Hop till 2:00 am.
No Wind?
There are loads to do in El Gouna on no wind days. As El Gouna is all lagoons, you can have a SUP tour through the whole town in just a couple of hours. Sliders, the cable park is also very popular. Diving trips are arranged daily with Colona Divers, Orca Divers and more... If you need to take a break from any water-related activities, a hike in the mountains with Sytze is something you should tick off if you are in El Gouna.
Internet
Most restaurants, hotels, and kite schools offer free wifi, but I would recommend you buy a sim card (250EGP) with 4G internet and use that throughout your stay. The internet you get at the restaurants, hotels and kite schools will be ok for quick emails or WhatsApp but not more than that.
Accommodation
El Gouna offers a wide range of hotels from Boutique Hotels situated at Abu-Tig marina and downtown, to little fancier hotels a little out of town. Most kitesurfers will stay at the Boutique Hotels at Abu-Tig marina because they are close to the kite spots as well as Abu-Tig Marina which is where lots of restaurants/bars are.
Egypt
Error getting country data...
Featured
Punta Chame, located close to a quiet fishing village, the spot offers a vast beach with a lot of space for beginner and advanced kitesurfers to practice and progress, making Punta Chame is an excellent place for kitesurfing. Besides that, there are fantastic places to travel to while you are visiting Panama. Wind and Weather Panama gets consistent wind from…
Being the biggest island of Cyclades, Naxos offers many options to the traveller who wishes to explore a variety of activities during their holidays. You can start with hiking; keep in mind that mount Zas is 1000m high. If that is not enough, then how about some mountain biking? Plenty of countrysides to enjoy on your bike and a great…
Westward Ho! is a picturesque seaside village near Bideford on the North Devon coast in England. The name Westward Ho! derives from the Victorian novel by Charles Kingsley, and is unique as its the only place in Britain with an exclamation mark is in its name. Renowned for its miles of golden sandy beach and backed by a pebble ridge,…
IKSURFMAG Web Editor, Jen Tyler, grew up in the chaos of Cairo, Egypt. It was on the beaches of the Red Sea where her love for the ocean, watersports and adventure grew.
Been to El Gouna? What did you think?
Where are the Best Kitesurfing Beaches in El Gouna?
Element Watersports is the biggest spot in El Gouna, offering windsurfing, kitesurfing and SUP.
With no reef and 1.5 km of shallow water, it is the perfect spot for people of all ages and skill levels to learn or perfect their techniques. They have enough water during high and low tide and consistent winds for 80% of the year.
Their centre is the perfect location for a watersport holiday with a bar and restaurant, Bedouin tent, shop with surf-wear, massage room, soccer and beach volleyball, kids play area and trampoline, and weekly sunset BBQs ready for when you come off the water.
Wind: Cross-shore/onshore coming from the North to South 95% of the time
Waves: None
Shore break: None
Welcome to Makani! Makani means wind in Hawaiian and my place in Arabic which summarizes the centre! Open 365 days a year, VDWS Approved Kitesurf and SUP Center, offer Premium Duotone Kiteboarding Equipment, waist-shallow kite spot, healthy and tasty foods/ drinks (with a wide variety of vegan options) a fitness playground straight on the beach, lots of chill-out areas to enjoy your holiday and the best vibes!
Wind: Cross-shore/onshore coming from the North to South 95% of the time
Waves: None
Shore break: None
KBC (Kiteboarding Club) is further down south. The spot is relatively shallow during low tide except in the lagoon, where most riders will be during low tide. The centre hosts some great post-kitesurfing session evenings as well as weekly BBQs. KBC offers F-ONE kites for rental and sale.
Wind: Cross-shore/onshore coming from the North to South 95% of the time
Waves: None
Shore break: None
Red Sea Zone is about 50 m south of KBC. RSZ is the only polish school in Egypt. Their instructors are passionate and professional, pushing their skills every day by teaching, training and testing the equipment.
"We are serious about kitesurfing – it is our passion, but it is our way of life. We will take care of the highest quality of your training, safety, and fun! Trust us – we know how to make you fall in love with kite and board :)"
Wind: Cross-shore/onshore coming from the North to South 95% of the time
Waves: None
Shore break: None
Based at the Mövenpick Hotel, Kite people's location is sweet! Whether you want sizeable shallow water lagoons, deep water, offshore reefs or remote island boat trips, they've got it - perfect for beginners, intermediate or experienced riders.
Wind: Cross-shore/onshore coming from the North to South 95% of the time
Waves: None
Shore break: None
Based at Club Paradisio Hotel, Osmosis is directly in front of the beach, from your bed straight on the water! Freeriders start as usual directly from the beach. After the shallow lagoon, it goes straight into the deep water. Access to deep water is clear. No corals, reef or stones which makes it safe to kite during low tide
At low tide, the water can be very flat; during high tide and strong winds, a small wave is building up. On some days, it can be even lovely for a little surf. Welcome to the only "wave spot" El Gouna. Enjoy some small waves, the flat water or go cruising with dolphins and turtles between the beach and the offshore sandbar.
Wind: Cross-shore/onshore coming from the North to South 95% of the time
Waves: Occasionally, if super windy, you might get some small "surfable" waves.
Shore break: None
Tawila Island is one of the most magical places you can kitesurf in El Gouna! For this, you will need to join a boat trip; most Kitesurfing Centers will organise it once a week. Flatwater, white sand beaches and a lot of wind. What more could you ask for? There is also an 80% chance of seeing dolphins on your way there and back and possibly even at Tawila Island. If you get an opportunity to join a Tawila Island trip, I strongly recommend that you do.
Wind: Off Shore
Waves: None
Shore break: None
When is the Best Time to go Kitesurfing in El Gouna?
The windy months to go kitesurfing in El Gouna are February, March, April, May, August, September, October, November, December
Statistics
Kitesurfing Lessons and Schools in El Gouna
Kitesurfing Articles that Mention El Gouna
Issue 39
Veteran Egyptian traveller Lewis Crathern heads to El Gouna, a spot he hasn't been to before to check out the kiting and the FoundersKiteClub.
Kitesurfing Videos and News in El Gouna