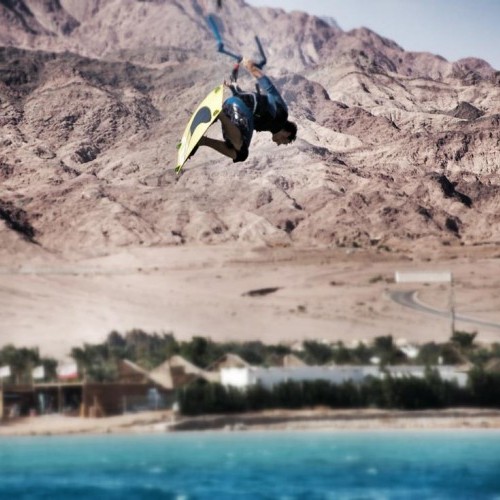 Why Visit?
Dahab (meaning 'Gold' in Arabic) is a small Bedouin town on the coast of the Sinai Peninsula. Only an hour away from St.Catherine and Mount Sinai, Dahab was initially filled with travellers on spiritual/religious pilgrimages. Dahab is also renowned for its windy conditions and its incredible underwater world. Anyone that has ever visited Dahab will tell you what a unique town it is. As Dahab is located in the Gulf of Aqaba, the wind funnels down through the Gulf making Dahab generally windier than other kitesurfing destinations around Egypt.
Dahab offers a variety of kite spots that are perfect for beginners as well as intermediate and advanced kitesurfers. There are shallow water flat lagoons, deep water lagoons and unforgettable kitesurfing trips to secluded lagoons only accessible by foot/camel.
Dahab still holds a primitive feel to it; you will not find any Starbucks, Mcdonalds or Tesco around here, which is one of the aspects of its charm but never the less you will still find everything you need when it comes to groceries, cosmetics, hospitals, etc. If for any reason you are unable to find what you are looking for, Sharm-El-Sheikh is only 80km away and over there you will find everything from fast-food chains to giant supermarkets!
So if you are looking for a warm and windy kite holiday that won't stretch the funds too much, this is the place for you. Even for non-kiters, the beaches in Dahab are mostly sheltered so that you won't get sandblasted! Dahab has a chilled vibe, with a lovely community feel. The atmosphere is great, safe and relaxed. The locals will always make you feel very welcome.
Wind and Weather
During the summer months (from March to November), it will be windy on most days. Locals appreciate a day of no wind during those months as it gives them a chance to unwind and relax! During the Winter months (December to February) the wind will usually blow for three days straight, then there will be three days of no wind - which is still really good!
The summer temperature averages in the high 30's, but with the low humidity and breeze, it never feels as hot as you would imagine. Water temperature during the summer will be between 23c to 28c and during the winter months between 19c and 23c. For the winter months, you should bring some warm clothes, because even though it doesn't get that cold, the wind will give you chills.
During the summer months, you don't need a wetsuit, but it's always good to wear at least a 1mm just for sun protection, and in case there is any reef around you. For winter months, a 4/3mm is perfect.
Getting Around
You can pretty much walk to most places in Dahab, and it shouldn't take you more than 20-25 min. There are a few places that might require you to take a taxi. The taxi's in Dahab will generally be a pickup truck or an old Jeep, with a Bedouin driver. They will charge about 1 Euro to drive to wherever you are going (regardless of how many people you are in the pickup or jeep) Make sure you always set the price before you take the ride to avoid drama!
Food and Drink
The main restaurants are located along the seafront of Masbat (the main bay) and at the lighthouse (3km away from the Lagoon area). Here you will find a wide variety of international and local cuisine, all cooked fresh to order. There is so much choice from Thai (with a Thai chef), Indian, many Italian restaurants, Chinese, Korean, Vegan, Russian fusion, to lovely local places serving dips and hot bread with local specialities such as kofta (meatballs), grilled chicken and lamb.
If you want to go local and eat falafels or koshary these are €0.25! The average price in town is €3 for a pizza or Thai to €7 for a steak. A few restaurants also offer home delivery if you are staying in an apartment and don't feel like cooking.
There are great shisha cafes and a few bars on the beach or rooftop bars, Blue Beach's "The Furry Cup" is one of the main bars the locals hang out at. Most of the restaurants do not sell alcohol for some reason, but you can buy your own from the local shop called "Drinkies", which is a lot cheaper and you can take it to the restaurant with you. The restaurants will provide glasses and will even give you a bottle opener!
In the hotels, you will be paying hotel prices for wine/beer. The hotels serve buffet meals mainly chicken and rice with a few different dishes every evening.
Nightlife
I am not by any means recommending local Egyptian alcohol, but it's possible to buy local rum for €2!
Many expats are living in Dahab from England, Netherlands, France, Germany and more and everyone gets together for quiz nights at Churchill's bar and live music / open mic nights in a few of the restaurants.
Dahab has become very popular for music festivals with live music and many DJ's from Cairo, so if you are into the whole 'Goa-Trance' scene, you will love these festivals.
Occasionally there are some parties in the mountains or book your evening in the desert with a Bedouin chef who will cook dinner for you over an open fire, while you relax and do some star gazing - a truly memorable experience.
No Wind?
Many activities are on offer in Dahab such as diving, snorkelling, horse riding, camel safaris, climbing, sand-boarding, quad biking, wakeboarding, waterskiing, glass bottom boat trips and SUPing. You could also visit Petra in Jordan, St Catherine's Monastery, Luxor, Cairo, hike up Moses mountain and watch the sunrise or wander through beautiful canyons and even the popular oasis within Dahab.
There is something magical about Dahab that seems to draw people back, and this is why there are so many yoga, wellness, spiritual and healing classes available. There is incredible energy in Dahab, sunrise and sunset are beautiful times of the day, the sand looks gold, and the sea has a pinkish aura.  You can also relax in a chilled café or bar on the beach with sundowners and shisha and watch the moon rise over the Saudi mountains – you will be awe-struck, I guarantee it!
Internet
Most places offer complimentary wifi. Some of the hotels only provide this at the reception but most of the kite centres, apartments and cafes have complimentary wifi.
Accommodation
Accommodation starts from €10 per night, maybe even cheaper depending on the comfort level. There are a few 3/4* hotels on the main sandy beach, next to the kite lagoon. Modern and comfortable apartments are available a short walk away making it ideal for all budgets and tastes. The Lagoon Villa is a lovely place to stay, 3 minutes walk from the main sandy beach.
There are two apartments for rent with Jacuzzi pools in the garden, sun loungers, a BBQ and a beautiful garden (check out photos). These are ideal for a group of friends (can sleep up to 7) or couples and families. Feel free to contact Dahab Holidays with your dates and budget and they can tailor make your holiday. Blue Beach Hotel is also a popular choice as it is in the heart of town. Dahab also offers camp/hostel like accommodation that you will find along the main bay.
Featured


Gökova Bay is situated in the west of Turkey and surrounded by the warm and clear Aegean Sea, amazingly it is still one of the relatively unknown spots in Europe which means you can enjoy riding here without battling amongst the crowds. The bay itself is 3km wide which means there is plenty of space for everyone! Each afternoon from…


Ålesund (Aalesund) is a must if you are visiting Norway! Travellers either arrive on a cruise ship, by plane or drive from Oslo to explore our Vikings traditions, Art Nouveau architecture from the 19´century and last but not least, the incredible nature surrounding it; including the fjords, the Alps of Sunnmøre and the islands. The main city connects to the…


Tarifa is the most southern point in Europe, world widely known for having insane winds! If you are hoping to get very consistent wind, this is the place to go. There are loads of different spots that work depending on the wind direction. In Tarifa, you have a Levante that blows from the east and the Poniente that blows from…
Jen Tyler grew up in the chaos of Cairo, Egypt. It was on the beaches of the Red Sea where her love for the ocean, water sports and adventure grew.
Been to Dahab? What did you think?
Where are the Best Kitesurfing Beaches in Dahab?
A shallow lagoon where you can stand up in most places. The instructor can be close to you, so it is the ideal place to learn. It is also great for intermediate kiters as it is surrounded by land, so it feels like a safe lagoon to learn and practice your skills. The main kite centres are next to the kite lagoon.
Wind: Cross offshore in the Lagoon area.
Waves: None.
Shorebreak: None
Advanced kiters can launch from the public beach and stay downwind of the windsurfing area, giving a huge open space of flat water, to practice your jumps and tricks. It is not allowed to kite in the windsurfing area between 9 am and 3 pm. Best to store your kit at a centre which has a rescue service as with cross-offshore winds it's nice to have a backup plan if something goes wrong or kit breaks.
Wind: Cross offshore
Waves: None
Shorebreak: None
Assalah Beach has an offshore reef that creates a shallow flat water lagoon. It is an excellent spot during medium or high tide with beautiful turquoise water. The wind generally blows entirely on shore, so you need to be an advanced kiter to get off the beach. I would strongly suggest you wear boots as there are some stones and coral in this spot.
Wind: Onshore
Waves: Small waves
Shorebreak: Yes
THIS IS AN UNFORGETTABLE EXPERIENCE! This is a magical kite spot, and many people have said this is one of their favourite kite spots in the world. Stay in little huts by the water's edge and wake up to kite on mirror flat water at the top of the bay. The only way to get to this magical lagoon is by camel from Blue Hole. From here you will load the camels with your equipment and you can either ride a camel as well or walk the 2hr hike alongside the shore (trust me - walking is a lot more comfortable!)
Wind: Cross-shore
Waves: None.
Shorebreak: None
When is the Best Time to go Kitesurfing in Dahab?
The windy months to go kitesurfing in Dahab are March, April, May, June, July, August, September, October, November
Statistics
Kitesurfing Hotels and Accommodation in Dahab
Do you know a good kitesurfing school here? Submit it below.
Kitesurfing Articles that Mention Dahab
Issue 73
Lewis Crathern has been to Egypt more times than he cares to mention, however, it wasn't until his latest trip to Dahab that he felt he truly discovered the real Egypt. Forget the tourist spots and the pyramids; this is as authentic as it gets right here.
Kitesurfing Videos and News in Dahab
1 year ago
Five days of non-stop wind on the Sinai's Blue Lagoon and Vytautas, Mostafa and Shoky were there to reap the benefits! If you haven't been…
2 years ago
Here's one that will get you weak in the knees! Watch Shoky in this 150m tow up at Blue Lagoon in Dahab, Egypt.
8 years ago
Sportif have announced 2 new kitesurf camps with Senior BKSA (British Kitesurfing Association) Instructor and Course Race Lee Harvey to the Red Sea and Cape…