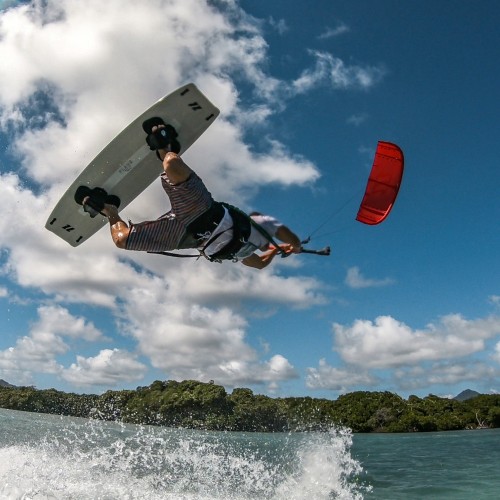 Why Visit?
Martinique is a stunning place to visit, and for a good reason! Even though it's not big, this 60x30 km island has loads on offer. The northern part is home to deep tropical forests, waterfalls, volcanoes, and black sands beaches with the river running through them, and the southern region is flatter with coconut trees and white sand beaches. The east coast is where the wind and wave action happens, and the west coast is more for snorkelling and swimming. Do we have your attention yet? Read on to find out more.
Wind and Weather
The most extended season often runs from November to August, ranging from 10 to 25 knots. But usually, the season starts in December (just after the end of the hurricane season, which runs from June to November and blows stronger until March. Then April and may get less windy days. June and July can be often windy. Most sessions are between 12 and 18 knots, but we get 20 to 25 knots of winds during hurricane season.
The winter is the best because it's not too warm (28°C), and the ocean is about 27/28°C, while during the summertime, the weather and water temperature are in the 30°Cs.
Here the wind is an inverted thermal wind. The wind is stronger in the morning; it decreases from 12 to 5 pm and increases for the evening sessions.
Getting Around
The best way to get around the island is to rent a car. The north and south points are an hour and 15 min max apart by car from the island's centre.
Food and Drink
The food is typically tropical; good fish (Tuna, Mahi-mahi), crabs and avocado and tropical fruits including banana, mango, pineapple, and passion fruit. There are plenty of restaurants with prices ranging from €10-€20 for the main course. There are loads of cheaper options, though, and you can grab a sandwich for €5.
Nightlife
In the centre area of the island, there are some beach bars like the Sunset in Schoelcher or a cool street bar called the Garage in Fort de France; check those out if you are in the area! On the other hand, if you prefer a more 'elegant' bar (expensive), check out the rooftop named the Cloud or the Kinky.
No Wind?
Martinique can be a place to visit for non-kiters as well! You can do multiple activities and visit many places in two weeks. The is a lot of hiking, from a 1-hour beach hike to 10 hours trail in the mountains. You can go to the top of the main volcano (Montagne Pelée). In addition, you can check the sea turtles on the beaches of Les Anses d'Arlet (impossible not to see any!).
If you like to surf or bodyboard, some lovely beaches on the Caravelle. Also, make sure you visit the south beaches, they are beautiful!
There are some awesome wakeboarding sliders and kickers at Les Trois Ilets,
Many fishermen offer to bring you for a day or half a day, and you will be able to move through the small islets along with the cost, or you may ask to fish too. But the best is to move around with a kayak; you can rent those easily.
On the west coast, you'll come across many diving centres. Many famous diving spots here (Diamond Rock, Rocher de la Perle, and some Wrecked boats). You'll probably see loads of dolphins as well. Tourist activities also exist (4x4 or quad excursions in the jungle, boat renting, biking, a catamaran day, canyoning). So you won't get bored!
Internet
The internet is pretty decent here, with enough for streaming, and you also can access 4G.
Accommodation
You'll be stoked to know that there is accommodation right near the kite spots! La Pointe Fault, Vauclin, le village de la pointe offer lodges from 1to 4 persons, bungalows from 4 to 6 persons or villas from 6 to 8 persons. Kite school & surf shop AIRFLY.
Le Cap est, Le François, 4**** resort, Kite School Fun Caraibes
Le Cara you, at Les 3 islets, with a few resorts
Kite School Baz Notice
 Le Club Med, à Ste Anne, which is an all-inclusive hostel
Besides, you can find many Airbnb accommodations everywhere on the islands!
Martinique
Error getting country data...
Featured
Constant trade winds, a choice of sandbars, five kilometres of powder white sand beaches and large summer swells make Watamu a wonderful playground for kiters of all levels. A world heritage site, Watamu is also a protected area of outstanding natural beauty with safari game reserves as well as a stack of other activities and sights close by. Wind and…
Ålesund (Aalesund) is a must if you are visiting Norway! Travellers either arrive on a cruise ship, by plane or drive from Oslo to explore our Vikings traditions, Art Nouveau architecture from the 19´century and last but not least, the incredible nature surrounding it; including the fjords, the Alps of Sunnmøre and the islands. The main city connects to the…
Copenhagen, Denmark's capital, sits on the coastal islands of Zealand and Amager. It's linked to Malmo in southern Sweden by the Öresund Bridge. There are more than 20 different kite spots within one hour of Copenhagen. Sydvestpynten is the name of the most famous spot and is no more than 20 minutes outside of the city centre by car. Denmark in…
Lucas Pelus has been living and kiteboarding in Martinique for 10 years and often ventures to Dominica, Guadeloupe, Sainte Lucia, Grenadines, and Dominican Republic. His passion lies in unhooked freestyle and strapless sessions in the waves!
Been to Martinique? What did you think?
Where are the Best Kitesurfing Beaches in Martinique?
This is the main kiteboarding spot on the island! It's one of the best spots of the Caribbean for freestyle and freerides. You find shallow water in a mangrove bay between 30 cm and 2 meters. There are no sea urchins and no reef, just flat and safe, but it's shallow close to the mangrove.
There is no sand (it's grass), so also perfect for kiters. You can park the car in front of the spot; you will find the only shop on the island which sails the mains brand (Duotone, Fone, North, Cabrinha, Slingshot and Ozone). There is also a swimming area next to the launching area and many restaurants, so it's also perfect for a family day there.
You can join a really big area for foiling or freeriding a go upwind to the coral reef. You will find unique places with cristal water.
Wind: NE and ENE, E
Waves: None
Shoresbreak: None
Le Francois, Cap Est [14.58881592408989, -60.84945228141922]
More beautiful than Le Vauclin for freeriding, a bit more choppy, but a perfect spot for freestyle. The launching area is tricky but nothing too dangerous; once you are in the water, the playing area is huge and empty. There is a little beach and one restaurant (a little expensive!).
From Cap Est, you can travel to many small islands and join some secret surf spots. Then, you only need to ask the locals, explaining how to join these spots.
Wind: NE and ENE, E
Waves: Choppy
Shoresbreak: None
Cap Chevalier, Anse Michel [14.436390390667894, -60.830361773749516]
This is the best family spot, it has a really nice beach, a lot of coconuts, two restaurants that are famous for local food (O cocotier). It's one of the most beautiful beaches on the island.
For kiting, it's a medium-size lagoon, really safe with a side-onshore wind. Choppy at high tide and flat at low tide. There are some cool waves behind the reef, but with onshore wind, so it's only cool with a twintip.
Wind: E – NE.
Waves: Choppy at high and flat at low tide
Shoresbreak: Behind the reef
Trois Ilets – Pointe du bout [14.561659329540456, -61.05199643700736]
The only spot on the Caribbean coast! The wind starts later around 9 am and stop in the afternoon. You can add 2 or 3 knots compared to the windward coast. It's really choppy and the wind is not often stable but it's nice for a freestyle surf session or for foil sessions too because the area is huge !
The launching is tricky; ask the local kite school they will be pleased to help you!
Wind: Cross
Waves: Some
Shoresbreak: Some
Anse Trabaud (Surf Waves)
It's a secret spot especially because it's almost empty all of the time. It's the most southern beach on the island, you can join it by car or walk from the famous beach called Les Salines (45 min). It's a bit windier than on the windward coast, but the wind is not stable; you need to kite 100m away to get some classic wind.
You can go to the reef and surf a really nice left wave. It's the best wave spot on the island; it's the biggest wave you will find. But on the second part of the wave, it"s a cooler size, don't be afraid.
Sometimes, the wind is side and a bit side off, so it's not for beginners.
The beach is one of the most beautiful f the island; there is nothing there, so bring your food.
You will also find a funny shorebreak for kites, bodyboard, or sometimes surf.
Wind: Side-off
Waves: YES!
Shoresbreak: YES!
When is the Best Time to go Kitesurfing in Martinique?
The windy months to go kitesurfing in Martinique are January, February, March, April, May, June, July, August, November, December
Statistics
Do you know a good kitesurfing school here?
Kitesurfing Videos and News in Martinique
8 years ago
Chloe & Lucas are back with another instalment of their beautiful lifestyle kiting films. This one features them exploring Martinique and making the most of…
9 years ago
Get you kiteboarding weekend off to a fine start with this action packed feature from North Kiteboarding. Martinique is a Caribbean watersports paradise and when…