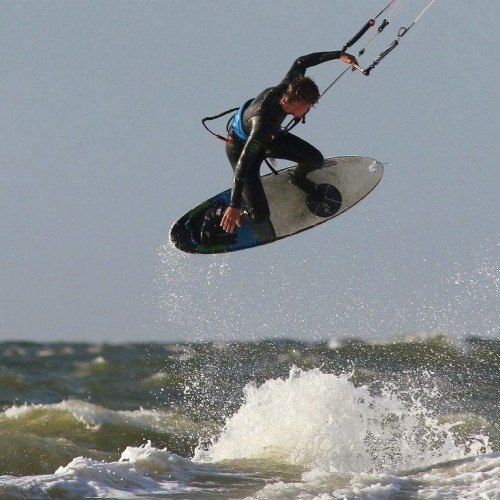 Why Visit?
Zeeland is the record holder of most hours of sun every year in the Netherlands. Sixty kilometres of Northsea beaches make the area a trendy holiday destination for German and Dutch tourists during the summer season. Zeeland is known for nature, culture and numerous water sports possibilities. Zeeland has kitesurfing spots suitable for every wind direction, the most popular ones are Vrouwenpolder (with a lagoon at high tide) and Brouwersdam.
Wind and Weather
The average water temperature in summer season (June to August) is around 18 degrees Celsius. Most kitesurfing schools open in April and close end of October due to the temperature. Zeeland isn't known for thermic winds or wind systems continually blowing in the same direction. The North Sea spots usually have steady non-gusty winds because there are no obstacles; the wind comes right from the sea. It's recommended to stay for at least one week to make sure you find enough windy days during your stay. In spring you will see mostly wind from northwest directions which usually will stay for a couple of days and in autumn the wind can get stormy when the wind direction turns southwest.
Getting Around
Kitesurfing spots like Vrouwenpolder and Brouwersdam are easy to reach by bus. Most of the spots are not accessible by public transport. It is recommended to get around by car because some spots like Neeltje Jans and Domburg can only be reached by car.
Food and Drink
Zeeland is known for mussels, lobsters, and fish; most restaurants offer a 'catch of the day'. The prices are not much different in comparison to the rest of Europe. The water out of the tap in The Netherlands is drinkable and very high quality. Zeeland has several good restaurants right at the beach, some with watersports centres included.
Nightlife
Zeeland is not known for the fantastic nightlife, but you can find some clubs in Goes, Middelburg, and Renesse. Domburg is known as the place to go out for dinner with a wide variety of restaurants and is the only touristic place which is popular all year round. Zeeland is not the place if you want to go for a party holiday and more known as a relaxed family holiday destination.
No Wind?
Besides a chill day on one of the many beaches, Zeeland has a lot to offer. At Veerse Meer you can find a cable park for wakeboard and water-ski enthusiasts, or you can go Stand up paddling. The towns Venere and Domburg are worth a visit. You will find historic buildings like churches, museums, and other cultural activities. Goes and Middelburg are the right places if you want to go shopping.
Internet
Fast and free wifi at most of the accommodations. Some beaches have free open wifi spots.
Accommodation
If you want to stay ON the kitesurfing spot the best location to go is Vrouwenpolder. You can stay in a beach house right at the spot and launch your kite in front of your terrace (www.breezandbeachhouses.nl). There are a lot of camping places, camper parks, and hotels. Most of the families visiting Zeeland rent an apartment or a house. Make sure you book in advance as it can be challenging to find accommodation on weekends in spring and in July and August.
Featured
Westward Ho! is a picturesque seaside village near Bideford on the North Devon coast in England. The name Westward Ho! derives from the Victorian novel by Charles Kingsley, and is unique as its the only place in Britain with an exclamation mark is in its name. Renowned for its miles of golden sandy beach and backed by a pebble ridge,…
You'll be able to find wind, waves, and an epic adventure in Kaliantan. It's a spot that's likely to go boom on the tourist radar in the next few years, so get in quick while it's still uncrowded. Kaliantan is located in southern Lombok, an enchanting coastal region that is prosperous with white sand beaches, palm trees, and local culture.…
Le Morne in Mauritius has to be one of the best spots for kiting on the planet; it caters for all abilities with a mix of flat water, easy waves and world-class barrels all within a 1-mile radius. The wind can be fickle, however, so while you can have the best week ever, you are just as likely to get…
Co-owner Vertigo Sports Kitesurfschool / Surfshop
Been to Zeeland? What did you think?
Where are the Best Kitesurfing Beaches in Zeeland?
Vrouwenpolder is one of the biggest official kitesurfing spots in Zeeland. The Veerse Dam splits the Veerse Meer lake from the sea which resulted in a big beach with lots of space to launch your kite. Easy flat and shallow water conditions due to a lagoon at high tide make Vrouwenpolder the perfect spot for kiteboarding lessons and freestylers. On windy days you can find some medium sized waves when the wind turns northwest or north. The official spot starts at the right side of the Vertigo Sports kitesurf club seen from the Dam.
The Vertigo Sports kitesurf school teachers are more than happy to provide you with additional spot info, just walk in!
Wind: Onshore wind directions: West, Northwest, North, Northeast, East
Waves: Only on super windy days!
Shorebreak: None
With semi flat water / choppy conditions Brouwersdam is an easy spot at low tide because it's possible to stand in the water. At high tide, the shorebreak makes it harder for beginners to practice. Only at the south part of the Brouwersdam kitesurfing is allowed. You can find yellow Buoys marking the end of the official kitesurfing area. On the beach, you can find a lot of restaurants. Avoid the Brouwersdam during all German national holiday weekends, July and August because it will be overcrowded from sunrise till sunset on windy days.
Wind: Onshore wind directions: Southwest, West, Northwest, North, Northeast
Waves: Choppy
Shorebreak: None
When is the Best Time to go Kitesurfing in Zeeland?
The windy months to go kitesurfing in Zeeland are April, May, June, July, August, September, October
Statistics
Do you know a good kitesurfing school here?