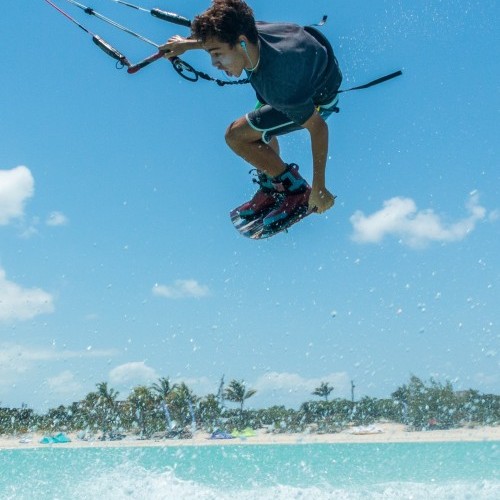 Providenciales
Turks And Caicos Islands
Why Visit?
The Turks and Caicos Islands are famous for their endlessly beautiful turquoise waters and stunning beaches. As a kiteboarding location, the country still flies under the radar, allowing visiting kiters to enjoy pristine waters with relatively few other people.
The main island of Providenciales (locals/regulars call it Provo) is home to a spot with world-class learning conditions, along with many quiet and secluded beaches to explore. It is no surprise that several brands have shot promotional videos in these picturesque islands.
If you like quiet white sand beaches, warm and shallow water, with steady Caribbean trade winds, the Turks and Caicos is for you.
Wind and Weather
The windy season in the TCI usually begins in early November and often continues through to mid/late August. Typically, the wind is very reliable from the middle of December through late June. From November to May, the average air temperature ranges from 27C/80F to 29C/85F, with water temperatures between 23C/73F to 26C/79F. During the winter months, some kiters prefer to wear a thin neoprene top or shorty wetsuit, though this is not a necessity.
From June to October, air temperatures are between 29C/85F and 32C/90F, with water temperatures of 28C/82F to 29C/85F. No need for neoprene in the summer, though the sun is very strong so consider a long sleeve shirt and wear lots of sunscreens. Throughout the year, temperatures remain fairly constant between day and night. A t-shirt and boardshorts are typical all the clothing required to sit outside in the evenings. Leave the socks at home.
Be careful when checking wind statistics online, as they can be misleading - the first weather station on the main kite beach was installed in early 2016.
Getting Around
Most people visiting the Turks and Caicos prefer to rent a car. If you are staying on/close to Long Bay, you can get by without one, but beware of taxi fares; they can be shocking even when travelling what seems like a short distance. Scooters are also available for rent, but often comparable in price to rent a car. For experienced kiters planning on exploring the variety of beaches, Providenciales has to offer, renting a car is the most convenient way to get around. Exploring is encouraged, but be careful, some dirt roads to more remote areas can be extremely rough.
The Turks and Caicos Islands are a British Overseas Territory. Drive on the left!!
Getting There
The Turks and Caicos Islands have a substantial air bridge, making it very easy to fly in. There are direct flights daily or multiple times per week from many major airports including New York, Boston, Atlanta, and Miami, as well as Toronto, Montreal, and London. It is also possible to fly from other Caribbean locations including the Dominican Republic, Cuba, Puerto Rico, and the British Virgin Islands.
Food and Drink
The Turks and Caicos Islands are well known for their high-quality cuisine. There are plenty of excellent restaurants on Provo, from local seafood to Indian, Thai, Turkish, and Italian. There is a small brewery on the island, usually producing two or three different beers. Other typical Caribbean beers (Corona, Presidente, Red Stripe, etc.) are widely available. Restaurant prices are quite high, so consider cooking at home to cut down on costs. The grocery stores are well stocked, carrying everything you might need.
There are no restaurants at the main kite beach, so bring plenty of water and some snacks for between sessions.
Nightlife
Provo nightlife is fairly quiet. Cruise down the main tourist stretch in Grace Bay to see which place is busy that evening. "Fish Fry" takes place every Thursday evening in The Bight Park, where tourists and islanders gather together for a fun evening of eating and drinking. Get there around sunset to get the best selection of food. Later in the evening, there is a Junkanoo parade where elaborately costumed performers play a form of percussive dance music.
No Wind?
The Turks and Caicos are all about watersports and laid back beach life. When the wind takes a day off, stay cool by checking out some of the excellent snorkelling and scuba diving. Rather stay above the water's surface? No problem – ride a horse, charter a wakeboard boat, go for a paddle, or relax with a beer or cocktail on the beach. If the ocean is in sight, you're doing it right.
Internet
Internet connectivity across Provo is generally good. Most accommodation includes free wi-fi which is usually up to 10mb and reliable. Many restaurants also provide free wi-fi though in some cases you may need to ask for passwords. 4G data packages can be purchased for reasonable prices.
Accommodation
The Turks and Caicos Islands are a 5-star destination and therefore have very limited options for inexpensive accommodation – the best chance of finding some is through sites such as Airbnb. The majority of accommodation is in condos in a resort setting or private villas. Most units have their kitchens which help save on food costs. To stay close to the main kite beach, look for places in the Long Bay area. The main tourist areas of Grace Bay and Leeward are a 5-minute drive from the kite beach.
Featured
Just 2 hours north of Perth you will find one of the best spots to kitesurf on the West Coast of Australia. Lancelin is a popular place with kiters and at the weekends, many riders from Perth make the trip up and spend a couple of days enjoying the perfect conditions on offer. With waves and butter flat water there…
Located 220km from Lima, Paracas shares the border with a national park. The town has a large fishing community, as well as touristic shops and restaurants. Paracas is one of the closest kite spots to Lima, and it attracts kiters from all along the coast. The spot is perfect for all levels of riding; closer to the beach, the water…
El Gouna is a small town by the Red Sea that was established in 1989. EL Gouna originally started with a couple of hotels, and not much to do. I remember I used to dread going there as a kid! Over the past decade, El Gouna has thrived into one of the cosiest and most humble towns you will ever…
Nik has been visiting the Turks and Caicos Islands regularly for the last 15 years. After finishing his degree, he decided to make Provo his home and now spends his time teaching people how to kite. If he isn't in the water teaching, you can find him kiting or photographing his friends.
Been to Providenciales? What did you think?
Where are the Best Kitesurfing Beaches in Providenciales?
Long Bay is the main kite spot on the island. It features a massive expanse of warm shallow water, where it is possible to walk in waist deep water for over 2km (1 mile). This provides a perfect place for beginners to learn the basics and experienced riders to work on new tricks. Although the tidal movement is usually only 60-70cm (2 – 2 ½ feet), it plays a noticeable role in the conditions. At high tide, the water depth is usually shoulder to head depth, allowing for reasonably sized wind chop. At low tide, the water is usually mid-thigh depth, and the whole bay becomes relatively flat. Due to the shallow water, there is no shore break, and no waves. The bottom is soft sand with very occasional rocks and shells, so no need for booties or water shoes.
Check WindGURU tide tables and add 45 minutes for a more accurate tide time for Long Bay.
All of the kite schools operate from Long Bay, and conduct their lessons around low tide, making this time of day slightly busier. Since the learning conditions are so fantastic, there are lots of beginners, so be respectful and give them lots of space. Low tide is a great time to go out and work on new tricks; the water is so shallow that you can walk back to your board after a crash, no more upwind body dragging! If you want the whole bay to yourself, wait until the tide is a bit higher. All the lessons will be finishing and many other riders will come in to take a break.
The peak season is from late November through April, though this is a very quiet spot with nearly unlimited space. The main wind direction is onshore (Southeast), but it often comes cross-on from the left (East to East-Northeast), especially in the winter months.
If the wind is cross-on, take a trip out to the iconic shipwreck on the horizon, but be careful of the wind shadow.
Wind: Cross on from the left / Onshore
Waves: No
Shorebreak: No
For capable kiters comfortable enough to leave the safety of Long Bay, Emerald Point offers a variety of conditions and is well worth exploring. This is not an ideal spot for beginners – the water is deep, often has strong currents, and can have busy boat traffic in some areas. For more advanced riders, there is usually a bit of everything available here. Out on the reef to the NW, there can be some wave riding, though it is usually quite messy. The winter months provide a better chance for swells.
If riding on the reef, be very careful as the tide goes down, the reef is exposed or very close to the surface in many places.
There are many beautiful flat water spots to be found with a bit of work riding upwind. On most wind directions, a flat water spot with clean wind can be found within 15 minutes of upwind exploration. There are endless hidden butter spots, so don't stay in one place for too long, you never know what is around the next corner! For a serious leg workout, ride upwind from Emerald point, explore some of the many low-lying mangrove islands, and then venture out to the East and ride downwind to finish at Long Bay.
Keep an eye out for turtles and stingrays, and even baby sharks – the shallow waters are full of life!
No matter when you ride at Emerald Point, be careful of the current in the channel, which can either push you out to the reef or in towards the marina where exiting the water is very difficult. The current is least around the change-over between the tides. Also be aware of boat traffic, the channels can be quite busy, and many boat operators don't fully understand how kiteboarding works. That being said, if a safe situation presents itself, the tour boats often appreciate a few big airs and tricks, especially later in the afternoon once their guests have indulged in a few island rum punches.
Wind: All directions
Waves: Some, especially in winter months
Shorebreak: Occasionally during winter swells
If the wind is NW to NE, The Bight Park on the world famous Grace Bay beach can provide some fun deep water riding. Most of the hotels are along this beach, and there are often many interested tourists. Most hotels have swim zones or buoys in front, stay out of these areas and take care to prevent kite lines from tangling in the buoys and markers. The Bight Parks is also where the Sailing Club is located, so give sailors a wide berth, as many of them are beginners. It is also possible to kite to the reef here for some waves, but it is quite far.
On North wind days, it is possible to do down-winders along the reef from Emerald Point and finishing at the Bight Park. Just make sure to leave a vehicle there to avoid massive taxi fares.
Wind: Cross-on / onshore
Waves: Some, especially in winter months
Shorebreak: Occasionally during winter swells
When is the Best Time to go Kitesurfing in Providenciales?
The windy months to go kitesurfing in Providenciales are January, February, March, April, May, June, July, August, November, December
Statistics
Kitesurfing Lessons and Schools in Providenciales