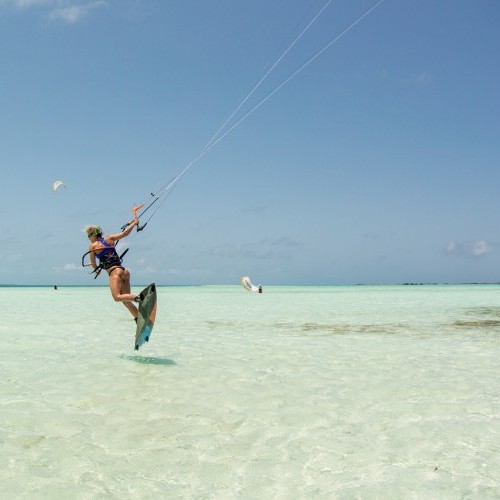 Why Visit?
Venezuela, at the moment, is probably one of the cheapest countries in the world. El Yaque on Margarita Island is one of the best spots for kitesurfing globally, as it's windy almost all year round. You will find a vast range of riding conditions. Isla de Coche is located between Margarita and the mainland. You can do a downwinder 15km from Margarita to Coche or take a 20min boat ride. Coche is perfect for Freestyle kiting as the water is butter flat. El Yaque and Coche both have lifeguards on the beach. Unlike other spots in the world, in Venezuela, you won't find a crowded kite spot at the moment.
Wind and Weather
The best wind season guarantees wind in February till June with almost every day. July is good most of the time. It's also windy from October until January, but there can be a few days without wind during the week. It also rains in between but less than all the other Caribbean Islands. Temperature is always between 24C-30C.
Getting Around
I don't recommend renting a car. It's better to get a local driver. Streets often have no names, and it can get pretty confusing, and you can get lost easily. Ask the kite school for a recommendation of a driver. There are many things to see on the island, so it's worth it. I recommend the National Park La Restinga. You can take a beautiful boat ride through the mangrove-covered canals and have lunch at La Restinga Beach. I also recommend hiking in the mountains, visiting one of the other 30 beaches on Margarita Island, and watching the sunset at the "Fortin La Galera" in Juan Griego.
Getting There
Isla de Margarita (Margarita Island) lies in the Caribbean Sea about 40 kilometres north of the mainland. Since 2010 there have been no direct international flights to Isla Margarita anymore. Instead, you have to fly to Caracas Airport. The airport lies in Maiquetia, 30km outside of Caracas. The airport is safe as long as you stay inside. Follow the signs for connecting national flights. Many airlines fly to Isla de Margarita (Airport Code is PMV – Porlamar). It's best to contact a kite school or local agency to help you book your national flight.
Airlines: http://www.laser.com.ve, http://www.conviasa.aero, http://www.aeropostal.com, http://www.asercaairlines.com
Food and Drink
The best restaurant in El Yaque is Sharks. They also have excellent drinks. Try the Barfly; its passion fruit, Caipirinha. There is also an Italian place on the main street in El Yaque. The pizza is ok, but they have fresh gnocchi and pasta, making a magnificent Carpaccio. Deliras Food at the El Yaque Plaza makes great lunch. They have fresh juices, and their salads and burgers are splendid. Finally, I highly recommend eating at UMI Sushi in Porlamar (a 40min drive from El Yaque) if you like Sushi. The sushi there is cheap and amazing. So are the drinks.
Nightlife
The only late nightlife place in El Yaque is the Beach Bar. People usually drink before somewhere else (I recommend Sharks) and then party at Beach Bar. However, if you are adventurous, you can go out in Porlamar. My favourite place is Aartefatto (right next to UMI Sushi). It starts around 11 pm. They often have life bands or a DJ. It's pretty laid back, and depending on the day, it's either Rock, Reggae or electronic music. Other places in Porlamar are Green Martini, Ugly Tuna, and Bora Bora.
No Wind?
Surfing is also very popular. Best beaches are Playa Parguito and Playa Guacuco. You can also go Horse-riding (Macanao Peninsula), hike in the mountains, dive, snorkelling, take boat trips to other islands like Coche, Los Frailes, Cubagua, and go shopping in Porlamar, do SUP, do Yoga, Mountain Biking.
Internet
Most posadas and hotels have decent internet.
Accommodation
Venezuela
Error getting country data...
Featured
St. Petersburg is The Sunshine City. It holds the Guinness World Record for most days of consecutive sunshine at 768. Offering miles and miles of beautiful white sandy beaches often compared to and regarded as some of the best beaches in the world! Also being that it is a peninsula it offers numerous kiting spots for all wind directions as…
I believe the Isle of Thanet to be quite a unique destination when it comes to kiting on the mainland of the UK. Once described as a boil on the butt cheek of Britain, I now like to refer to it as more of a beauty spot lovingly! As kitesurfers, we are undoubtedly spoilt; never being more than a 10-minute…
Haven't you ever heard of Roatan! No wonder... the Islands of Honduras are in the far western part of the Caribbean and often overlooked. Well lucky us, the Eastern side is well preserved as well as its authentic charm and unspoiled nature. The Island's lush green hills, white beaches, and crystal clear warm waters are surrounded by the world's second…
Silke organizes unique kitetrips usually once a year. The last trip she organized was a kite cruise in the Caribbean.
Been to El Yaque? What did you think?
Where are the Best Kitesurfing Beaches in El Yaque?
El Yaque is the most popular spot as it's almost always windy. The wind is side-shore. It can get gusty in the afternoon. February to April are the windiest months and the best wind conditions are early morning or late afternoon.
Wind: Side-shore
Waves: No, but choppy
Shorebreak: No
Coche is a dream for Freestylers or Beginners as the water is butterflat. Wind picks up around 10am. Sunset sessions are the best as kiters who come for the day from El Yaque leave around 4pm to take the boat back and you sometimes have the spot for yourself. The kiteschool has a rescue boat which makes it a safe spot for beginners even though the wind is offshore. Kite size is usually one size less than in El Yaque.
Wind: Off-shore
Waves: No
Shorebreak: No
La Restinga is a a wave spot. The waves a not huge so it's a fun beach to practice on a surfboard. The beach has shells so be carefull rigging up your kites.
Wind: On-shore
Waves: Yes
Shorebreak: Yes
Araya is very similar to Coche. Butterflat water. The water temperature is colder. In February/March you often meet dolphins while kiting. Araya can be reached by boat from El Yaque in about 1.5-2 hours. The best way is to organize a group with 10 people through the local kite school in El Yaque. Araya is a very simple town. So don't expect luxury. I recommend a 2 day trip from El Yaque.
Wind: Off-shore
Waves: No
Shorebreak: No
When is the Best Time to go Kitesurfing in El Yaque?
The windy months to go kitesurfing in El Yaque are January, February, March, April, May, June, October, November, December
Statistics
Do you know a good kitesurfing school here?