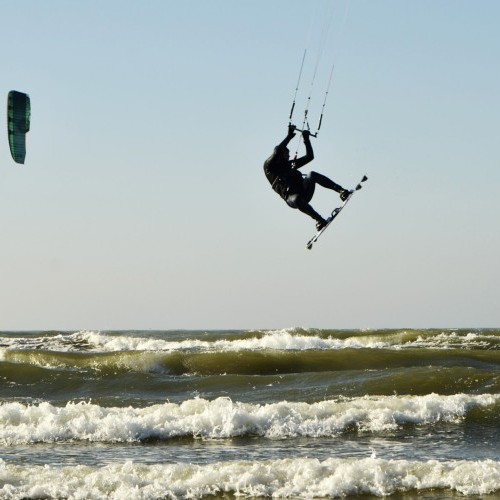 Why Visit?
On the west coast of Lithuania lies Palanga, a popular spot on the Baltic Sea for kiteboarding, landboarding, SUPing and surfing. Eighteen kilometres long and up to 300 meters wide of sandy beaches, it is the busiest summer resort in Lithuania. The conditions can be pretty choppy and wavey, especially if the wind blows from the west, northwest or southwest (the waves range from 1.5 meters - to 4 meters). Palanga includes other cities like Šventoji, Nemirseta, Būtingė, and other settlements.
Wind and Weather
The wind generally blows southwest, west or northwest, perfect for kiteboarding. Lithuania is located on the coast of the Baltic Sea, and this factor largely influences the formation of the area's climatic conditions. Summer in Lithuania is warm, and the air temperature is encouraged to visit! The winter, on the other hand, isn't as pleasant!
During the summer, the air temperature reaches about 30°C and in winter, about 5°C. In general, the weather in Lithuania practically does not differ from that of other European countries unless there is a certain climatic instability in the state. Often a sunny day can turn quite quickly into a day with prolonged rainfall!
Getting Around
If you haven't brought your own set of wheels to Palanga, fear not; about every hotel and street corner during the summer season comes with the option to rent something from rollerblades to bicycles for anything from an hour to as long as you plan to stay! There are long, new and smooth bicycle roads and the sea and pines forests. It's ideal for planning a longboarding trip from Klaipėda- To Palanga-Šventoji, especially when the wind is not blowing; recommended!
Food and Drink
Palanga's restaurants, cafés and nightlife venues provide sustenance for the mind and body and endless opportunities to meet like-minded people out for a good time. Gastropubs, cafes, fish restaurants, traditional food restaurants with local beer. Potatoes, potatoes and... more potatoes is what Lithuanian cuisine looks like when you first start searching for conventional local dishes!
Nightlife
J. Basanavicius street is the main pedestrian avenue leading to the famous Palanga bridge. The avenue has to offer plenty of bars and restaurants with live music, nightclubs, and other attractions to suit everyone's taste. All of that makes it the most crowded place in the town where all the nightlife buzz happens in the summertime. If you like to party, there are plenty of bars where you can sip a cocktail on a terrace while listening to the very best music.
No Wind?
If you like sports, get yourself involved in one of the many beach volleyball courts. If you are keen on relaxing strolls across the seashore, you should try yourself in searching the Baltic gold and amber stones. Finally, running lovers will enjoy a fantastic running path called "Labrytys". It's situated in the pine forest aside from the Baltic Sea, and it lasts for about 6 kilometres.
With Sea Paradise Surf and Kite school, you can do river SUP tours, longboarding, take time on sea scooters, skimboarding and more!
Internet
There is high-speed 4G in the area, and most pubs and bars have WIFI around town.
Accommodation
The Surf Hostel on Medvalakio street is ideal for travellers looking for reasonable prices, hand-reachable attractions, exclusive design, and unique Baltic sea waves. They can accommodate up to 8 guests per day. Surf hostel guests can use free car parking and wifi internet access. Besides that, there are many Airbnbs in the area and hotels, guest houses, campings, and spa resorts.
Lithuania
Error getting country data...
Featured
Zeeland is the record holder of most hours of sun every year in the Netherlands. Sixty kilometres of Northsea beaches make the area a trendy holiday destination for German and Dutch tourists during the summer season. Zeeland is known for nature, culture and numerous water sports possibilities. Zeeland has kitesurfing spots suitable for every wind direction, the most popular ones…
Frequented by some of the planets top kitesurfers and home to the scintillating Red Bull King of the Air, Blouberg in Cape Town cannot fail to express through action just what an incredible place it is. It is infamous for its strong & reliable wind from December through to February. The shoulder months of November and March are often also…
Haven't you ever heard of Roatan! No wonder... the Islands of Honduras are in the far western part of the Caribbean and often overlooked. Well lucky us, the Eastern side is well preserved as well as its authentic charm and unspoiled nature. The Island's lush green hills, white beaches, and crystal clear warm waters are surrounded by the world's second…
Samanta and Martin are VDWS, ASI SUP instructors, owners of Sea Paradise; the first certified SUP school not only in Lithuania but also along the Baltic Sea cost. "We love what we do and we show it in our lessons!"
Been to Palanga? What did you think?
Where are the Best Kitesurfing Beaches in Palanga?
Long, wild, clean and sandy beach with lots of space for kites to safely launch and land. Nemirseta is a part of the city of Palanga, located in the south of the city. There is an old ship salvage station (end of the 19th century) a beach, a viewing area, a car camping site, a surviving reconstructed Kurhaus building (standing from the 15th century).
Wind direction: south, southwest, west, northwest, north
Waves: Yes
Shorebreak: None (Ideal for beginners)
Similar to Nemirseta but if the wind blows from West or Southwest, waves ranging from 1.5m - 5m are possible! It's a big beach with lots of space for kites to safely launch and land, but during the summer months, keep in mind that there are lots of people sunbathing on the beach, so keep an eye out for them! Wetsuits are necessary all year round, and the average water temperature in summer is ~21°C.
Wind direction: south, southwest, west, northwest, north
Waves: flat, choppy, medium waves, big waves.
Shorebreak: the shorebreak is strong.
For intermediate and advanced riders. Strong cyclones have formed over the North Atlantic, carrying the Baltic through the North Sea and Denmark. The strongest winds (up to 30 m/s) from the southwest, form waves up to 6 meters high. Because the bottom is soft - the sand moves with each storm and the conditions change all the time.
Wind direction: south, southwest, west, northwest, north
Waves: Wavey
Shorebreak: Mild
When is the Best Time to go Kitesurfing in Palanga?
The windy months to go kitesurfing in Palanga are April, May, June, July, August, September, October
Statistics
Do you know a good kitesurfing school here?