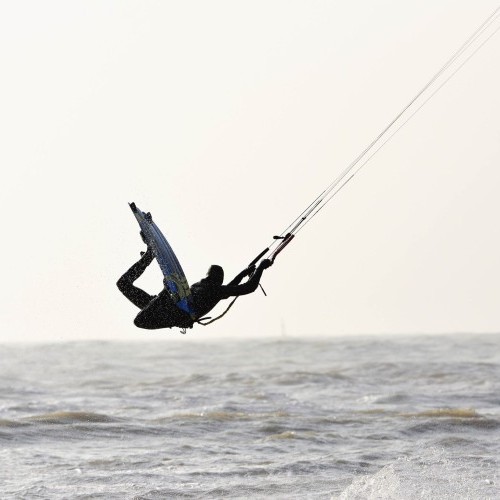 The Isle of Thanet
United Kingdom
Why Visit?
I believe the Isle of Thanet to be quite a unique destination when it comes to kiting on the mainland of the UK. Once described as a boil on the butt cheek of Britain, I now like to refer to it as more of a beauty spot lovingly! As kitesurfers, we are undoubtedly spoilt; never being more than a 10-minute drive from great beaches and no restrictions from the wind blowing in any direction because of its (almost) peninsula like geography. There are a great number of beaches around Thanet (7 in total) that all have their unique draw, but I'll be hung out to dry if I reveal all the hidden gems in this treasure box of kiting.
Wind and Weather
The prevailing wind direction through summer blows up through the English Channel (SW), which works great at Pegwell Bay (one of Ramsgate 2 main beaches) During the summer months, the water warms up nicely, averaging around 18°C but this drops quite dramatically through winter months though, averaging a mere 7°C in February and March. The air temperatures are typically British, but through summer you can enjoy reasonably constant 3mm shorty days, and an average air temperature of 21°C. Again, during the winter months, the air temperatures drop to around 4°C and constant 5mm wetsuit, boots, hoods, and gloves.
The wind speed during the summer months is typically quite light around 14-22 knots, increasing rapidly through winter to nearer 30 knots. The storm season from November to January can kick up some crazy days; regularly pushing 35-40 knots. However, storms are what they are, entirely unpredictable.
Getting Around
The local bus and taxi companies are all very reliable for one-off journeys. But if you require more constant travel, you can hire a car from Piermonts in Ramsgate for as little as £20/day.
Ramsgate is very easy to reach by car from London following the A2/M2 all the way to the A299 and Ramsgate.
Are you not driving? The high-speed train can have you from London St Pancras to Ramsgate in 1 hour and 15 minutes.
Food and Drinks
Ramsgate and Margate offer a huge array of restaurants and bars; from fine dining to take-out, we have it all!
In Ramsgate, we are known for our great seafood and amazing panoramic views of the harbour and sea. While you are visiting, you should check out the Royal Harbour Brasserie. If you are looking for something more quiet and intimate, try Bon Appetit for the best steaks in town.
Margate has a real quirky double-decker bus café with a fantastic vegetarian menu, while the Juice Project next door has the greatest superfood smoothies in Kent; both situated on the sundeck directly on Margate beach.
Night Life
Ramsgate and Margate are both thriving seaside towns. The Harbour seafront in Ramsgate as plenty of busy bars through the summer evenings and the Ramsgate Music Hall to party hard all night!
The old town in Margate is a real favourite for retro, soul and funk nights. If you listen to Reggae, try out Ziggy's rooftop bar, kicking out Red Stripe and Jerk Chicken until your heart's content.
No wind
This is the English summer, so filling time is our speciality. In Ramsgate, you can hire a kayak or a SUP or even take a diving course; all available from the Ramsgate water sports centre. You could also hire a bike and take in the breathtaking scenery of the Viking trail.
If you want something more relaxing, there are three great local wildlife park a short drive away at Wingham, Sandwich, and Canterbury, which is one of the oldest and the most exciting city in England.
Internet
Every local bars and restaurant will have wifi.
Accommodation
Thanet has a huge amount of choices for accommodation including places by the sea, guest houses and a few higher end hotels for the more discerning travellers. Airbnb has also made staying here even easier with 100s of peoples 2nd properties available to let at very reasonable rates. Want to go camping? You can also do this very easily too at various location around the Isle.
Featured
You'll be able to find wind, waves, and an epic adventure in Kaliantan. It's a spot that's likely to go boom on the tourist radar in the next few years, so get in quick while it's still uncrowded. Kaliantan is located in southern Lombok, an enchanting coastal region that is prosperous with white sand beaches, palm trees, and local culture.…
Cornwall is a very underrated spot for Kitesurfing; we have a reliable prevailing south-westerly and blue Atlantic waters that meet 400 miles of coastline. Given the shape of Cornwall, it gives us many options and variety, and you'll rarely find more than a handful of kites out at any given time. Beyond Kitesurfing Cornwall is the most southern point of…
Boasting azure blue lagoons, shallow warm water and consistent trade winds from dawn to dusk, Cocos Islands are perfect for all levels... complete beginners, intermediates or advanced freestylers. Wind and Weather The wind blows consistently 15-25 knots all day every day from July through to October. The perfect quiver of kite for the average person would be a 7,9, and 12m. …
Graeme has lived in Ramsgate for the last 10 years and kited there for 8. He also loves running the local Kite Pirates Kite School with his great team of instructors.
Been to The Isle of Thanet? What did you think?
Where are the Best Kitesurfing Beaches in The Isle of Thanet?
Pegwell Bay is a popular trendy spot due to its working best in the prevailing SW winds. It ebbs and flows massively, so low tide can be a bit of a walk, but well worth it! The water is shallow with very little chop, and a few sandbanks can offer lovely flat water spots. You need to be mindful of the local seal's colony, who often swim out of the river Stour estuary to feed and say hello. It works from SW to NE but can get gusty at times.
Wind: SW and NE
Waves: very little chop
Shorebreak: None
Ramsgate central sands are slightly less forgiving. The flat water of Pegwell is replaced by larger waves and steep shelving but working from S to N through E; it can deliver some excellent sessions. It is currently the spot which holds Lewis Crathern UK Big Air record and is also on the BKSA British Free Style tour set for this August.
Wind: S to N through E
Waves: Yes
Shorebreak: None
When the wind switches through the north, you can hit Westbrook Bay. A short 10-minute drive and in very close proximity to Margate beach, it offers a little bit of everything. Small waves with a very little chop.
Downwind towards Margate, there is a lovely spit that creates an awesome, if a little shallow, flat water spot from half to low tide. Westbrook operates from W to E through N.
Wind: W to E through N.
Waves: Small waves with very little chop
Shorebreak: None
When is the Best Time to go Kitesurfing in The Isle of Thanet?
The windy months to go kitesurfing in The Isle of Thanet are January, February, November, December
Statistics
Do you know a good kitesurfing school here?