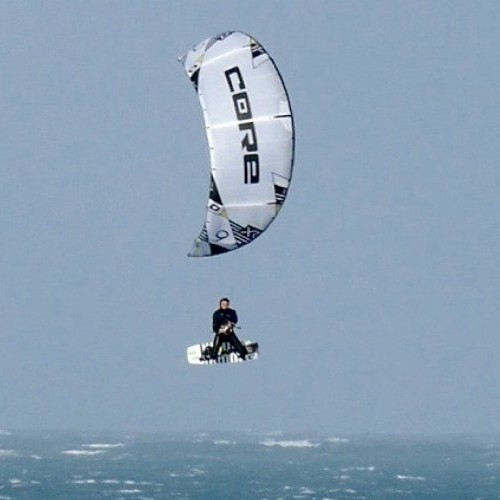 Why Visit?
Cornwall is a very underrated spot for Kitesurfing; we have a reliable prevailing south-westerly and blue Atlantic waters that meet 400 miles of coastline. Given the shape of Cornwall, it gives us many options and variety, and you'll rarely find more than a handful of kites out at any given time. Beyond Kitesurfing Cornwall is the most southern point of the UK and it has an interesting history of traditional industries such as mining and fishing.
I've listed the main beaches that we kite at and cover all directions however there are many many more, visit the Kernow Kitesurf Club page to find information for the numerous other spots.
Wind and Weather
Our conditions offer every kind of riding; we can get anything from foiling wind up to 60knt storms and everything in the middle. Generally, Autumn and spring, September to November and March to May, offer the best combination of wind and sea/air temperature. However, wind throughout the winter is very reliable wind; you have to brave the cold. The seasoned hardcore will kite all year round with a 6/5mm wettie from November-March, it's cold but manageable!
Our prevailing wind comes from the SW; however, we get every direction, and given the shape and size of Cornwall, we have a spot for every wind direction within a 30-minute drive. A typical day is around 25-30 knots, and most 75 kg-twintip riders have 7/9/12m. Our swell generally comes from the North and can get big, so all of the North Coast spots get good surfable waves or kickers, depending on your style. We have big tidal ranges so be sure to check the tide times and our recommendations for when to go! Windguru seems to be pretty accurate for most of the spots.
Getting Around
A car is king in Cornwall! We have a large coastline and there are lots of secluded beaches to explore, best done by car. There are a small number of buses and trains, but few of the kiting beaches are accessible by these. For evenings, there are taxis available in the towns.
Food and Drink
Pasties - the ultimate fast comfort food for kite surfers on the go and the freshest fish and chips you'll find anywhere in the world! From Smokey Joe's gut buster to Rick Stein's super-deluxe, we've got some of the best, freshest food for every taste and budget and generally skimping on portion size is considered a heinous crime. It's easy to find and eat local.
Nightlife
Cornwall is made up of small rural towns, so don't expect the wildest clubbing experience. However, there are plenty of pubs and from Thursday to Saturday, the bars in the towns get quite busy late into the evening. Newquay is where most of the nightlife activity is. However, the other towns have their fair share of bars, including Falmouth, which is the University town.
No Wind?
There is a broad range of no wind activities. There are the usual no wind watersports like paddleboarding, surfing, wakeboarding, etc. We have extensive coast paths that follow the cliffs around Cornwall to many secluded beaches. In the towns, there are a good variety of restaurants, galleries and shops. Fishing is a big staple in the Cornish community and history, so be sure to visit the traditional fishing villages such as Newlyn and Porthleven.
Internet
Dragged kicking and screaming into the 21st century we do have fast internet around Cornwall; it can get a bit patchy on some of the beaches though! Most built-up areas have good 4G so working remotely isn't an issue.
Accommodation
Cornwall is a tourist destination, so there's a big range of accommodation. Generally, our windy months are outside of the summer tourist season so availability is good and it's a bit cheaper! I would recommend staying in or near either Falmouth, Newquay or Penzance as these are all great bases to get to the main kite spots.
Featured
Kalpitiya is the new best kite destination in Asia, both in winter and summer. Kalpitiya offers a variety of huge flat spots with strong and consistent wind. The main spot is perfect for learning with flat shallow water and safety boats ensuring the best conditions to become an independent rider. As kitesurfing is very new in Kalpitiya, the area is…
Overall a fantastic place with some priceless unspoilt kiting spots. With great people and food and cheap beer (they even come with a plate of chips as well if you're lucky), you can't beat it. Northern Cyprus deserves attention but don't tell everyone; we don't want to spoil it with overcrowding like some of the more famous spots. Wind and Weather…
Egypt provides a phenomenal playground with consistently windy conditions for 75% of the year. The warm, dry African winds pass through the desert to offer an enjoyable hairdryer type breeze as you cruise over the Red Sea crystal clear. The water is flat, turquoise and great for freestyle. It is a relatively short hop from Europe and is usually available…
Otto Mead is 22 years old and from Cornwall, UK. Otto rides for CORE and even though he is based in the UK, he's regularly travelling and scouting new kiteboarding spots!
Been to Cornwall? What did you think?
Where are the Best Kitesurfing Beaches in Cornwall?
Commonly known as Mazza, this spot is the mecca of Cornish Kitesurfing. It has it's very own Island Castle which is pretty epic and worth a visit in itself. The bay more or less mirrors the Golden miles, so when the direction doesn't work for the North Coast, then Mazza will be working, anything from E-SW. When it's E, it's worth heading down to Longrock to avoid the gusty wind that goes over the mount! It's not allowed to kite 2 hours either side of high and be aware of the sea wall when setting up.
Head over to The Hoxton Special for a coffee and kite chat in between sessions; they're on the coast path between Long Rock and Marazion. During storms, this spot can get a large surfable swell, it's not regularly more than 4ft, but there's always a fun lump to slash with a strapless. The prevailing is right foot forward kickers.
Wind: E-SW
Waves: Yes
Shorebreak: Yes
This is probably my favourite spot in the world! The bay stretches for 7 miles and gives you every kind of condition you could want. Starting at the south side is Hayle estuary, this spot works on anything from a WSW to NE, WSW being gusty and side off but lining the waves us perfectly.
As the tide falls, lagoons will emerge, which are perfect for flat water freestyle, to the edge of the estuary you'll get left foot forward kickers, avoid bang high as it can get choppy. The estuary has a strong water movement so is an intermediate area, on an ebbing tide you can lose your board out to sea in a matter of seconds.
Novices can go to the right of the estuary and in the sea where there are large flat sections between the waves. For kiting in the estuary you must get a Bluff pass, this can be arranged through the Kernow Kitesurf Club Facebook page, the rest of the beach does not require this if you're going there more than once it pays for itself as it gives you free parking.
As you move towards the W of the bay, the waves are generally better, and it's a huge playground. Be aware during the bigger wind and swell days; this area can get raw and is for advance kiters only, keep an eye out for rips and ask locals if you're unsure. The beach is not lifeguarded during the winter.
Wind: WSW to NE
Waves: Yes
Shorebreak: Yes
When is the Best Time to go Kitesurfing in Cornwall?
The windy months to go kitesurfing in Cornwall are March, April, May, October, November, December
Statistics
Do you know a good kitesurfing school here?
Kitesurfing Articles that Mention Cornwall
Issue 77
Can we carry on as we are as a kiteboarding industry or do we need to make drastic changes to our habits and processes for our sport to become environmentally neutral? Join Rou Chater as he turns his journo mode on as he sets out to discover what is happening right now and what can be done moving forward.
Issue 73
Incredible images with no particular place to go.
Issue 65
We have a new "How To Ride" series featuring some of the best spots on the planet, giving you the details you need to survive a session there. In our first edition, local hero Dom Moore takes on the most dangerous launch spot in Northern Europe and possibly the world to kite Porthleven!
Kitesurfing Videos and News in Cornwall