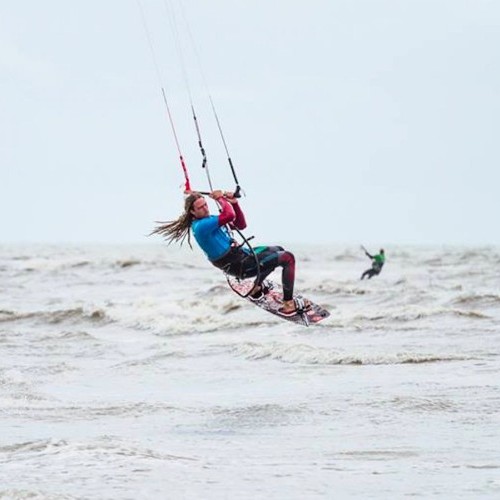 Camber Sands
United Kingdom
Why Visit?
Camber is easily accessible from London and boasts a huge sandy beach, three kite schools and various bars in the town. It is also a good place to learn with shallow shelving beaches and small waves. You can enjoy onshore winds in every direction (aside from NW) within a 15-minute drive.
Wind and Weather
The prevailing wind direction is SW (cross-onshore from the right looking out to sea). During the summer months, we get a thermal sea breeze in the afternoons that can add significantly to the forecast wind speed. The beach works best on any wind containing "S" in it, for example, ESE to WSW.
Getting Around
Having a vehicle will give you the most freedom, parking is free at Broomhill (where the kite zone is). There are also buses hourly and day roaming passes are cheap if you want to explore. You can get the fast train from London to Ashford, train to Rye then bus or taxi to Camber.
Food and Drink
There are various places to suit taste and budget. The Gallivant, which has recently been refurbished, while your budget may not stretch to dining there daily, it is well worth experiencing (They also offer individually themed accommodation) The Owl - gastro-pub food and (also offer accommodation), Rye Bay café; the spot for a sundown beer plus reasonably priced food, Dunes Bar (Beach themed bar with food and drink), KitKat Café which is open during the day and is on the beach plus plenty more!
Nightlife
There are a few pubs and bars around town, but Camber is generally pretty quiet. Rye has more on offer when it comes to bars plus live music at the weekends, and it is only about 3 miles away.
No Wind
You can sunbathe (weather permitting of course!), you can hire an Electric Fat Bike, and cycle around Camber or explore the medieval town in Rye and check out their quirky café. Visit Dungeness or go on the miniature steam railway.
All three schools in Camber offer SUP lessons and hire. Action Watersports in Lydd offers wakeboarding behind a boat, an inflatable aqua park and flyboarding.
Internet
There is 3G in the area, and most of the pubs and bars have WIFI around town.
Accommodation
There are many Airbnb's in the area, as well as Gallivant Hotel, The Owl Pub, Park Resorts (Caravan and Camping) and Pontins. You can also check accommodation in Rye; they have many Airbnb's and hotels to choose from.
Featured


There are many locations for kiteboarding in Brazil, but some of the best kiting conditions in the world are found along Brazil's north-eastern coast! This region offers incredible conditions, perfect for kiters who: Want to practice long distance kiting and test their endurance Are interested in progression and improving their kiting abilities Are looking for a new adventure and to…


Lake Silvaplana is located at the high altitude of 1800m, in the beautiful Engadin Valley. The landscape is stunning, and there are just a handful of places in the world where you can kite among incredible scenery like this! It's a perfect spot for sporty, active people coming here (but not only) for kiting, but the mountains will also surely…


On the west coast of Lithuania, lies Palanga, a popular spot on the Baltic Sea for kiteboarding, landboarding, SUPing and surfing. 18 kilometres long and up to 300 meters wide of sandy beaches, is the busiest summer resort in Lithuania. The conditions can be quiet choppy and wavey especially if the wind blows from the west, northwest or southwest, (the…
Owner at Camber Kitesurfing , Wake Winch Ltd and Ebike Hire.
Been to Camber Sands? What did you think?
Where are the Best Kitesurfing Beaches in Camber Sands?
Broomhill is the most popular spot and enjoys a good mix of flatter water and waves. Flat tidal pools appear when the tide goes in and out. There can be nice waves given the right conditions. Beach unusable for up to 3 hours either side of high tide as the water comes up to the sea defence wall. There is no kiting allowed on the Dunes end of Camber Sands.
Wind: Cross on from the right
Waves: Windblown chop can be surprisingly clean in the right conditions
Shorebreak: No
When is the Best Time to go Kitesurfing in Camber Sands?
The windy months to go kitesurfing in Camber Sands are January, February, March, April, October, November, December
Statistics
Kitesurfing Hotels and Accommodation in Camber Sands
Do you know a good kitesurfing school here? Submit it below.