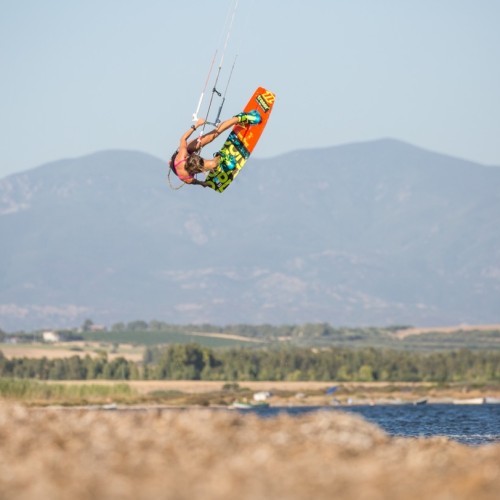 Why Visit?
Sardinia delivers all the ingredients for the ultimate kiting island. Quality kiteboarding, fantastic food and some of the best wine in the world... With a wide array of holiday charters heading to the island, flights tend to be very cheap. Easyjet, Ryanair to name two that often have very cheap flights, be careful to book baggage before as well as checking your kite weight and allowance before travelling. Most national airlines also have flights into Cagliari. Conditions vary from waves to flat water. Rental cars are cheap and can be hired from the airport upon arrival.
Wind and Weather
The main windy season is during the summer months, April - October, as Sardinia relies on thermal trades during the warmer months. It can be windy during winter months but normally as weather fronts so expect variable conditions and also rain. Most of the time the wind is from the north. The Mistral brings constant wind and is always much stronger than the forecast predicts. The wind normally picks up around 11 am and stays until the late afternoon, and sometimes until sunset. Then there are some days with the southern Scirocco wind that comes from the Sahara, which is a very warm wind and most of the time a bit lighter.
Most of the summer it blows for days one direction then one day of nothing of switching then blows a period of the opposite. Most days during the middle of summer expect 15-20 knots in the morning and 20-25 knots in the afternoon. Early/late summer a 3/2 wetsuit is advised. July/August a 2mm shorty or just boardies necessary.
Food and Drink
It's almost unnecessary to sing the praises of food in Italy as it is world renown for its culinary offerings. Pizza, pasta, local fish and meat is top notch with Gelato ice cream the piece de resistance for the perfect way to cool down during the day or after dinner dessert. Bakeries offer fresh bread every morning, delicatessens offer local hams and meet produces that you will be hard pushed to better anywhere in the world. Food is well priced, and supermarkets are the perfect way to stock up if self-catering for a very reasonable price.
The traditions and culture are powerful in Sardinia, so you will not get any pizzas in restaurants before 7 pm, and you'll get nothing to eat in restaurants between 4 and 7 pm. As with mainland Italy, some Pizzerias are serving fresh, stone-oven baked authentic style pizzas as well as pasta dishes, which I think are the best in the world. The locally-produced vegetables and fruit are delicious, as they are grown in small farms and are mostly organic with local people selling their produce on the side of the road. Apart from the usual assortment of typical Mediterranean products (such as eggplants, bell peppers, oranges and grapes) you will also find things like wild asparagus, figs, watermelons, nuts and spices
No wind?
Sightseeing, beach days, cliff diving, cable park, wine tasting. Sardinia is an incredibly pretty island with divine beaches and turquoise water coastline. Getting out and about there is plenty to explore and visit. This is not just a kite only destination if you're the intrepid holiday explorer.
Internet
Good - European coverage, varies throughout the island but every hotel should have reliable internet. Self- catered apartments range, so it's worth checking if you need to be online. Very easy to buy a sim card from the local phone shop for 3G while out and about. Monthly contracts are available.
Accommodation
Hotels are in plentiful supply that varies in price depending on location although there is always a range from budget to luxury. Self-catering is a very popular choice due to affordable summer rental properties and cheap food. Guesthouse accommodation is offered in Porto Botte through Kite Sardegna, breakfast and dinner is prepared with local fruit/veg and meat grown and nurtured by the family that runs the guesthouse. Self-catering flats can be found in the local small town of Giba.
Featured


Vietnam is in southeast Asia and runs from north to south along the South China Sea.  This is a country steeped in history, so even for the non-kiter, there is plenty to see and do. Mui Ne, which means 'sheltered peninsular', is located 4 to 5 hours drive north of Ho Chi Minh City (formerly Saigon) and is blessed with…


Overall a fantastic place with some priceless unspoilt kiting spots. With great people and food and cheap beer (they even come with a plate of chips as well if you're lucky), you can't beat it. Northern Cyprus deserves attention but don't tell everyone; we don't want to spoil it with overcrowding like some of the more famous spots. Wind and Weather…


Geraldton is a port city about 6 hours north of Perth; it's long been a favourite with windsurfers due to the consistent wind conditions during the summer season. Now kiters are starting to venture North and enjoy the strong winds and amazing waves that grace this stretch of coastline. With plenty of places to kite in the area you'll never…
James Boulding has been a professional kiter for a number of years now; he's travelled all over the globe and ridden in some of the best locations on the planet. An accomplished rider who features regularly at the wake style contests around the globe. James likes nothing more than a cup of tea and a biscuit, and, of course, the chance to explore new destinations with his camera and kite gear!
Been to Sardinia (South)? What did you think?
Where are the Best Kitesurfing Beaches in Sardinia (South)?
Porto Botte is teaming with wildlife; the kite spot neighbours protected waterways where pink flamingos feed and dredge up food from salty pools that lie alongside the dirt road that takes you to the beach. This would make for some fantastic kiteboarding, but it is probably too shallow and is also protected due to the prestigious birdlife. But on the ocean side, there is epic flat water that allows you to push your freestyle. Areas of light seagrass keep the water butter-flat right up to the strongest of winds, and there is a flat water section on offer downwind of the land during the Mistral winds. The kite station (Kite Sardinia) also has shade and beach chairs to relax in between sessions, as well as snacks and cold drinks. Lessons are offered by the kite school Kite Paradiso speaking English, Polish, Italian, Russian. Learning is ideal, and rescue is available from the school for all beach users.
Wind: Cross Shore
Waves: None
Shorebreak: None
The beach of Porto Pino is one of the most beautiful beaches of Sardinia. A stunning white sandy beach with a turquoise sea and high white dunes. The school is in partnership with the Lido Oasi Azzurra, and we have a regular kite zone authorized by Sardinia Government and Coastguard. The spot is great with Mistral (NW) ad SW; West direction is onshore, and south-east direction is a bit gusty. The access to the kite zone is reserved only to guests of Lido or Kite Sardinia.
Wind: Onshore
Waves: Sometimes
Shorebreak: Sometimes
Chia is a wave spot on the south of the island. It is about an hour from Porto Botte and offers wave riding and kickers when there is a swell. It can be gusty, but there is a beautiful backdrop and waves can get up to head high. It is worth checking the forecast if waves are the topic of the day.
Wind: Cross On Shore
Waves: Yes
Shorebreak: Yes
Sardinia offers many more kite spots for the intrepid traveller. It is still a relatively untapped island with regards to kitesurfing.
When is the Best Time to go Kitesurfing in Sardinia (South)?
The windy months to go kitesurfing in Sardinia (South) are April, May, June, July, August, September, October
Statistics
Kitesurfing Hotels and Accommodation in Sardinia (South)
Do you know a good kitesurfing school here? Submit it below.