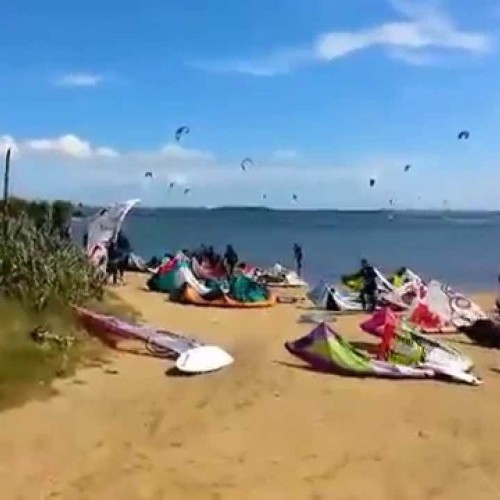 Lo Stagnone, Marsala
Italy
Why Visit?
Lo Stagnone of Marsala in Sicily is known all over Europe as the "gym" for kitesurfers. Ultra flat and shallow waters make it a unique place in Italy for beginners to quickly learn and for freestylers to make the most of the flat waters. With more than 300 windy days a year, you'll be surfing through windmills and white mountains of sea-salt, into the natural reserve of Lo Stagnone, a vast lagoon closed off by the islands and opened to the sea at just 2 points. Located 3km from the Trapani Airport, with connections to major European airports, you will find the enormous shallow and flat water lagoon at Lo Stagnone an ideal place for learning to kitesurf, but also extremely popular for freestylers, due to its flat butter water. For regular free riders, it also opens a new aspect of kiteboarding, discovery! Rather than kiting in one spot all day, you can cruise around the lagoon, around the islands and explore beautiful Sicilian nature.
At Lo Stagnone, you can find kiters every day of the year, but the unique meeting point is at Stagnone Kitesurf school, founded by Michele and Carmelo.
The locals are kind, friendly, and the food is delicious, villas can be found to rent for reasonable prices too. There's always a reason to come and visit!
Getting Around
Lo Stagnone of Marsala is in a strategic position, between Marsala and Trapani if you rent a car then you can get around easily to visit some of the tourist attractions, there are monuments, churches, museums or you can lose yourselves through the alleys of the Sicilian Historical little towns , or just enjoy the excellent beaches of Scopello, Riserva dello Zingaro, San Vito lo Capo and the Amazing Palermo (less than an hour by car). Rent a small yacht to reach the Egadi Island, just 6 miles away: Favignana, Levanzo, Marettimo, or you can even reach Erice a medieval village on the top of the mountain surrounding Trapani.
Or visit one of the many historical wine cellars.
It's best to rent a car to make the most of your visit; you'll never be bored!
Getting There
The best way is to fly directly to Trapani. Ryan Air offers low-cost flights from all around Europe. You can also come down with the car if you take a ferry to Trapani.
Food and Drink
Does surely everyone know about famous Italian and Sicilian food and pastries? Locally, though, due to the geographical positioning of Marsala, the Italian Kitchen is perfectly mixed with the African: the Main course is couscous with fish and sea fruits soup, but it's just as easy to find a proper pizza (forgot Pizza Hut though)! Pasta with any fish, but also cannoli, cassata, arancine, the list is endless!
You can go out to have complete dinner for 20€ or enjoy Sicilian street food calzone, pizza, panini con panel, this kind of food is very cheap, and you can easily take this kind of food to the beach with you! Locals make their wine here, and at the local winery you can purchase 1 litre of wine for 1,2 €, and trust me, it's perfect!
Nightlife
In just 10 minutes by car you can arrive in Marsala downtown, there you can find "Antico Mercato" in the morning it is a big fish market, by night it becomes a vast place of meeting for people, more than 20 bars and pubs close one to the other.
Properly near the spot there's a magic place for the Italian so-called "aperitivo" watching the sunset among the windmills, also, there's a big summer disco 2 minutes from the spot, or you can easily remain at Lo Stagnone, there are plenty of Italians, Russians, Frenchies and Czechs who are always ready to begin a party close to the beach, or a sunset barbecue.
No Wind?
In the rare case you have no wind you can always organise a downhill MTB day from the near Erice on top of the mountain or bike through the natural reserve, or if laziness wins you can visit Favignana, Levanzo, and Marettimo with a private yacht (not more than 80€ each if shared with 4-6 friends) or with the several hydrofoil boats leaving from Marsala or Trapani almost every hour. At the lagoon, you can also rent SUP boards.
Internet
All the Villas and Bed & Breakfasts near the spot have free wifi of around 2mb you will also find it for free in all the pubs, bars, and restaurants!
Accommodation
All the accommodation near the spot are brand new and comfortable, villas and flats are with complete kitchens, washing machines, flat TVs and wi-fi. There are also a lot of B&B's. Generally, you spend no more than 30€ a night per person even in peak season. I always advise renting a car, especially if you stay more than a weekend but from the farthest accommodation you can reach the spot in less than 10 minutes walk, the nearest is just on the seashore.
Wind and Weather
Marsala is the Italian Windy City the wind comes from all directions. The most common winds are from the north-west and the famous Scirocco from the south-east. During the summer, we primarily get thermal winds from the North. During the winter, the wind is more pressure lead with low pressures bringing lots of wind to the area. There is wind here almost every day, even when there is no forecast. With the northerly winds, the lagoon gets even shallower, since water is pushed away thought Marsala gate.
Locals call these directions:
North: Tramontana
North-Northeast: Bora
Northeast: Grecale
East: Levante
Southeast: Scirocco
South: Ostro
Southwest: Libeccio
West: Ponente
Northwest: Maestrale
At Lo Stagnone it doesn't matter if it's onshore or off or side shore, here a windy day is a good day. When it's offshore, you don't need a rescue boat, if something happens you return to the beach by walking due to shallow water. The depth is not more than 1 meter in some points, but it's generally 30-40 cm.
Temperatures are around 30C° in summer, in winter it is no lower than 10C°, in mid-season usually 20C°, of course, it is generally always sunny in Sicily!
Featured
Camber is easily accessible from London and boasts a huge sandy beach, three kite schools and various bars in the town. It is also a good place to learn with shallow shelving beaches and small waves. You can enjoy onshore winds in every direction (aside from NW) within a 15-minute drive. Wind and Weather The prevailing wind direction is SW…
São Vicente is a wild and uncrowded place, and it will give you the flavour of the true, authentic Cape Verde. December until June is the best kite season as the wind blow consistently almost daily. If you're into wave riding, then Cape Verde is the place for you! In one bay, you can choose, cross- shore, cross-onshore and cross-offshore conditions…
Auckland is New Zealand's largest and most diverse city, and it's an action-packed city with something for everyone. A true must see, with its beautiful natural landscapes and coastlines and, its shores are just a stone throw from the CBD. The range of coasts ensure there is an ideal spot for any possible wind direction and kiting discipline. Auckland is…
Michele worked as an airline pilot for Alitalia for 12 years, travelling the world and always taking his kite gear with him! He has now settled in Lo Stagnone where he was born and kitesurfs all year round. He is an enthusiastic instructor and loves seeing his students enjoy the sport he loves, you'll find him boosting as high as he can whenever the wind is blowing, be sure to say hello when you visit!
Been to Lo Stagnone, Marsala? What did you think?
Where are the Best Kitesurfing Beaches in Lo Stagnone, Marsala?
This is the main spot in the area, it features a special lagoon that is just for kitesurfers! It's got some of the most amazing flat water and works whatever the wind direction. Hook up with Stagnone Kitesurfing School to get the low down on the spot, the instructors are really friendly and helpful and if you have friends who want to learn to kitesurf this is one of the best places to go!
Wind: All Directions Work
Waves: No - Flat Water Lagoon
Shorebreak: No
This spot is 40 minutes to the south of Lo Stagnone and features some of the bluest, clearest water you will find in the area. When the wind is from the SE, this spot works really well with cross onshore winds and some small waves depending on the strength of the wind!
Wind: Side Onshore
Waves: Small, depending on the wind
Shorebreak: No
Pro Kite Beach located in front of the hotel complex and Kite Centre Pro Kite Alby Rondina. It has an easy entrance to the water, compressor and place to prepare your kite. The lagoon has butter flat water, perfect for beginners and pros alike.
Wind: Spot works with all wind directions
Waves: You can find some waves outside of the lagoon, but it's quite far.
Shorebreak: No
When is the Best Time to go Kitesurfing in Lo Stagnone, Marsala?
The windy months to go kitesurfing in Lo Stagnone, Marsala are May, June, July, August, September
Statistics
Do you know a good kitesurfing school here?
Kitesurfing Videos and News in Lo Stagnone, Marsala
2 years ago
It's not every day that a 15-year-old kiter takes the kite world by storm! Jeremy Burlando has impressed us with his powerful double handle passes,…
7 years ago
We keep hearing tales of the butter flat water at this place, it turns out one of the best spots to be during the summer…