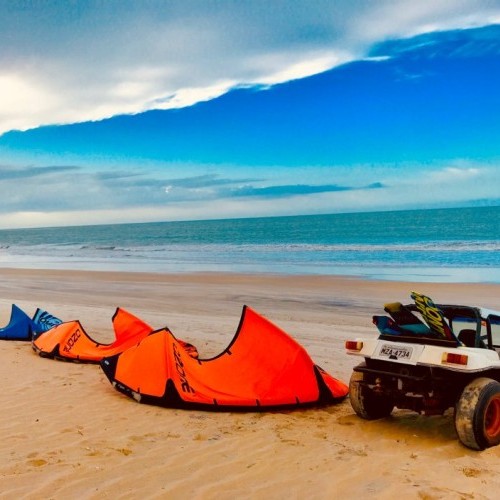 Sao Miguel Do Gostoso
Brazil
Why Visit?
Sao Miguel Do Gostoso is a kitesurfing paradise yet to be known by many. Imagine the best wind conditions in Brazil but without the crowds. Enjoy the adventure of northeast Brazil, a quiet and safe region full of like-minded good people. Hundreds of kilometres of wild beaches and dunes to travel with your buggy, epic downwinders, lagoons, waves, and more. A place full of magical corners, with unforgettable sunsets and musical nights on the beach around a bonfire, a place where time stands still and visitors never want to leave.
Wind and Weather
The high wind season in Sao Miguel runs from September to February. During these months, 90% - 100% of navigable days are recorded, with winds reaching between 20 and 25 knots. Sao Miguel receives winds aliases, the high air currents on the planet, and they are known to be very constant. With the 29ºC water temperature and an average air temperature of 26ºC, what more could you ask for? During the windy season, there is hardly any rainfall.
Getting Around
To move around Sao Miguel Do Gostoso and surrounding areas, there are several options from rental electric bicycles, motorcycles, cars and buggies. There is even a motorcycle taxi option. So you'll not get stranded!
Food and Drink
Sao Miguel's strengths are the quality and variety of its restaurants. From local Brazilian cuisine to international haute cuisine. One of the main attractions at the restaurants is how meticulously and beautifully they are decorated, with incredible detail.
Nightlife
Life in Sao Miguel is relaxed, and you'll notice it when you go out at night. T.here are a variety of bars and beach clubs that offer live music and a chilled-out atmosphere, and we also have one nightclub in the area! The night in Sao Miguel provides a pleasant atmosphere, security and a lot of fun.
No Wind?
There is always wind in the high season in Sao Miguel, but if a rare day does arrive, there is plenty to do around Sao Miguel. You can go exploring on a buggy, horseriding until sunset, play beach games or go on an excursion to somewhere beautiful. If you want to embrace the culture, you can take a Brazilian cooking course and learn to play local music; thendless possibilitiesss!
Internet
In Sao Miguel do Gostoso, internet access is guaranteed. All restaurants and hotels offer a good connection as well.
Accommodation
Sao Miguel has pretty much whatever accommodation you are looking for. They offer beautiful inns with very well-kept gardens, swimming pools, and villas on the beach for families and groups—rental houses and also available. Most offers can be found on any bookings website or TripAdvisor.
Brazil
Error getting country data...
Featured
Ålesund (Aalesund) is a must if you are visiting Norway! Travellers either arrive on a cruise ship, by plane or drive from Oslo to explore our Vikings traditions, Art Nouveau architecture from the 19´century and last but not least, the incredible nature surrounding it; including the fjords, the Alps of Sunnmøre and the islands. The main city connects to the…
Lo Stagnone of Marsala in Sicily is known all over Europe as the "gym" for kitesurfers. Ultra flat and shallow waters make it a unique place in Italy for beginners to quickly learn and for freestylers to make the most of the flat waters. With more than 300 windy days a year, you'll be surfing through windmills and white mountains of…
Hamata is a kitesurf playground with crystal-clear water, a huge waist deep area for beginners and lots of space for the advanced ones to practice new tricks. Unlike other Egyptian spots, it is pretty green and diverse on the water with a scenic mangrove forest upwind of you and three beautiful islands with reefs a little bit further out. The…
Originally from from Madrid, Spain. Diego pursued his passion for sports and kiteboarding and moved Sao Miguel Do Gostoso, Brazil.
Been to Sao Miguel Do Gostoso? What did you think?
Where are the Best Kitesurfing Beaches in Sao Miguel Do Gostoso?
Ponta de Santo Cristo is the spot if you want to freeride, kite waves or freestyle. About 300 meters from the coast, there is a sandbar, which offers a gorgeous flat water spot!
As the tide comes in, the waves start rolling in, and it's the best time, and it's the best time to score some nice and consistent waves.
This spot is perfect for beginners to advanced riders.
Wind: Cross on from the right
Waves: Out on the reef
Shorebreak: No
Monte Alegre Beach is about 2 km from Ponta de Santo Cristo, and this spot offers the best conditions in São Miguel do Gostoso!
At low tide, you can browse our natural pools with flat, waist-deep water, ideal for both learning the sport and for freestyle fans. When the tide comes in, that's when our wave-riding enthusiasts come to play! We also have many local turtles are come up for a breathe, so make sure you keep an eye out for them!
In the Monte Alegre Beach area, you'll find places on the beach like Idilico Paraiso Village where you can spend the day and enjoy a good meal. It is a place from beginners to advanced riders.
Wind: Cross on from the right
Waves: With high tide
Shorebreak: No
From Idilico Kite Club, you'll head out with an instructor (it's mandatory just in case a car if needed, they will arrange it) and head to Tourinhos Beach. It's a fun downwinder, but keep an eye out for all the coral and the dunes.
Wind: Cross on from the right
Waves: Yes
Shorebreak: Yes
This is a downwinder you don't want to miss out on, and you have to be in good shape for it too! A 30 KM adventure from Tourinhos beach to Praia do Marco. Formed of huge dunes, the beach is beautiful, cosy, suitable for rest, with a natural pool, reefs, many virgin areas still not inhabited, and the main one: the first colonial landmark implanted in Brazil.
Wind: Cross on from the right
Waves: No
Shorebreak: No
'The Big Lagoon' is located 45 km from São Miguel do Gostoso. It is an ideal place for kitesurfers of all levels, from freestyle fans to beginners who appreciate the safety conditions offered by a lagoon. The lagoon has a small beach that facilitates launching and landing.
Wind: Onshore
Waves: No
Shorebreak: No
A wild place that is worth exploring! The best waves of the region only 20 minutes from São Miguel do Gostoso.
Wind: Cross on from the right
Waves: Yes, good ones!
Shorebreak: No
Natural pools with crystalline and shallow waters located 2 km from the coast of Perobas (20 km from Gostoso SM). Perfect for all levels, we call it the Brazilian Caribbean!
Wind: Very good wind, no shore
Waves: No
Shorebreak: No
If you come to São Miguel do Gostoso, you can not miss the trip to Galinhos! Just 90 km with a buggy of beaches and wild dunes, to reach a natural virgin paradise. Galinhos is famous for its arm of the sea, which serves as a lagoon with super flat water in which you can kitesurf alone.
Wind: Very good wind, no shore
Waves: Yes, but also flat conditions
Shorebreak: No
When is the Best Time to go Kitesurfing in Sao Miguel Do Gostoso?
The windy months to go kitesurfing in Sao Miguel Do Gostoso are January, February, September, October, November, December
Statistics
Do you know a good kitesurfing school here?