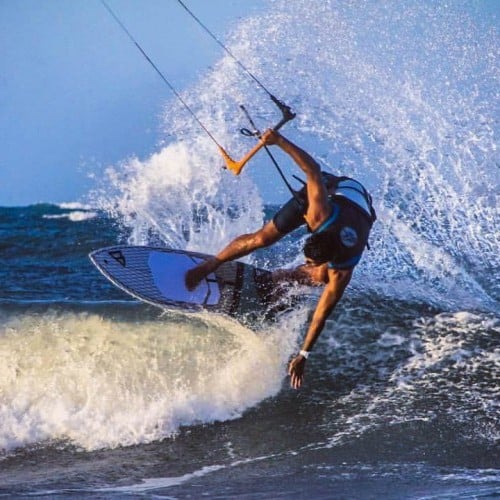 Why Visit?
Ninety kilometres south of Fortaleza, the tiny village of Uruaú is famous for its 24-hour blowing wind! The wind is perfect for riders learning new tricks, improving their skills or beginners wanting to progress. Even though Uruaú is a tiny village, it has everything you'll need as it is close enough to Fortaleza but free from any city stresses! Furthermore, the fact that you are at a wave spot and a flat water lagoon makes it worth a visit; you can choose what you are in the mood for!
Wind and Weather
The season here is from July until January, and Uruaú offers perfect wind during those months. So it's boardshorts/bikini weather during the day (even on the water), and then it cools down just a little in the evening to have the perfect goodnights sleep! The kite sizes mostly needed here are 9m and 12m kites for men and 7m and 10m kites for women. There is a massive white sandy beach for you to set up your kite on in front of the Pro Kite Centre, and the staff there are always happy to help you launch and land your kite.
Getting Around
Another advantage in Uruaú is that you don't need to worry about where to go kitesurfing, the spot's right there! All the accommodations and restaurants are 2-5 minutes from the spot.
Food and Drink
As Uruaú is just a little town, the options are a little bit limited regarding food choices. However, the main meals you will easily find will generally be a choice of good meat, seafood (crayfish, lobster, shrimp), pizzas, hamburger, fruits/vegetables that can be bought from the store and of course, the famous Brazilian Acai!
Nightlife
Because Uruaú mainly focuses on kitesurfing and training, there aren't any parties going on daily unless it's a special occasion (there is a little bar for that). If you are in the mood to party, you will get a taxi to Canoa Quebrada, which has an enjoyable Reggae bar on the beach. Option two would be to head to Fortaleza, which would be a good night in the city. In Uruaú, 2 -3 times a week, the kite centres will organize a dinner somewhere with their guests. The full moon party at Kite Pro Brazil is a night you do not want to miss; this starts with a BBQ around 6-7 PM, and as the moon slowly illuminates the beach, everyone goes for a Full Moon kitesurfing session.
No Wind?
It is rare to hear that phrase around here, but if it should happen - everybody heads to the spa to relax. They are secretly relieved that they are obligated to take a day off the water and rest!
Many people enjoy the buggy trips to the fisherman's villages or the dunes, where you can go sandboarding and explore Brazil's beautiful nature. However, if you enjoy horse riding, you want to go for a sunset ride on the beach; you will not regret it!
Internet
You'll have wifi at the kitesurfing centres as well as the accommodation.
Accommodation
The Kite Village, an eco-friendly development, offers super lovely apartments. The apartments have 1-2 sleeping rooms, a lounge with a kitchen and garden or a balcony with a hammock and breakfast.
Brazil
Error getting country data...
Featured
Ireland is a hidden gem for kitesurfing. There are amazing conditions for kiting in Ireland and unique spots. It's such a shame that it goes so unnoticed. Home to the 'Battle of the Lake' competition and Pure Magic Kite School; the small island offers both awesome wave riding on the beach and flat water 100 meters on the lake! In…
Maui is a can't-miss kiteboarding destination. With warm weather, consistent wind, and an endless list of no-wind activities, a visit to Maui is a no brainer. A strong, steady wind blows from the north most of the year. During the winter months, however, southerly Kona winds can light up the southern shores. The scenic crystal blue water and lush green…
Lake Silvaplana is located at the high altitude of 1800m, in the beautiful Engadin Valley. The landscape is stunning, and there are just a handful of places in the world where you can kite among incredible scenery like this! It's a perfect spot for sporty, active people coming here (but not only) for kiting, but the mountains will also surely…
IKSURFMAG Web Editor, Jen Tyler, grew up in the chaos of Cairo, Egypt. It was on the beaches of the Red Sea where her love for the ocean, watersports and adventure grew.
Been to Uruaú? What did you think?
Where are the Best Kitesurfing Beaches in Uruaú?
This super flat lagoon is where most pro riders come to train. It can get quite busy at times, but everyone gets into the rotations system and respects each other; that way, everyone has enough space to practice! But if you want the lagoon for you alone, this is possible as well for sure in the morning (where usually nobody goes, because the wind is 24 hours) or over lunchtime.
Wind: Sideshore in the morning, Onshore in the afternoon (Mostly between 15-25Kn)
Waves: NONE
Shorebreak: NONE
The sea in front has some small waves. Nice to go big or perfect to start with wave kiteboarding (with or without straps).
Wind: Sideshore in the morning, Onshore in the afternoon (Mostly between 15-25Kn)
Waves: 1-3m
Shorebreak: little, Yes
When is the Best Time to go Kitesurfing in Uruaú?
The windy months to go kitesurfing in Uruaú are January, July, August, September, October, November, December
Statistics
Do you know a good kitesurfing school here?