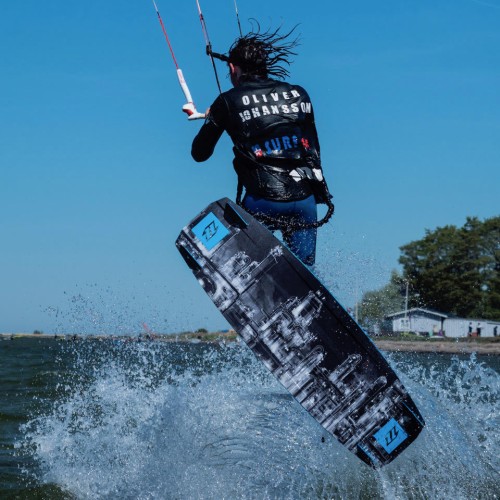 Why Visit?
If you want an adventure, pack your bags and get ready for a van holiday in Sweden. The excitement of it all is that you will be moving around, discovering and chasing the wind around Sweden's beautiful western coast. Most of the spots are about 30-60 minutes apart and one of the main reason why life on wheels is highly recommended.
All the kites spots around here are under "allemansrätten" law which gives the public free access. You are allowed to walk, cycle, kite, and camp on any land except for private property. As a kiter, you can kite anywhere you want, but I recommend never to kite all alone, do not forget to bring a kite pump as many kite spots do not have a fixed kite centre and of course be cautious as some spots are protected nature reserves.
Wind and Weather
The guarantee of wind and beautiful weather is always doubtful around here! Nonetheless, when the direction is right, the sun is out, and you are at the right spot, the sessions are ideal for all levels and styles of kiting.
There are Vikings that kite here all year round, However, in my opinion, the season starts around the end of April and ends by the beginning of October; during the rest of the year would be too cold for most kiters.
Always make sure you check that the wind direction is suitable for the spot you are at. You can also ask the local kiters; they are still happy to help out. April is always risky as it switches day-to-day from bright sunshine to chaotic snow.
Getting Around
As the kite spots around Sweden aren't very close to each other, and the wind direction is always changing, it is ideal to have a car or van. I have tried moving around kite spots using public transportation before, and It is possible! However, it took me 2 hours instead of the 40 minutes and as we all know as kiters, we don't have the easiest equipment to travel with.
Food and Drink
There are many different restaurants with delicious food around here. If you are on a budget, I recommend you to go to a supermarket and cook, but make sure you try some traditional Swedish meatballs or mouth-watering seafood from the west coast while you are here.
Nightlife
Gothenburg provides all types of nightlife. Whether you wanna go for an easy brew after a good kite session or are in for a full night out, they've got it all. "Andra lång" is a street well-known for its cozy bars. Start your night off here by bar hopping around there and then head to "Avenyn" for some clubbing. If you find yourself in Varberg after a session you will find a similar atmosphere of clubs and bars around there.
No Wind?
If there is no wind, then it is time to fall in love with all the other things Sweden has to offer (weather dependent of course!) A walk in the forest, kayaking, fishing, skateboarding and sightseeing in Gothenburg or Varberg.
Click here to view a video of what West Sweden has to offer!
Internet
Wi-Fi can be found at most hotels, cafés, restaurants, and bars. It's always easiest to buy a local sim card once you arrive, as most kite spots I am recommending are quite remote so there might not have wifi around there.
Accommodation
Like I mentioned previously, the best way to experience Sweden's kite spots is to live in a van. Bring a blow-up mattress, rent a van and make a road trip around here, this way you are flexible to go to all the kite spot. Otherwise, there are heaps of hostels and hotels around the area.
Featured
Haven't you ever heard of Roatan! No wonder... the Islands of Honduras are in the far western part of the Caribbean and often overlooked. Well lucky us, the Eastern side is well preserved as well as its authentic charm and unspoiled nature. The Island's lush green hills, white beaches, and crystal clear warm waters are surrounded by the world's second…
Fuerteventura might sound already familiar to you. It has been home of the World Kiteboarding Freestyle World Tour for many years and place for many brands of the industry to test their gear or make their annual meetings. Fuerte is one of the 7 Canary Islands, geographically part of the African continent, this Spanish island is located in the middle…
Well, apart from the fact the island has a great reputation, this location has many things to offer for your kite holiday or trip. A place with great waves and butter flat water, a place with steady, reliable side shore wind, lots of space and astonishingly uncrowded! Only 7km away from the overcrowded spot of Paje lays this fairly undiscovered…
Nathalie Lambrecht is chasing the dream to become a professional kitesurfer. Right now she has an injured knee so she is working hard everyday to get back onto the water.
Been to Gothenburg? What did you think?
Where are the Best Kitesurfing Beaches in Gothenburg?
Torkelstorp is defiantly one of the best flat water spots in Gothenburg, Sweden, but when the wind direction is right of course. There is a rocky pier, so on southeast to the west (on the right side of the dock) you'll get incredible flat water. It is a very remote area with only some forest and houses around, so if you are planning to spend the whole day there remember to bring a lunch box!
Wind: Southeast to west
Waves: None
Shorebreak: None
This spot has it all! It is in a charming town called Varberg which is 40 minutes from Gothenburg. There are two launching areas; one is at a grassy area; known as a cow field and the other is at the beach. There are huge rocks and a shallow area, and both create nice flat water spots. Further out, you get some good swells coming in, which you use as a kicker for freestyle or use a surfboard. The spot works best with the wind direction from south to west.
Wind: South to west
Waves: On the outside
Shorebreak: None
If you want to progress your riding, Draget will be the place to go! When there is a Northwest wind the bay in this spot will create flat water. The spot is also rideable when the wind comes from the west. However, it will not be as glassy. It is quite a spacious area out on the water, but the launching and landing area is a bit tight. Which is not a problem as it is usually not that crowded.
Wind: Northwest to west
Waves: None
Shorebreak: None
When is the Best Time to go Kitesurfing in Gothenburg?
The windy months to go kitesurfing in Gothenburg are April, May, June, July, August, September, October
Statistics
Do you know a good kitesurfing school here?