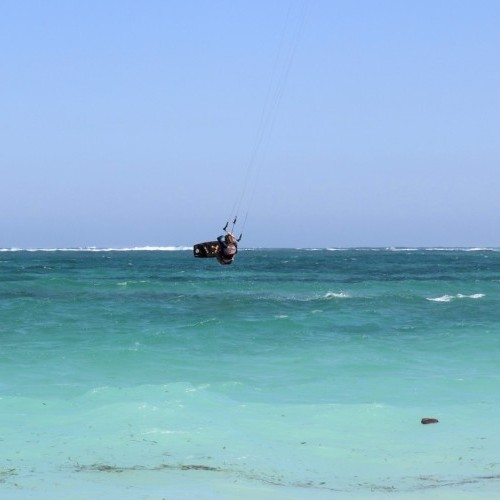 Why Visit?
You'll be able to find wind, waves, and an epic adventure in Kaliantan. It's a spot that's likely to go boom on the tourist radar in the next few years, so get in quick while it's still uncrowded. Kaliantan is located in southern Lombok, an enchanting coastal region that is prosperous with white sand beaches, palm trees, and local culture. Kaliantan is a 10-minute drive from Ekas, where all the accommodation options are. In Ekas, you'll find a world-class surf break with spots suitable for all levels. One of the few locations where conditions are primo for surfing and kitesurfing all on the same day. Its uncrowded nature means there aren't many shops or accommodation options around.
Wind and Weather
The wind is most consistent from April to September, on average 15 to 20 knots. The air and water are warm, but pack a wetsuit top or shorty if you feel the cold. Rain is sparse; southern Lombok is an arid region. The wind here is stronger than in its famous tourist counterpart, Bali. Temperatures often reach the 30s, the water proving a great way to cool down.
Getting Around
Most travel to Lombok from Bali by ferry or plane. However, there are a few ports in Bali where you can catch a ferry; Padangbai, Sanur and Serangan. Be aware that these will take you to Bangsal Harbour at the top of Lombok, making for a three and a half-hour drive to Ekas.
The other option is to fly from Bali; this can be very cost-effective (15 euros) if you book ahead. From Lombok airport, the drive is about one hour. I would recommend organising a taxi with your accommodation beforehand; they will usually be able to find you a good deal.
The roads around Ekas and Kaliantan are generally very bumpy and un-sealed. This can make for some uncomfortable-holding-on-for-dear-life car and scooter rides!
Food and Drink
There are a handful of resorts in Ekas; these offer restaurant services and accommodation. The local set-ups are sure to fill your bottomless pit of a stomach and are relatively cheap. These all serve local Indonesian food, with the occasional burger or a pizza. Not to stress, you won't find yourself short of Bintangs.
Nightlife
Don't head to Ekas/Kaliantan if you want to party! Although the accommodation we stayed in was relatively social, indulging in a few after kite Bintangs - there are no nightclubs. Who has the energy for that after five hours in the water anyway?
No wind
The beauty of staying in Ekas is the multiple surf breaks located on your doorstep. When the wind doesn't play ball, you'll be able to keep yourself occupied with world-class waves. Surface breaks are suitable for all levels, and surf lessons/board rentals are available. There is also quality diving/snorkelling if you haven't received your water fix. There are so many white-sand-palm-tree-coated beaches in this area, so get your adventure shoes on.
Internet
The internet is surprisingly good for an area far away from the main town. Depending on where you stay, you should have enough juice to check the socials, emails and most importantly, the wind report.
Accommodation
There are a handful of charming accommodation options in Ekas. If you're after western comforts, check out Ekas Surf Resort or Ekas Breaks; inevitability, these options are pricey.
For a local run homestay, check out Tira Villa; the staff are lovely, the food is delectable, and the rooms have all the basics you need.
Indonesia
Error getting country data...
Featured
Consistent wind, turquoise blue waters, friendly locals, and plenty of authentic experiences are a few reasons Mindoro should be on your kitesurfing holiday bucket list. Mindoro is an unspoilt slice of kiting paradise should you take a less travelled path. One of over 7000 islands in the Philippines, its proximity to the Northern point of the Philippines means it experiences…
Boasting azure blue lagoons, shallow warm water and consistent trade winds from dawn to dusk, Cocos Islands are perfect for all levels... complete beginners, intermediates or advanced freestylers. Wind and Weather The wind blows consistently 15-25 knots all day every day from July through to October. The perfect quiver of kite for the average person would be a 7,9, and 12m. …
Bariloche is one of the most touristic and well-known places in Argentina, and people from all over the world come to visit it every year as every season has its magic. Bariloche is situated in a national park full of mountains, forests, lakes, and rivers topped off with super lovely kite spots, what's there not to love?! You get to…
Georgia is a kitesurfer based in New Zealand. Her ocean, sun, and beach addiction has led her to an array of tropical infused kitesurfing destinations in New Zealand and around the world.
Been to Kaliantan? What did you think?
Where are the Best Kitesurfing Beaches in Kaliantan?
There is one designated lagoon for kitesurfing, but there is a coastline of spots to be discovered. The outer edge is perfect for wave kiting, where the open Indonesian ocean takes the brunt of many incoming swells. The lagoon isn't butter-flat for freestyle, but the jaw-dropping scenery makes up for this. Don't worry about running out of space; the Kaliantan Lagoon is larger than your biggest boost that no one saw. It can be done on most tides (aside from a bit low) and is slightly choppier at high.
Wind: Onshore/Cross
Waves: Yes
Shorebreak: No
The outer reef at Turtle Beach is best enjoyed on a surfboard, along with practically every other beach on this coastline. Again crystal blue waters and lovely palm trees fill the space.
Wind: Onshore/Cross
Waves: Yes
Shorebreak: No
If you're after some serious wave kiting, it's rumoured Outside Ekas has to be done on a cross-shore. You would need to kitesurf around the point and a boat in tow wouldn't hurt. This spot can take some serious swell and be best described in one word - gnarly.
Wind: Cross
Waves: Yes
Shorebreak: No
When is the Best Time to go Kitesurfing in Kaliantan?
The windy months to go kitesurfing in Kaliantan are March, April, June, July, August, September
Statistics
Do you know a good kitesurfing school here?