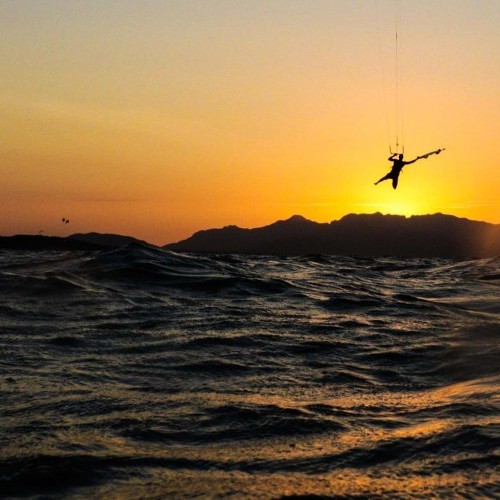 Why Visit?
Punta Chame, located close to a quiet fishing village, the spot offers a vast beach with a lot of space for beginner and advanced kitesurfers to practice and progress, making Punta Chame is an excellent place for kitesurfing. Besides that, there are fantastic places to travel to while you are visiting Panama.
Wind and Weather
Panama gets consistent wind from December until April, and that is also the dry season, so rainy days are rare. The kite range is mainly 9 - 12m, but occasionally we use 7m and 14m as well. Temperatures feel hot all year with chances of rain about half of the year. The warmest times of the year are February, March, and April with highs of 34°C.
Downwinders
If you do get yourself a day where it looks like the wind won't take a midday siesta, then it's worth ensuring your friendly with at least one of the local fisherman! You can charter one for $150 or so with your mates and then head towards Panama City for an hour or 2 in the boat.
Out at sea, there's myriad little islands, shipwrecks and other things to see. Choose an island to stop at, pump up, and you're on your way. You'll find flat water sections and get to check out the best bits you've seen on the way out heading back by kite. Make sure you also visit the sandbar if it's out or even head to the lagoons, you can choose your adventure here. On occasion, you can easily get in a 4 hours kite session, so you'll no doubt get your fix for the day with this one!
Getting Around
You can easily rent a car or catch the local buses around the area.
Food and Drink
Punta Chame has some local restaurants were you can eat local fish for a great price. The Panama Kitesurfing Guesthouse provides European meals and has a beautiful beach bar for cocktails and drinks in the evening.
Nightlife
There is always something going on at The Beach Bar at the Panama Kitesurfing Guesthouse in the evening. The fishing village itself is relatively quiet but gets lively with local parties around the carnival and other Panamanian Holidays.
No Wind?
There is a surf spot 20 minutes away from Punta Chame that gets reasonably consistent surf from December to April. Around 40% of days are surfable, and this often ties in with no wind.
John Wayne's abandoned island is a 15-minute boat ride away and a great day trip for no wind days. Stroll around the abandoned town, discovering remains of the wild west and keep your eyes open for monkeys and other wildlife!
Fancy Canyon swimming and jumping? Only a 40 minute drive away from the kite spot. The Panama Kitesurfing Guesthouse organises all of these trips when there is no wind, so make sure you have a chat with them!
Internet
The Internet is very fast in the area.
Accommodation
There are a few options in the area, but Panama Kitesurfing Guesthouse is situated directly on the kite beach, and Casa Amarilla is the perfect family option, and that is about 10-minute walk to the central kite spot.
Featured
Jupiter's Kite Beach is one of the most iconic spots in Florida.  Besides the diverse range of conditions, we have a quaint town that provides kiters with a wide array of entertainment in a small town surf vibe.  While we might not be famous for remarkably consistent conditions, most people visiting will find that we always have something fun going…
Lake Silvaplana is located at the high altitude of 1800m, in the beautiful Engadin Valley. The landscape is stunning, and there are just a handful of places in the world where you can kite among incredible scenery like this! It's a perfect spot for sporty, active people coming here (but not only) for kiting, but the mountains will also surely…
I believe the Isle of Thanet to be quite a unique destination when it comes to kiting on the mainland of the UK. Once described as a boil on the butt cheek of Britain, I now like to refer to it as more of a beauty spot lovingly! As kitesurfers, we are undoubtedly spoilt; never being more than a 10-minute…
Brendad has been kiting for over 10 years. Brendan started with landboarding and got into kitesurfing 7 years ago. After teaching kitesurfing for a few seasons after college, he was traveling and kitesurfing his way through south and central america and found himself on a sailing trip in the San Blas. He started running kite cruises there back in 2015 and since then he has set up a kitesurfing guesthouse in Panama and now runs kitesurfing cruises in multiple locations around the world all year round
Been to Punta Chame? What did you think?
Where are the Best Kitesurfing Beaches in Punta Chame?
Giant sand beach with a prevailing cross-on wind direction but worth noting there is a pretty significant tidal movement throughout the day, which makes it best for beginners when the tide is lower. More advanced kiters can get out any time of day. If you're looking for flatter conditions, you're best getting out at low tide or in the morning when the wind tends to be a little smoother.
Although the beach never feels crowded (given the size), mornings are also quieter so you can quite often get the place to yourself or at least plenty of space. This is the perfect time to practice riding unhooked or work on trick variations with loops such as Darkslides.
High tide or afternoon riding tends to offer the best ramps and strongest wind, which I enjoy for boosting or learning board off variations where you need more time in the air. Shuffling is always a good shout here as you will have no doubt heard about the odd Stingray, which resides here.
For advanced kiters, merely ride out of the shallows, and you'll have no issues. Overall, an excellent spot with a wide variety of conditions and warm water, which makes a nice change from many other parts of the world.
Wind: N to NE
Waves: Only small waves
Shorebreak: None
Only one word is needed to describe this place…butter! The flattest water I've ever kited in, the sandbar is only accessible by boat or is roughly a 20-minute kite from the main beach for those who can head straight upwind, merely kite to the point and then make the crossing. Something else that makes this spot a little more special is the fact that it only works during the spring tides of the lunar cycle when the tides are at their lowest point.
You can plan your stay by checking out the Punta Chame tide tables to ensure you're here when it's entirely out. Heading here feels like a bit of an adventure given that it does take a bit of commitment to get to and it's worth heading with a buddy to be safe. The effort is definitely worth the reward though, once you reach what must be kilometres of glass like water.
Wind: N to NE
Waves: None
Shorebreak: None
Both lagoon areas in Punta Chame work best around mid-tide as at low tide they are shallow/empty and at high tide they can become more choppy. This gives you a good 2-3 hours during each cycle, however, to go and play.
The 'Mini Lagoon' is a short 5-10 min downwinder from the main beach and is a good spot to head if you're on your own or not as confident in your ability to get home. If you see the mansion downwind of you, then you've made it to the right spot.
Best to head here in the morning when the beach is less busy if you can and a great option if you're after some flat water, but the sandbar isn't an option. Can get more crowded in the evening given how accessible it is.
Wind: N to NE
Waves: Choppy at high tide
Shorebreak: None
As featured in Hidden Lines Chapter 3 with Youri, Kevin, and Nick, the 'Large Lagoon' places to go for anyone keen on a freestyle session. Roughly 20 minutes downwind of the main beach (head past the 'Mini Lagoon' and you'll find the place. This one is a huge space, so there's plenty of room for you and your mates.
If you can organise yourself a driver, there's also the option of getting someone to get you afterwards from the roadside to bring you back to town. This spot is best for more advanced kiters, and it's best to give yourself plenty of space as there are some downwind obstacles.
Wind: N to NE
Waves: Choppy at high tide
Shorebreak: None
When is the Best Time to go Kitesurfing in Punta Chame?
The windy months to go kitesurfing in Punta Chame are January, February, March, April, December
Statistics
Do you know a good kitesurfing school here?