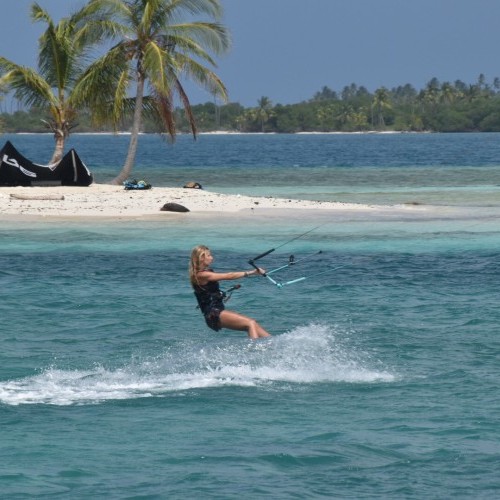 Why Visit?
The San Blas are 367 deserted islands located on the Caribbean side of Panama. The local Kuna Tribes inhabit only 10% of the islands. White sandy beaches and crystal clear blue waters are waiting for you! Have a rest under one of the shady palm trees after an excellent kite session and get to know the locals and their unique culture.
Wind and Weather
Panama gets consistent wind from December until April. This is also the dry season, so rainy days are rare. Kite range is mainly 9 - 12m kites but we also sometimes we use 7m and 14m as well.
The climate is tropical in San Blas with high temperatures it's never below 20°C. The season's temperatures are the same all year through, but you have a rainy season from May till November, that sometimes gives more rain then you need and can be humid, but enough sunshine to still enjoy the beach! From December to April, the dry season hits in with and almost no rain.
The trade winds blow almost every day keeping the temperature down, and it does not get humid. The wind also keeps all the insects away.
Getting Around
To get to the San Blas Islands, you need to take a 4x4 to a local port, and then one of the local shuttle or sailing boats will take you to the islands. It takes a few hours to sail in between the different set of islands.
Food and Drink
If you are staying on a boat, they will take care of food and drinks, so you don't need to worry about that. It is also possible to get fish and lobster from the locals.
Nightlife
Apart from bonfire parties with the group you are with on deserted islands, there is not much nightlife offered - but also not needed!
No Wind?
When the wind drops, it's the perfect time to go exploring. Snorkelling, meeting the Kuna Tribe and checking out the waterfall jungle tours are highly recommended.
Internet
It's probably best to get a local sim card before arriving, and about 80% of the San Blas has coverage.
Accommodation
There is some accommodation offered on the islands, but the best way to see the San Blas is by staying on a boat!
Featured
Located just one hour from Fort Lauderdale or 30 minutes from Nassau, Cat Island is one of the 700 islands of the Bahamas where you can step out of the plane and disconnect with the world! Far away from mass tourism, this is the perfect place to relax or enjoy epic conditions for kiteboarding, surfing, sailing, scuba diving (and shark…
This is it, a surf style palm leaf bungalow on the beach.  Simplicity at it's finest. Sleeping to the sound of the waves and waking up to the view of the turquoise water. One of the best places in the world for kitesurfing is the Dominican Republic, especially the flat water lagoon paradise in Buen Hombre. Buen Hombre is a hidden…
This island is any kiters dream... with her crystal clear turquoise waters, white beaches, and constantly strong trade winds all year round, you can call Aruba a kitesurfing paradise! Besides kiting, there is an unlimited amount of activities you can do when you are exhausted from all the action on the water. After a stunning sunset every day, there are…
Brendad has been kiting for over 10 years. Brendan started with landboarding and got into kitesurfing 7 years ago. After teaching kitesurfing for a few seasons after college, he was traveling and kitesurfing his way through south and central america and found himself on a sailing trip in the San Blas. He started running kite cruises there back in 2015 and since then he has set up a kitesurfing guesthouse in Panama and now runs kitesurfing cruises in multiple locations around the world all year round
Been to San Blas? What did you think?
Where are the Best Kitesurfing Beaches in San Blas?
When staying on a catamaran, you can kitesurf at many places in the San Blas. There is a variety of shallow waist-deep area with super flat water as well as some reef breaks. It is also possible for huge downwinders from spot to spot.
It is essential you have a guide that takes you to the right spots making sure you always avoid the reefs not to damage them and also injure yourself. As all of the kite spots are launching from islands, they can all become offshore kitesurfing spots so you should never kitesurf there unless you have a safety boat and are on an organised tour.
Wind: Off-shore
Waves: Small waves sometimes
Shorebreak: Yes
Special Note:
Unfortunately, in late 2017, the Kuna Community prohibited kitesurfing in the area, so it is currently not allowed to kitesurf there, and we encourage everyone to abide by their rules. We are now in contact with the right people to try to get it reintroduced. Hopefully, we will see kitesurfing in the San Blas again in 2019.
When is the Best Time to go Kitesurfing in San Blas?
The windy months to go kitesurfing in San Blas are January, February, March, April, May, December
Statistics
Do you know a good kitesurfing school here?
Kitesurfing Videos and News in San Blas
2 years ago
#KitersInIsolation, we're playing the 2nd episode of Hidden Lines - Youri Zoon, Kevin Langeree and Nick Jacobsen set out to travel the San Blas Islands.…
10 years ago
Check out the new episode from Naish Kiteboarding TV, featuring Florian Daubos riding around the San Blas archipelago in the Caribbean Sea. 300 stunning islands…