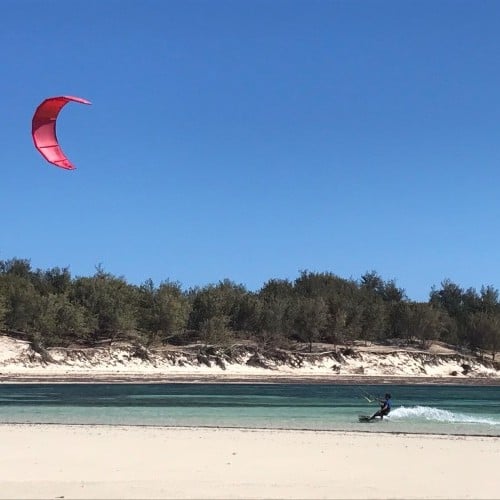 Why Visit?
Sakalava Bay is a kitesurf jewel spot, reachable via sandy road from the concrete road stretching from Diego to Ramena village. It is the most beautiful bay in Diego Suarez area and the only one gathering perfect wind direction, flat water, waves and protection from the ree. Since the bottom is sandy, the risks of getting injured are minimised.
Wind and Weather
Sakalava Bay is incredibly gifted in terms of wind and weather. The wind season last eight consecutive months! It starts from late March until the end of November. During this season, temperatures range from 25 to 35 Celsius, and it rarely rains.
North Madagascar is the windiest place in the world after Cap Horn…
For instance, in 2017, the Sakalava Bay got only seven days out of 245 with wind below 15 knots…
Getting Around
You can get to Diego Suarez by local taxi, and that takes about 40 min. The ride costs about 50.000 Ariary (which is less than 50p). You can also get to Ramena Village which is about 2o min away, and that requires only 25.000 Ariary!
Food and Drink
All the resorts have their restaurants, so that is always one option. In the Fisherman Village, Gargotes is a very popular choice, and Kite Alize's restaurant proposes by far the best cuisine of the bay!
Nightlife
There will always be something going on at the resort you are staying in but sometimes the villager's organise local parties in the village, and those are still a lot of fun to attend.
No Wind?
A lot of sightseeing! Check out The Diego Bay tour, the Ramena village tour, mountain hikes, ATV tour and more!
Internet
Most of the resorts have Internet but the only one providing free Internet for their non-guests is KiteParadise Madagascar.
Accommodation
There are four resorts on Sakalava Bay and all of their prices ranging from 20 EUR to 44 EUR/double room. These resorts include KiteParadise, Mantasaly Resort, Sakalava Lodge and Allamanda Hotel.
Featured


Tulum has become one of the main hotspots around the world for kitesurfing. Home to incredible beaches, turquoise waters, and lazy palm trees; you'll never have felt this good! Tulum is not only about kiteboarding; it's a place you'll get to spend quality time with your friends and family as well, there are so many activities to do together. In…


Essaouira provides the ultimate location for your kitesurfing holiday. It's easy to travel to as there are many daily flights from Europe, it's relatively cheap and there are a variety of conditions on your doorstep from a flat water lagoon to world class waves. There is everything on hand without the need of a car. You'll find no shortage of…


Lake Silvaplana is located at the high altitude of 1800m, in the beautiful Engadin Valley. The landscape is stunning, and there are just a handful of places in the world where you can kite among incredible scenery like this! It's a perfect spot for sporty, active people coming here (but not only) for kiting, but the mountains will also surely…
Primary Teacher, Touring guitarist, Kitesurf Addict and Globetrotter
Been to Sakalava Bay? What did you think?
Where are the Best Kitesurfing Beaches in Sakalava Bay?
The fishermen village is located in the South part of Sakalava Bay. It consists of a group of mangroves that border the path going to the beach. There is a small parking. Some schools held by local people are established here.
Wind: Very gusty since the turbulence is caused by the mangroves
Waves: Further out by the reef
Shorebreak: No
The sandbank is the most popular spot in Sakalava Bay. It's located in the North of the Bay next to KiteParadise Madagascar and Kite Alize. It provides the best mirror flat water of the Sakalava Bay.
Wind: Cross-on shore
Waves: Further out by the reef
Shorebreak: No
When is the Best Time to go Kitesurfing in Sakalava Bay?
The windy months to go kitesurfing in Sakalava Bay are March, April, May, June, July, August, September, October, November
Statistics
Kitesurfing Hotels and Accommodation in Sakalava Bay
Do you know a good kitesurfing school here? Submit it below.