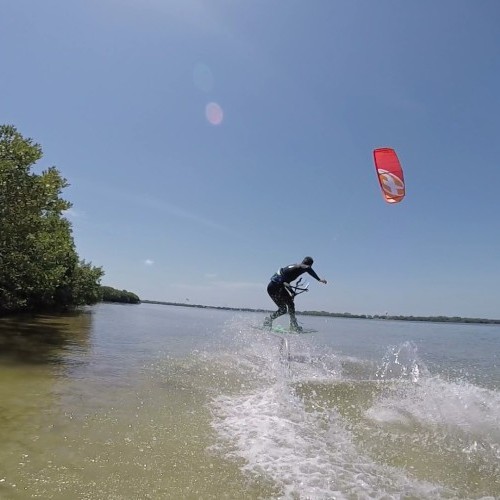 Why Visit?
St. Petersburg is "The Sunshine City". It holds the Guinness World Record for most days of consecutive sunshine at 768. Offering miles and miles of beautiful white sandy beaches often compared to and regarded as some of the best beaches in the world! Also being that it is a peninsula it offers numerous kiting spots for all wind directions as well as excellent conditions for most other water sports and boating as well. On top of this, downtown St. Pete has been expanding rapidly and within walking distance, one can choose between a ton of restaurants, bars, and nightclubs ranging from casual to classy! A great way to see a constantly updated list of things to do, trip ideas, places to stay, dine, and go out check out http://www.visitstpeteclearwater.com and http://www.ilovetheburg.com.
Wind and Weather
Our windiest season is roughly October 1st through until May. This is when cold fronts are common on about a 4-7 day cycle and bring 25 to 35-knot winds. However, throughout the summer and rest of the year, it is very common to see 10 to 15-knot sea breezes a few days a week. The coldest months are typically January and February which a 3-2 full wetsuit should suffice. For the strongest wind and warmest weather I would recommend coming between October and December or March and April. If you come in December, I recommend bringing a Santa costume to partake in the Santa Kite Jam. Check out the link here.
St. Pete is probably most famous for offering numerous flat water spots to kite. Next to the skyway bridge and in Ft Desoto park are the most popular, but there are much more as well. Waves are only present from strong wind swells and are common from our winter cold fronts, but can also happen throughout the rest of the year from tropical storms and depressions. When we do have the appropriate wind direction, simply put anything with some west in it, there are miles and miles of beautiful beach with great sand, beach bars, and restaurants. It is easy to find a spot in St. Pete to ride along many other kiters, but it is also easy to find a much more private or solo session! Foil kiting has also become very popular in St. Pete and the conditions for it are offered year round. Check out this link to see a recap of a recent Foil Regatta that took place on St. Pete Beach!
Getting Around
This couldn't be easier with the trolley system we offer. Check out this link where you can see trolley rides that can take you anywhere around the beaches for just about a couple dollars. Yes, you can get on with your kite gear and in even wearing wetsuits! There are even trolleys that run regularly from the beach to down town! This doesn't only make getting around easy, but can be a big help with down winders! There is also a free beach ride service in some areas requiring you only to tip the driver as well as numerous cab companies and of course there is Uber! However, the trolley doesn't go to some the most popular flat water spots and if this is a high priority a car rental should provide the most convenience and freedom!
Getting There
St. Petersburg International Airport (PIE) is a 20-minute drive to most kite spots and hotels.
Tampa International Airport (TPA) is a 30-minute drive to most kite spots and hotels.
Food and Drink
Near endless options in Downtown St. Petersburg as well as up and down the coast from St. Pete Beach to Clearwater Beach. Visit www.visitstpeteclearwater.com and  www.ilovetheburg.com.
Nightlife
Typically you either end up down town St. Pete or hitting up the bar scene along the beaches. At either location, you can easily spend the night at one establishment or hop around to 10 plus! On average you will find more going on and more people down town. Live music is everywhere, with Janus Live being a notable concert venue for big names and there are numerous breweries! Check the same websites listed above! Alternately if you're looking for somewhere to hang out that isn't the bar, restaurant, movie theatre, or bowling alley you can check out Low tide Kava Bar in Gulfport which is like a sub section of St. Petersburg. Low tide serves non-alcoholic beverages like kava and kratom, is open until two a.m. every night, and offers a variety of games inside and out like ping pong and corn hole. In down town Gulfport as well there are numerous restaurants and bars all within walking distance as well as beach volleyball courts with lights that stay on late!
No Wind?
No wind is no problem in St. Pete being surrounded by water, beaches, sand bars and islands! If you need to get your shred on I, recommend our closest cable park which is http://www.skimccormick.com. On a weekend I recommend renting a boat and finding your way to Bunces Pass which is like an island oasis that lies right between Ft. Desoto North Beach and Shell Island Preserve! Here you will find hundreds of boat's enjoying the weather and scenery! You could also boat out to Egmont Key where you can snorkel around a sunken Spanish fort or explore the island the remnants left behind there! St. Pete also offers great fishing and diving and is home to some of the biggest fishing and spear fishing tournaments in the world! There are numerous fishing, diving, and charter boat available for hire year round!
Internet
Almost everywhere you can find free Wifi as many businesses offer it as well as the city itself offers numerous locations! Check this link to learn more!
Accommodation
Seemingly endless options all over the city, however, most common for one to stay near down town St. Pete if you're looking for the best night life or wake up on the beach and kite in your backyard at one of the many hotels, resorts and motels along the beaches. The Loews Don CeSar Hotel on St. Pete Beach was recently named the "Best Historic Hotel" in its size category by the Historic Hotels of America Organization. It reminds me of a giant pink castle out of a Disney movie right on the beach.
The Trade Winds Resort is another huge and very family friendly resort offering numerous activities for all ages.
Featured
On the west coast of Lithuania lies Palanga, a popular spot on the Baltic Sea for kiteboarding, landboarding, SUPing and surfing. Eighteen kilometres long and up to 300 meters wide of sandy beaches, it is the busiest summer resort in Lithuania. The conditions can be pretty choppy and wavey, especially if the wind blows from the west, northwest or southwest…
Consistent wind, turquoise blue waters, friendly locals, and plenty of authentic experiences are a few reasons Mindoro should be on your kitesurfing holiday bucket list. Mindoro is an unspoilt slice of kiting paradise should you take a less travelled path. One of over 7000 islands in the Philippines, its proximity to the Northern point of the Philippines means it experiences…
Frequented by some of the planets top kitesurfers and home to the scintillating Red Bull King of the Air, Blouberg in Cape Town cannot fail to express through action just what an incredible place it is. It is infamous for its strong & reliable wind from December through to February. The shoulder months of November and March are often also…
Will is a team rider for F-One and Manera. He lives in St. Pete when not traveling!
Been to St. Petersburg? What did you think?
Where are the Best Kitesurfing Beaches in St. Petersburg?
The Skyway North Exit is most popular and you can kite here on just about every wind direction. If there is west in the wind, kiters will be on the west side of the exit and same thing goes for east wind. This is a flat water spot with small waves only when you kite out to the deeper water or from boat wakes!
This is possibly the most scenic and best flat water spot with the Skyway Bridge posing as a back drop and a nice grassy area to launch, land, and pack your gear. This is best on a south wind, an east wind, or somewhere in between!
Another epic spot! This offers flat water and waves due to the huge sand bars located just off the beach. This is best on any wind direction as long as there is a little west in it (sw-nw).
Another flat water spot that is best when the wind is out of the east.
Another flat water spot that is also best when the wind is out of the east.
The beach here is best for wind coming out of any westerly direction. On a very west wind you can literally kite all the way up and down the beach from here to Clearwater or anywhere in between.
When is the Best Time to go Kitesurfing in St. Petersburg?
The windy months to go kitesurfing in St. Petersburg are January, February, March, April, May, October, November, December
Statistics
Do you know a good kitesurfing school here?