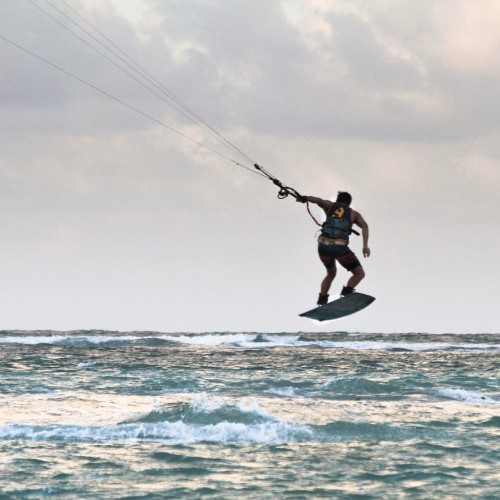 Why Visit?
Maui is a can't-miss kiteboarding destination. With warm weather, consistent wind, and an endless list of no-wind activities, a visit to Maui is a no brainer. A strong, steady wind blows from the north most of the year. During the winter months, however, southerly Kona winds can light up the southern shores. The scenic crystal blue water and lush green hills are reason enough to visit Maui.
Wind and Weather
Maui has a reputation for being one of the most consistently windy locations in North America. The wind can be fairly strong, but it isn't always blowing off-the-charts. Plan on bringing your big kites and your small kites. The weather on Maui is warm, but not painfully hot. Some riders are more comfortable in a light wetsuit, and others do fine in just their board shorts. Be prepared to weather a little rain on Maui.
Getting Around
Kite beach, the main hub of kiteboarding action, is located just a few minutes from the Kahului Airpot. Even so, renting a vehicle is necessary when visiting Maui. The area surrounding kite beach isn't very pedestrian friendly, and most accommodations are at least a few miles from the launch site.
Food and Drink
Eating well on Maui is easy. The tropical island offers a vast amount of locally grown fruits and vegetables. Don't miss out on noshing on some fresh pineapple. Eating seafood straight out of the ocean is an important piece of the Maui dining experience. Cruise downtown Paia to find happening local restaurants of all flavours. If you're thirsty, find some fresh fruit juice to sip on. The passion fruit, orange, guava juice combo or, POG as it's commonly called, is a favourite.
No Wind?
Hiking, surfing, and SUP are just a few options to keep you busy if the wind isn't blowing. Maui is loaded with breathtaking hikes, many winding through the lush jungle and concluding at a swimming hole or waterfall. Surf breaks for all levels are easy to find on Maui. Check the swell forecast and respect the locals if you choose to paddle out.
Internet
You should have no problem staying connected on Maui.
Accommodation
Depending on your budget and willingness to drive, a variety of accommodation options exist, from vacation rentals to hotels. Look for options in Kahului or Paia on the north shore or Kihei on the south side. Maui is a hot-spot for tourism, so expect to pay tourist prices for a good nights sleep.
 Nightlife
The day life on Maui is busy and energy consuming. Most people expend so much energy during the day that they don't end up staying out late at night. If you're looking for a good time, check out Charley's Restaurant and Saloon in Paia for pub food and occasional live music.
USA
United States dollar (USD)
Featured


Just 2 hours north of Perth you will find one of the best spots to kitesurf on the West Coast of Australia. Lancelin is a popular place with kiters and at the weekends, many riders from Perth make the trip up and spend a couple of days enjoying the perfect conditions on offer. With waves and butter flat water there…


Located just one hour from Fort Lauderdale or 30 minutes from Nassau, Cat Island is one of the 700 islands of the Bahamas where you can step out of the plane and disconnect with the world! Far away from mass tourism, this is the perfect place to relax or enjoy epic conditions for kiteboarding, surfing, sailing, scuba diving (and shark…


Cape Hatteras is a beautiful, thin and small island situated in an extraordinary place in North Carolina. In Hatteras, you can truly relax. If it's windy, you go kiting. If it's not, you can go surfing and on the rare no wind or wave day you can go biking, suping, jetski tours or relax at the beach. Wind and Weather Year…
Lindsay is a pro rider from Hood River in the USA, she works for IKSURFMAG as our Features Editor and is an integral part of the team. Lindsay is really into wakestyle riding and can be found in the Hood River Slider Park during the summer months, she also travels all over the world with the World Class Academy helping younger riders develop through kiteboarding!
Been to Maui? What did you think?
Where are the Best Kitesurfing Beaches in Maui?
Kite Beach is the hub for kiteboarding on the north shore of Maui. With most wind directions the launch is fairly straightforward. Once you get out, you can hang on the inside, where the riding is choppy with a small shore break. Or, head out to the reef. Depending on the swell, you could find small or overhead waves. Be aware; you won't want to take a tumble out there.
Wind: Steady wind at 15-25mph most days
Waves: Nice lines outside
Shorebreak: Small shorebreak
As the name implies, beginning kiters and lessons are more common at teach beach. The conditions are similar to kite beach, with a small shore break, small chop, then breaking waves at the outer reef.
Wind: Expect west wind in the 15- 25 mph range most days.
Waves: Depending on the swell, you'll find nice waves breaking at the reef.
Shorebreak: There's a small shorebreak at teaching beach that is more extreme with onshore wind.
Kihei is located on the south side of the island and rides best with southerly winds. Kihei is also rideable when the wind is blowing straight onshore at Kite Beach. Narrow launch sites and shallow sections of the reef can make Kihei a more-challenging zone for kiteboarding.
Wind: Southerly winds are usually between 10-20mph. Northerly wind can be fairly strong, from 15- 30 mph.
Waves: Small to large, and better with a south swell.
Shorebreak: Minimal.
When is the Best Time to go Kitesurfing in Maui?
The windy months to go kitesurfing in Maui are March, April, May, June, July, August, September, October
Statistics
Do you know a good kitesurfing school here?
Kitesurfing Articles that Mention Maui
Kitesurfing Videos and News in Maui