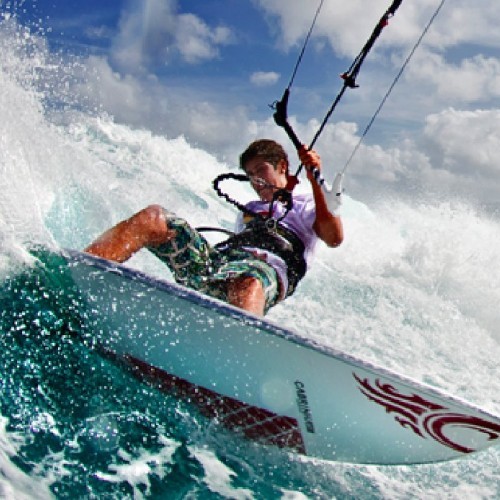 Why Visit?
Montauk is a small mellow town about a three-hour drive from Manhattan, New York. It can get a little crowded on the weekends but otherwise, it's pretty chilled. In Montauk, you can kitesurf or surf all year round. The best time to visit though is during the fall. The best flat water spot is called Napeague and we'll tell you a little more about that in the "Spots" section but Napeague offers a lot of thermals, and is usually windy and is also great for foiling.
In Montauk, The Atlantic Ocean (south side) and Long Island Sound are only a few miles apart and if you are into your wave riding, you'll love the Atlantic side!
Offseason lodging is reasonably priced and there are great trailer parks as well (make sure you check out Hither Hills State Park) that are directly on the ocean. There are some fantastic restaurants with incredibly fresh seafood and locally farmed vegetables combined with great nightlife and lots of water sports activities, Montauk a great place to visit and kite!
Wind and weather
June, September, and October are typically the best months to kite in Montauk. Napeague Bay offers flat water and you can kite on the Long Island Sound when the wind is north. It is only a few miles from the ocean to the bay (three to five miles across). You can kite almost all year round but the water does get cold in the spring and winter. There are thermals late afternoon typically in the summer which are good for downwinders. The wind is regularly between 18-20 knots during the three months mentioned above.
Getting Around
Getting to Montauk isn't easy but once you are there you can walk most places assuming you stay near town. You can find Taxi's and Uber easily, but I would recommend renting a car as it would be a lot easier to get to Napeague and to the ocean with your equipment.
Food and drink
There are some excellent restaurants around Montauk. My favorites would have to include, the Harvest, Inlet, the Montauckett, and West Lake. The Montauk Brewery is a great place to have a drink and there are lots of fun bars with breathtaking views. Joni's is good fun, Naturally Good Cafe, as well as the Montauk Bake Shop.
I would highly recommend you have dinner, drinks and watch the sunset from The Montauckett; the owners are siblings, the food is fantastic and the vibe is super mellow. The Montauckett overlooks Long Island Sound and is perched up on a cliff... top of the list!
Nightlife
For the evenings, all the supermodels hang out the Surf Lodge, but there are lots of other fun places to have a drink, like The Memory Motel (The Rolling Stones have a song named after it), The Gig Shack and many more.
There are several islands which are uninhabited like Gardiner's Island and there are bands that play there several days per week. Also, check out Crows Nest and Shagwon.
No wind?
There is almost always a wave to grab and lots of people out on paddleboards. There are not many people that foil on the ocean side, but many do at Napeague, so that would be worth checking out if the wind is marginal. The best waves are with the incoming tide with N, NW winds. We usually get the largest swells in the fall, typically from tropical storms or hurricanes. Fishing is also very popular in the area.
There is a 'Top 50' in the country public golf course called Montauk Downs, horseriding and mountain biking on the many wooded trails. If you like the outdoors, you will not be bored!
You can visit Block Island or Martha's Vineyard as well. There are also sunset cruises, whale watching cruises, and parasailing.
Internet
Yes, you'll be able to find a good internet connection everywhere you go around Montauk.
Accommodation
Around Montauk, you'll find everything, from motels to really nice hotels depend on your budget and there are also many holiday rental available. As I mentioned previously, check out Hither Hills State Park for RV's and Ditch Plains is the main surf spot with rentals to really nice hotels depend on your budget.
USA
United States dollar (USD)
Featured


Hua Hin is one of eight districts of Prachuap Khiri Khan Province, in Thailand. It is closely associated with the Thai royal family; they spend their holidays in Hua Hin. It offers a tropical climate, where the humidity is high, and the average temperature does not usually fall below 28°C so you can leave your wetsuit at home. Over the…


Saipan is the second largest island of the Northern Mariana Islands chain, a U.S. territory located 120 miles North of Guam. It has year-round tropical temperatures, good wind from November through April, and a large, flat water lagoon along its western shore. Wind and Weather Sitting just north of the equator between the Philippine Sea and the Pacific Ocean, Saipan…


The Babaomby spot situated on Madagascar's Emerald Sea lagoon gathers a beautiful and diverse playground for kitesurfers with excellent wind conditions. The spot is ranked among the ten windiest spots on the planet by Windguru and offers everything a kitesurfer dreams about: safe conditions in shallow and crystal clear waters, two wave zones easily accessible only a 15-minute ride away…
Rob is 51 years old and a resident of Jupiter Florida and he and his son, RJ spend their summers in Montauk. He has been kitesurfing for three years and surfing for twenty five
Been to Montauk? What did you think?
Where are the Best Kitesurfing Beaches in Montauk?
Napeague is a flat water spot where most people ride. As it is a couple of miles wide, you can walk around the spot easily. It is almost always windy here!  It is gusty when it is SW and best when it is NW. You can tack into The Sound from Napeague on these days, which is the prevailing wind in the fall. Mainly SW in the summer.
Wind: NW during the fall and SW in summer
Waves: None
Shorebreak: None
There are miles of the ocean you can ride! Most people launch and ride at the White Sands Hotel. This spot also offers great downwinders depending which direction the wind is blowing to many public beaches. The ocean can have a decent shore break but the waves are typically fun and stack up well.
Wind: NW
Waves: Yes
Shorebreak: Yes
When is the Best Time to go Kitesurfing in Montauk?
The windy months to go kitesurfing in Montauk are June, September, October
Statistics
Kitesurfing Hotels and Accommodation in Montauk
Do you know a good kitesurfing school here? Submit it below.