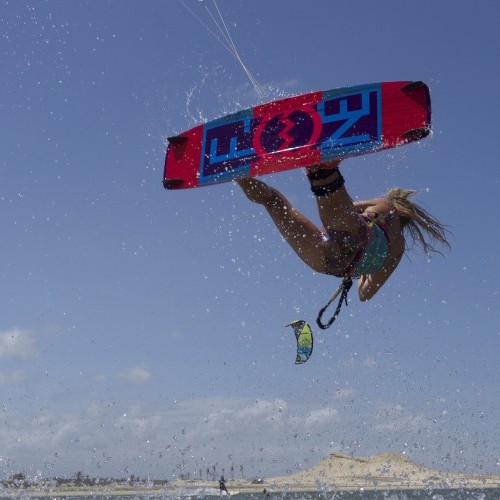 Why Visit?
Visit Brazil if you're crazy about kitesurfing and can't get enough. Brazil offers a great and diverse selection of spots and consistent winds. In the small villages, you will find only fishermen and kitesurfers, so it's easy to say that  "eat, sleep, kite repeat" applies pretty well for a Brazilian kitesurfing holiday. It's hard not to forget about the rest of the world when you're kiting every day under the sun and in-between palm trees and enjoying unbelievable sunsets and caipirinhas with like-minded people.
Wind and Weather
Rumour says that it's windy every day in Brazil from June until the end of December when the rainy season starts to kick in. It's always windy somewhere. However, the wind becomes a bit less at the end of the season, and usually, it's windier the more north you're headed. Make sure to bring only boardshorts, bikinis and sunscreen, as the sun is always shining and the average water temperature is pleasant 28 degrees.
Getting Around
Getting around in Brazil is a bit more fun and adventurous than most other places! A lot of people rent a beach buggy to get from your accommodation to the lagoons. The buggies are fun as you can ride them on the beach and park them super close to your spot choice of the day. They're handy as you can fit a lot of people plus equipment into them. It just adds a bit of extra fun to your session that you arrived with the wind in your hair and the fresh smell of the ocean. Try to go for a little ride in your buggy before renting it; they're not always in the best conditions.
Getting There
Fly into Fortaleza airport (FOR). Direct flights from Lisbon, or have a layover in another Brazilian airport. Once you arrive in Fortaleza, have a taxi pick you up from your pousada (bed&breakfast) as there's a considerable risk the taxi drivers from the airport won't know the small village you're going to. Try to avoid spending the night in Fortaleza as it can be dangerous.
Food and Drink
If you're following the newest trends among healthy food, you've probably heard about the magical "Acai", which nutritionist claim is good for anything from skincare to weight loss. The Acai berries are originally from Brazil only to be found in the jungle of Amazonas. Even in the smallest villages, Acai is to be found served in small street vendors. Mixed together with local guarana syrup, topped with fresh bananas and granola the "acai-bowls" tastes like a piece of heaven. Most kiters enjoy this special treat for lunch, and some people even have fun competitions on how many bowls they can eat. Every time I visit a new place in Brazil I make sure to check out their choice of Acai, sometimes even before I check out the spot. My personal favourite so far is from a small cosy place with hammocks in the village of Taíba.
During a holiday in Brazil, you will most likely get acquainted with caipirinhas, which is the national cocktail of Brazil. The mix between cachaca, sugar and lime is enjoyed both day and night. During the weekends a lot of Brazilian comes to the lagoons to drink caipirinhas and dance to the beats of Funk-do-brazil.
Nightlife
You will find anything from cosy bonfires on the beach to cute bars at the beach. It feels good to enjoy a few caipirinhas after a long day of kiting close by the beach to the sounds of the waves. Sometimes during the weekend's different posadas (b&b) host themed parties. It can be anything from full moon parties to live reggae and Halloween. If you like to party and dance you can go to Fortaleza for the night, make a taxi wait for you and take you back when you wish. It is the safest and easiest way to do it. Jericoacoara a northern and windy spot is well known for fun party vibes and fun until the sun rises.
No Wind?
No one, nowhere, can control the wind. So it does happen that you have a windless day or two now and then. Most people enjoy the day off from the water, relaxing their tired bodies on the beach, reading or getting a message. There are not many "no wind" activities going on. In some spots like Jericoacoara, you can go horseback riding, enjoy the fantastic sunset or enjoy live music at night. Bring good books and board games to keep you entertained during windless days and at night after kiting. In Taíba it's possible to go paddle surfing in the small village. There's a surfboard rental close to the spot. Ask the locals about the tides to go at the best time.
The sunsets in Brazil are genuinely magical. Make sure you watch it in the dunes. It's exceptional and romantic to watch the sun go down over the endless amounts of sand.
Internet
The access to the Internet varies a lot depending on which pousada or hotel you're staying at. Don't expect too much though. The best option to get the best service is to buy a sim card for your phone. In my opinion, it's kind of nice not to be connected with the rest of the world all the time. You got the wind, sun, great people to share your sessions with, what more do you need?
Accommodation
It's just an extraordinary experience to wake up to the sound of waves and the sun kissing your face in the morning. You look outside the window, and all you see is the wind starting to blow in the palm trees. I'm sure no matter where you're going to stay; it will be amazing. You can find accommodation in all price ranges and luxury levels. If you're travelling on a budget, there are a few hostels to choose between, usually a younger crowd who enjoys and pushes each other on the water.
Most visitors stay at Pousadas, bed & breakfast, like places for a reasonable price. There's a cosy atmosphere where you can chill at the pool and guests eat breakfast together. Other midrange options are apartments that allow you to cook homemade food. There are also quite a few high-end options with charming hotels providing big rooms with a great beach view.
Featured
Peru is a beautiful and safe destination, with the best climate ever, plenty of other activities like yoga, surfing, diving, whale watching, a wide variety of restaurants to try... You will not regret it! Mancora offers a 98% wind statistics, long, perfect waves and endless summer! What more could you ask for! Wind and Weather The windy season is From…
Montenegro is situated in the south of the Adriatic and is an extraordinary place. It offers an abundance of beauty, beaches, crystal clear lakes, the sea and incredible scenic mountains. In the mornings, you can wake up along the beautiful Adriatic coast, have lunch on the banks of Skadar Lake, and enjoy an evening walk in the Montenegrin mountains. Ulcinj…
Frequented by some of the planets top kitesurfers and home to the scintillating Red Bull King of the Air, Blouberg in Cape Town cannot fail to express through action just what an incredible place it is. It is infamous for its strong & reliable wind from December through to February. The shoulder months of November and March are often also…
Emely Freja is a girl with passion for life, kiteboarding and travelling. 6 months a year she's living her dream life around the globe where ever the wind is blowing. For the rest of the year she works in her home country, Denmark, as a yoga teacher and surf lifeguard.
Been to Fortaleza? What did you think?
Where are the Best Kitesurfing Beaches in Fortaleza?
Uruau is a small village in the northern part of Brazil. There are two pousadas right on the beach, so it's super easy to check the wind and get on the water fast. The ocean is nice to kite in, and there's also a very tiny lagoon for freestyle riders. There's not a lot of space to the right side, but the left side it's perfect for tricks. Very lovely atmosphere and the people that stay here often get to know each other, as the place is tiny. The wind is usually a bit lighter here than other places because it's more south so bring the big kites!
Wind: Morning side shore. Midday- night onshore.
Waves: Can be a few in the ocean for kickers. But don't expect too much.
Shorebreak: No
Cumbuco is one of the places with a bit more life, and a lot of kitesurfers are enjoying life here. Not only a lot of Brazilian professionals but also a lot of foreigners.  The most common place to ride is in the ocean – a mix between chop and waves with beautiful scenery of the beach and palm trees. If you want to try something different than the ocean, you can visit one of the two lagoons close to Cumbucco. Cauipe is the more northern lagoon and is accessible downwind or by car/buggy. The size of the lagoon varies every year and decreases throughout the season due to changes in the rain season. The lagoon offers flat butter water, but space is limited so don't expect endless flat water cruising. A lot of freestyle kiteboarders practice in this lagoon. The other lagoon, Tabuba is located more south of Cumbuco, more spacious and accessible by bus or car/buggy. You'll find different scenery than most other spots with buildings and a road in the back.
Wind: Sunrise until sunset
Waves: Can be some good and fun waves. On a downwinder from Cumbuco to Cauipe, you will find some good spots.
Shorebreak: No
Taíba is my favourite place to kite. Kilometre after kilometre of sandy coastline leaves you breathless and with your heart pumping in your chest. The ocean is endless, and you got the entire to play in by yourself.  The lagoon is a well sized, making it fun for a lot of people. There are some nasty rocks downwind in the lagoon, so watch out. In the small fishing village a few kilometres away you'll find not only the fresh catch of the day but also a decent wave spot also suitable for paddle surfers, however not the best place to learn it. I wouldn't recommend going here alone, but a super nice and laid back atmosphere for a group.
Wind: Sunrise until sunset
Waves: In the village
Shorebreak: No
Macapa is located in the state of Piaui, about 450km north of Fortaleza. The spot is unbelievable beautiful. Huge lagoon with mangroves and small lagoons are created depending on the tide. The wind is BLOWING at this spot, so make sure you bring some small kite, the ideal place if you love big air and hooked-in tricks! The pousadas in Macapa are very cute, with small flowery gardens and small swimming pools ready for a dip after a salty session. They create a cosy atmosphere, perfect for resting and chilling after a long day on the water. All the posadas in Macapa are close to the beach, so it's very nice to stay at a place where you can walk back and forth with your equipment for lunch and check the wind and the tide throughout the day.
Wind: Sunrise until sunset
Waves: No
Shorebreak: No
When is the Best Time to go Kitesurfing in Fortaleza?
The windy months to go kitesurfing in Fortaleza are June, July, August, September, October, November, December
Statistics
Do you know a good kitesurfing school here?