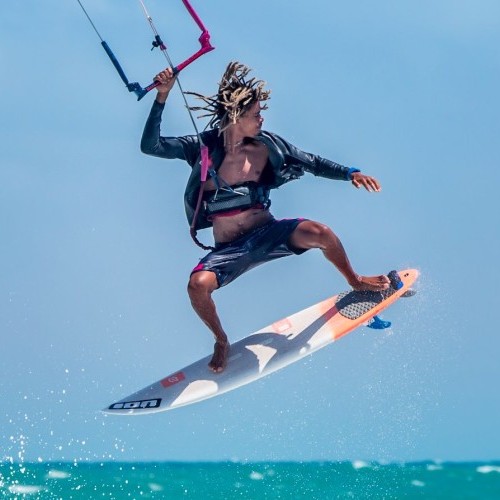 Why Visit?
There are many locations for kiteboarding in Brazil, but some of the best kiting conditions in the world are found along Brazil's north-eastern coast!
This region offers incredible conditions, perfect for kiters who:
Want to practice long distance kiting and test their endurance
Are interested in progression and improving their kiting abilities
Are looking for a new adventure and to practice the sport of kiteboarding
Most importantly, conditions that are perfect for kiters of all levels.
From Cumbuco to Atins, you will find good wind, warm water and clear skies for eight months a year. The kiting locations are in the middle of paradise and are unlike anywhere else in the world! There is no other place where it is possible to follow the coastline for hundreds of kilometres, having constant wind and warm waters along the entire coast.
Wind and Weather
The weather is very consistent and is generally about 75-85°F with no rain and mostly sunny, warm water and windy days. The high wind season in Preá officially begins in July and runs through February. Enjoy winds that range from 20 to 30 knots every day during this season. While it is the tropics, northern Brazil is breezy and not overly humid, and you are often on the water during the warmest parts of the day.
Getting Around
Preá is approx. 270 km away from Fortaleza. All year round, there are public buses between Fortaleza and Preá beach.
Departure time from Fortaleza (depending on where from) is normally between 10 am and 6 pm. The company's name is Empresa Fretcar, and they sell tickets at the airport (booth next to Ceará Tourism Information). Between Fortaleza and Jijoca the transport is done by bus, and then between Jijoca and Prea is done by 4x4 Jardineira vehicle or buggy. The entire trip takes approximately 6 hours.
You can rent a car in Fortaleza to get to Preá beach – which will be about 4 hours from the capital to Preá beach - you will need a map because the road is not very well signed. The best route is using highway CE-085. From Prea to Jeri, only 4x4 jeeps, buggies or vans can make it up to the dunes. Rancho do Peixe offers a transfer to Jeri three times per day for their guests.
Another option, and also the most expensive way to get to Jericoacoara, is by helicopter. The capacity for each trip is five people, and the flight takes approximately 50 minutes.
Food and Drink
You'll be eating more than you should; the food in Brazil is fantastic! Fresh fruit and vegetables are a daily privilege and are products of the rich agricultural environments found in here. Here you will discover fruits that cannot be found anywhere else in the world, and we can assure you that the açaí will leave you with "saudades". Enjoy a juicy steak, or some fresh fish— Brazil has it all!
Nightlife
Prea is only 20 minutes from Jericoacoara and has no public lighting, but this does not prevent the nightlife and "baladas" from happening; the starry sky and the moon take care of lighting the streets! There are places to dance forró and samba till 2:00 am. There are never two 'baladas' happening at the same time; they organise themselves in turns, which is great because we all tend to go to the same places.
No Wind?
We guarantee the wind during the high season! From February to June you'll still get windy days, but prepare to bring your foilboard.
Internet
The Internet is good at Rancho do Peixe hotel, and you'll also find a good connection in surrounding areas.
Accommodation
You'll feel right at home at Rancho do Peixe, is comfortable, rustic, and the atmosphere will make your trip one to remember! For more information about Rancho do Peixe, please click here. There are also several Air BnB's around the area as well.
Featured
The San Blas are 367 deserted islands located on the Caribbean side of Panama. The local Kuna Tribes inhabit only 10% of the islands. White sandy beaches and crystal clear blue waters are waiting for you! Have a rest under one of the shady palm trees after an excellent kite session and get to know the locals and their unique…
Tigertail Beach is a beautiful, white-sand beach on Florida's Marco Island (on the Sunshine State's west coast). It's a unique spot, and you can kite its flat-water lagoon or easily walk across a thin strip of beach separating the lagoon from the gulf and kite the surf and chop in the Gulf of Mexico. However, it is a bit of…
Essaouira provides the ultimate location for your kitesurfing holiday. It's easy to travel to as there are many daily flights from Europe, it's relatively cheap and there are a variety of conditions on your doorstep from a flat water lagoon to world class waves. There is everything on hand without the need of a car. You'll find no shortage of…
Jalila studied tourism and she is passionate about her country and origins. She started the SSF project in 2013 together with e-group company, and was invited to move from Rio to Jeri to develop the business. She studied every corner between Ceara to Maranhao, and chose the best spots for kitesurfing in Brazil!
Been to Preá? What did you think?
Where are the Best Kitesurfing Beaches in Preá?
Preá Beach is the most popular and constant wind spot in Brazil, which has various activities and entertainments, and in recent years the kitesurfing made this beach one of the most visited in all Brazil for lovers of strong wind. Located just 12 km from the incredible Jericoacoara beach.
Wind: Side on
Waves: If there is some swell in the water, certain spots at river mouths, sandbars and points can produce some fun stuff!
Shorebreak: No
When is the Best Time to go Kitesurfing in Preá?
The windy months to go kitesurfing in Preá are January, February, July, August, September, October, November, December
Statistics
Do you know a good kitesurfing school here?
Kitesurfing Videos and News in Preá
2 years ago
Up & Coming French shredder Capucine Delannoy has sprang (or double front rolled, rather) onto the scene of strapless freestyle. At only 14 years of…