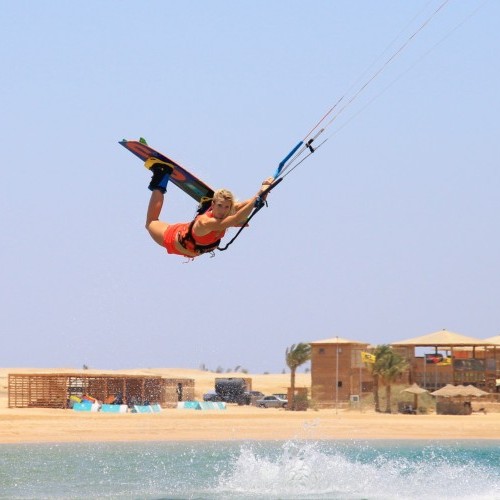 Why Visit?
Egypt provides a phenomenal playground with consistently windy conditions for 75% of the year. The warm, dry African winds pass through the desert to offer an enjoyable hairdryer type breeze as you cruise over the Red Sea crystal clear. The water is flat, turquoise and great for freestyle. It is a relatively short hop from Europe and is usually available at reasonable prices.
Getting Around
Base yourself from one of the many hotels and use their free transfer bus to the beach or nearby hotels, spas and golf courses.
Food and Drink
The European traveller well thinks out the food in this part of Egypt. Every morning there is a buffet with muesli, cereals, eggs, pancakes, ham, cheese, breads and much more. At lunchtime, there is a simple yet delicious menu from wraps to pizza and salads, and for dinner each evening, the hotels put on a daily themes from Greek, Italian, Oriental, Kitchen, Beach bbq and more. There is a huge amount of time and effort to prepare great food, and it's a definite highlight of the trip.
No Wind?
Golf, spas, snorkelling, diving or chilling out by the pool. This is a reasonably chilled holiday where kitesurfing is your primary option. Still, there is a tranquil vibe for those no wind days and afternoons where you can quickly take up any of the above activities within the hotel complex.
Internet
Good – there is Wi-Fi around the hotels in the main areas and some rooms. However, there is an internet cable for the rooms where the Wi-Fi does not reach so that you can hardwire yourself in.
Accommodation
The Breakers Surf & Dive Lodge is a great and relaxed choice for kitesurfers. Arguably the first choice because the management is kitesurfers themselves. There is a sky bar to enjoy relaxed drinks as the sun sets over the mountains, or you can make the most of the airy yoga studio if you need to ease out any kinks from your long day on the water. Other great hotels such as Robinsons, Sheraton & The Cascades. All the hotels are on a half board basis and built around 2010, so they have great quality rooms with air conditioning, excellent service, refreshing swimming pools and well-kept beaches.
Wind and Weather
The wind blows here from March – to November. June, July and August are the warmest months when you do not need a wetsuit on the water or long sleeves for the evening, but on the months on either side of the summer, you may need a shorty on the water and a hoody for the evenings. The sun here is really strong, so I recommend wearing good sun protection when on the water with regular reapplication. To be safe, it may be worth it to bring long sleeves and a hat to wear both on the water and off! The wind strength varies, with some days blowing around 30+ knots and others around 15-18 knots. A minimum kite requirement is your 12m and 9m, but if you have a 7m, throw that in.
Egypt
Error getting country data...
Featured
On the west coast of Lithuania lies Palanga, a popular spot on the Baltic Sea for kiteboarding, landboarding, SUPing and surfing. Eighteen kilometres long and up to 300 meters wide of sandy beaches, it is the busiest summer resort in Lithuania. The conditions can be pretty choppy and wavey, especially if the wind blows from the west, northwest or southwest…
The Cayman Islands, a British Overseas Territory, is made up of 3 islands in the western Caribbean Sea. It is famous for its tax havens to many global businesses, but recently kiteboarding has prospered due to the warm Caribbean waters and steady trade winds. Located south of Cuba it is a relatively close hop from Miami, so there are lots…
When thinking of ideal kiting locations, turquoise water, sunshine and consistent winds spring to mind and Great Britain can deliver these despite its poor reputation. Southend On Sea is just a 40-minute train ride from London and offers some of the best flat water spots, with spacious lagoons and flat butter water! There is also an awesome kite community with…
Jo rides for North Kiteboarding and runs a Kitesurfing Coaching & Holidays business travelling around the world to various destinations running coaching trips wherever she goes. Her successful South African Adventure Holiday has been running since 2010 during January & February where Jo mixes up freestyle coaching in the flat water lagoon of Langebaan through to riding at the various spots of Blouberg.
Been to Soma Bay? What did you think?
Where are the Best Kitesurfing Beaches in Soma Bay?
Soma Bay is tucked in to one corner of the Red Sea. There are 2 beaches running at a right angle to each other. The wind blows off shore from the main beach where launching and landing takes place, but just a short cruise away the beach bends and you have a cross shore effect to walk back upwind or take a breather on the bank if you need it. A beach rescue and storage package is an compulsory and essential purchase (often included in your package price), but this gives you access to the highly efficient beach staff who are there to launch and land your kites whenever you need it.
There is a also a boat rescue service with as many as 3 boats on the water during peak season to ensure that you are spotted in your time of need and therefore benefit from direct assistance should you ever require it. Back at the Kitehouse you have your own private storage locker big enough for all your kitesurfing equipment and there are a selection of compressors to aid your pumping up experience in the warm Egyptian heat. Facilities wise the Kitehouse is like a giant Sauna style set up, air conditioned inside with a restaurant to purchase your drinks / lunch and seating / sunbathing area outside.
There is also a kite shop to purchase a limited range of clothing and wetsuits or a kite school to hire any equipment that you might need or take lessons from if you are a complete beginner. There are warm and clean showers and inside lockers for your valuables. The customers' experience is The Kitehouse sole focus and you can be sure they will do their very best to offer you an impeccable, safe kitesurfing experience. To do this they have very welcoming front of house staff, 24 hour security and all their instructors are competent, speaking a variety of different languages.
Wind: Offshore – Cross shore
Waves: None
Shorebreak: No
When is the Best Time to go Kitesurfing in Soma Bay?
The windy months to go kitesurfing in Soma Bay are March, April, May, June, July, August, September, October, November
Statistics
Do you know a good kitesurfing school here?
Kitesurfing Articles that Mention Soma Bay
Issue 72
Colleen Carroll, Hannah Whiteley, Mikali Sol, Paula Novotna and Francesca Bagnoli head to Egypt to film for an upcoming kite movie. The project is the brainchild of Colleen and if the pictures we've got are anything to go by the movie should be an instant hit!
Kitesurfing Videos and News in Soma Bay