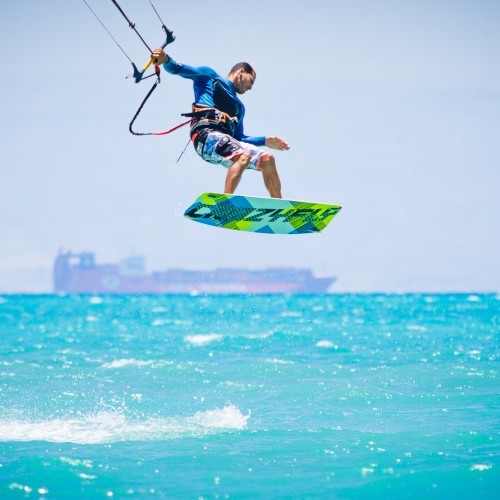 Why Visit?
Ras Sudr is located in Sinai, one of the most magical parts of this world, with much history. As a kite location, Ras Sudr is considered one of the best kitesurfing spots in Egypt. The fact that it is just a stone's throw away from Cairo makes it a trendy weekend destination for kitesurfers living in Cairo. Ras Sudr has a very chilled and relaxed vibe! People there want to escape the city madness, unwind, kitesurf and have a beer! The flat water, shallow lagoons and white sandy beaches make it a giant playground for beginners and advanced kitesurfers. All the kite spots are 40 kilometres. Ras Sudr is a relatively remote destination and is not overcrowded with mega-developments or people.
Wind and Weather
The weather is incredible; during the summer season, it's a sweet 28 to 35 degrees, and the wind is at its best from March through to November. The average wind speed is 16 knots to 25 knots. It tends to be the windiest around the end of August to September, with days where it gusts over 30 knots. No wetsuits are needed during the summer months! Just a light rash vest to protect you from getting sunburnt! During the winter months (November to March), most of the centres in Ras Sudr will close for renovation or upgrades from their busy season. During those months, it will get tranquil in Ras Sudr. Some centres might remain open or be willing to host guests, but I recommend you drop them a line before you book.
Getting Around
In Ras Sudr, you need a car or taxi to get around the town and to other kite spots. You will probably kitesurf at the closest spot to where you are staying, and most centres will have enough going on during the day and the evenings to keep you entertained and not wanting to move from one spot to another.
Food and Drink
Matarma Bay Hotel has the most extensive and mouth-watering menu in Ras Sudr. When people think of food in Ras Sudr, they think of Matarma Bay which offers a variety of international cuisine dishes. Soul kitesurfing has a restaurant with delicious burgers, salmon steaks, mussels, salads and vegetarian-friendly options. They also offer refreshing smoothies, fresh juices, and coffee. Besides that, there are quite a few restaurants open around, and there will be food at the hotels. All the kitesurfing centres have a beach bar with a lunch menu, snacks, and drinks!
Nightlife
There are eight centres in Ras Sudr, so there is always something going on that will suit your mood. From crazy parties to just a chilled evening! If you are the laid-back beach type, you will blend right in. The nights are mostly spent with your feet in the sand listening to chilled tunes and enjoying the relaxed vibe. There are many big events around the holidays throughout the year, from local rock bands to high-end DJs, and the best part is that they're all at the beach, barefoot!
Soul Kitesurfing is open daily until midnight and offers live music and bands most weekends, and always has music playing at night for entertainment. There's still a crowd dancing the night away at Soul.
No Wind?
Most of the centres rent out SUPs and kayaks and offer wakeboarding. You are 80% guaranteed to see dolphins swimming around on no wind days! You'll also find other activities to do, including yoga, SUP yoga, beach volleyballs, football, tennis and much more. If you want to take a break from the sea, you should book a safari and check out the Ras Sudr desert surrounding the bay. Don't feel like doing any sports? There will always be a crowd to have a beer with and listen to some good tunes.
Internet
Most places in Ras Sudr do not have wifi, it may not always be convenient, but they seem to like it that way! However, if you do it, it is easily provided. You can either purchase a sim card for the duration of your visit for close to nothing or ask one of the staff members to 'hot spot' you for a minute!
Accommodation
Soul kitesurfing Centre is based at La Hacienda Hotel. Over 50 bungalows on the seafront with air conditioning, a TV, and a minibar fridge. The bungalows are within walking distance from the centre. Another option we recommend is Matarma Bay which has 44 luxuriously finished bungalows with ensuite bathrooms, all fitted with air conditioning and TV with fantastic views of the bay. 360 Kitesurfing Centre has a designated camping area with direct access to the beach. Here, you can pitch your tent and enjoy unobstructed views of the sea and stars!
Egypt
Error getting country data...
Featured
If you're looking for the perfect getaway vacation that involves water, beaches, water sports and a serene nightlife, you can't get any better than Boa Vista! It is the must-go-to-location for beach and water lovers. Boa Vista is located on the eastern side of the Cape Verde Islands and is the third largest island in the group. Boa Vista, which…
Ayvalik is a traditional seaside town on the Northern Aegean sea in Turkey. It is located on the southern coast of the Gulf of Edremit, just across from the eastern coast of the Greek island of Lesbos. It is situated on a narrow coastal plain surrounded by low hills to the east which is covered with pine and olive trees.…
Coconut Bay is located just minutes from the international airport on a pristine stretch of sandy beach, along the exotic southern coast of St. Lucia. The resort's exclusive watersports complex, Surf Shack, is so well situated that you can be on the beach and getting ready to surf just 45 minutes after landing! The spot itself is suitable for all…
Italian/Egyptian Jen Tyler grew up on the sandy beaches of the Red Sea and has been on the IKSURFMAG & Tonic Mag team since 2017.
Been to Ras Sudr? What did you think?
Where are the Best Kitesurfing Beaches in Ras Sudr?
The Kite Buzz centre in Ras Sudr offers great conditions covering the full range of kitesurfing levels and needs. During low tide, there is nothing quite like The Kite Buzz; 2 kilometres of waist-deep water, with constant cross on-shore wind creating the safest and biggest playground at Ras Sedr for over 15 kilometres. No more bumping into each other.
During high tides, riders can enjoy the vast open space and the exciting kicker waves which turn the spot into the jumping mecca of Egypt. The wind conditions are friendly and consistent. Kites used range from 9 to 12 meters, which is ideal for both complete beginners as well as pros.
Wind: Side/On-shore
Waves: During the high tide, occasionally
Shorebreak: None
At low tide, the water is super flat, and the spot consists of several small lagoons making it a great playground for tricks. At high tide the water becomes a little choppy making it perfect for jumping. The sunset sessions at Soul Kitesurfing are something to remember!
Wind: Onshore
Waves: Behind the reef, it's more choppy
Shorebreak: None
Kite beach is the most popular spot and enjoys a good mix of flatter water and waves on the reef. When it gets windy, it can get choppy on the inside, and during peak times it can get busy. Hold off for an evening session or get out during lunchtime to avoid the masses.
Wind: Cross on from the right
Waves: Out on the reef
Shorebreak: None
Kiteloop is back in a new spot in Ras Sudr! Located in Matarma Beach Residence, a two and a half hour drive from cairo, offering a variety of water sports activities and memorable experiences. Our school is stretched over a beautiful bay in Ras Abu el Matarem with a great side-onshore wind. Kiteloop will be the next stop for Kitesurfing Nationals.
Wind: Cross on from the right
Waves: Out on the reef
Shorebreak: None
When is the Best Time to go Kitesurfing in Ras Sudr?
The windy months to go kitesurfing in Ras Sudr are March, April, May, June, July, August, September, October, November
Statistics
Do you know a good kitesurfing school here?
Kitesurfing Videos and News in Ras Sudr
1 year ago
If you're reading this, there's a high chance you've booked your flight to Egypt, or you're seriously considering travelling there! Aside from sunshine, humble people,…
8 years ago
You just can't go wrong with a good old 'airstyle or 'old school' edit! Watch as Toby Braeuer, Lukas Vogeltanz & Noussa Denkler show off their impressive…