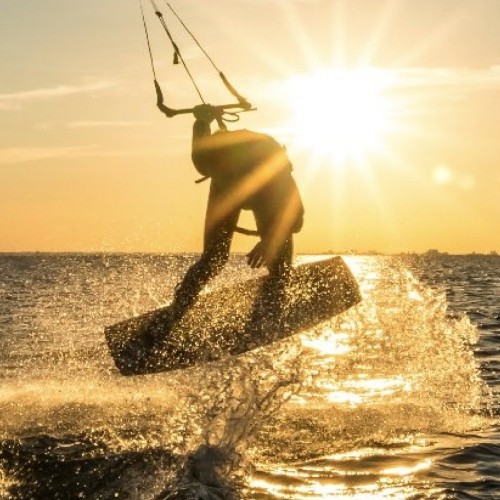 Learn to Kitesurf in Egypt
Features / Wed 6th Jul, 2022 @ 4:43 pm
If you're reading this, there's a high chance you've booked your flight to Egypt, or you're seriously considering travelling there! Aside from sunshine, humble people, clear blue waters, and a constant warm breeze, Egyptians are known for their incredible sense of humour, kindness, and hospitality. The temperature ranges from 25-35°C from April to November and 12-22°C from December to March, making it an ideal place for learning to kiteboard. We've visited the best spots Egypt offers and done the research for you!
Wind & Weather
Unlike most countries, Egypt isn't very seasonal! The winters are mild, and the summers are hot. And we mean 45c hot! You can expect highs of 20 and lows of 12 throughout the day from January to March. There is a good wind blowing between 18-25 knots 85% of the time in April, May and June, making it one of the most pleasant times to visit Egypt. July, August, and September are hot. During those months, most Egyptians escape to the North Coast. So wherever you visit, you might find it a little quieter. When the weather cools down in October, November, and December, it becomes most comfortable for tourists who don't really enjoy the heat but still want to escape the colder climates.
Win a Commander Twin Tip by Eleveight, CORE's all-new Link harness, or an ultra-light board bag from Prolimit this issue in our FREE subscriber prize draw.
Best time of the year to visit?
The best time to visit is between April and June or October and December when wind and weather are at their best.
Getting There
If you are planning to learn to kiteboard in El Gouna, Soma Bay, or Hamata, we recommend flying to Hurghada airport, which is about 20 km from El Gouna, 60 km from Soma Bay, and about 350 km from Hamata. Then, you can fly into Sharm El Sheikh airport for Dahab, about 80 kilometres away. Or, you can fly into Cairo airport for Ras Sudr, which is around 250 kilometres. Before you arrive, book a taxi so he can be waiting with a sign. Without it, you'll end up haggling with taxi drivers outside the airport and paying triple!
Visas
Travellers on a group or private tour will also get a visa from the tour organiser. However, travelling alone, you can easily buy one at the airport. In addition to the 30-day access, you must also have a passport that expires at least six months after you return. Be sure to check for any specific entry requirements for your country. You can find out more about visa requirements at this link.
"Is Egypt safe?"
We can't hide the fact that there have been attacks targeting both tourists and Egyptian citizens across the country – some of which were as recent as a few months ago – so we can't claim outright that "Egypt is safe" simply because we've never encountered any problems! No country is 100% safe. Are London, Miami, Cape Town or Brasilia safe?
It is imperative to take precautions and be mindful, just as you would in any foreign country. In general, there is very little violence against tourists, so all you have to worry about is petty crimes and minor scams. Even though there will be a military presence, you won't feel threatened. In general, make sure you stay up to date on Egypt's news ahead of your trip and check travel advisories for the latest updates and developments.
Kiteboarding Spots
On the Sinai Peninsula, Dahab (meaning 'Gold') is a small Bedouin town. Only an hour's drive from Saint Catherine and Mount Sinai, Dahab was first filled with pilgrims on spiritual and religious journeys. Dahab is also renowned for its windy conditions and its incredible underwater world. Anyone who has visited Dahab will tell you why it is such an exciting place.
Dahab offers a variety of kite spots that are suitable for beginners as well as intermediates and advanced kitesurfers. In addition, the area provides flat water lagoons, deep water lagoons, and secluded lagoons that can be accessed only by camel or foot.
Despite its primitive feel, Dahab still has a lot to offer; you won't find Starbucks, McDonald's, or Tesco around here, but you will still find everything you need for groceries, cosmetics, hospitals, etc. Moreover, it is only 80km from Sharm-El-Sheikh, where you will find everything from fast-food chains to giant supermarkets if you cannot find what you are looking for!
Click here to find out more!
The Free – Movie by Hatem Walid
Win a Commander Twin Tip by Eleveight, CORE's all-new Link harness, or an ultra-light board bag from Prolimit this issue in our FREE subscriber prize draw.
As a small town on the Red Sea, El Gouna was established in 1989. It started with a few hotels and little to do. However, over the past decade, El Gouna has flourished into one of the cosiest and most welcoming towns you will ever visit. Those in El Gouna are warm and welcoming, and you meet people from all walks of life and from all over the globe. Once you see El Gouna, you will always want to visit again! In addition, El Gouna has quickly become one of the most popular kiteboarding destinations worldwide, with gorgeous kite spots!
Click here to find out more!
This kitesurf paradise has crystal-clear waters, waist-deep areas for beginners, and plenty of room for advanced kiters to try new tricks. It is much greener and more diverse on the water than other Egyptian spots, with a scenic mangrove forest upwind and three beautiful islands with reefs out in front of you. If you're coming from Europe for a short trip, this is the perfect place to go for some of the best wind statistics in Egypt. If you kite out to the islands, you can see the reefs clearly as if you were in an aquarium. Featuring sandy beaches (no sea urchins in the water), a well-organised kite station, and plenty of sun beds to chill out on in between sessions, it is the perfect place for a kite trip filled with "eat-kite-sleep-repeat."
Click here to find out more!
Ras Sudr is just a stone's throw from Cairo, making it a hot weekend destination for kitesurfers living in Cairo. The site is considered one of the best kitesurfing spots in Egypt. The beach is sandy, flat, and shallow, making it a perfect place for beginners and advanced kiters to unwind, kitesurf, and have a beer. It is a vast playground for kitesurfers of all levels.
Click here to find out more!
Throughout the year, Egypt has windy conditions that provide a phenomenal playground. While you cruise over the crystal clear Red Sea, the warm, dry African winds pass through the desert, offering a hairdryer-like breeze. Soma Bay is a relatively short hop from Europe and is usually available at a reasonable price since the water is flat, turquoise and ideal for freestyle!
Click here to find out more!
Win a Commander Twin Tip by Eleveight, CORE's all-new Link harness, or an ultra-light board bag from Prolimit this issue in our FREE subscriber prize draw.
'Ancient Tides' is a documentary about kiteboarding in Egypt, taking you to the bright blue lagoons of the Red Sea with some of the best kite conditions in the world. A film by Cabrinha Egypt.
Visiting Cairo
Despite its chaos, Cairo is not without its charm, an experience you won't soon forget. It's full of history, temples, scents, heat, sand, and the Nile. Then, of course, you'll experience that incredible moment when you first gaze upon the Pyramids of Giza. Remember, though, that to begin with, it's chaotic! So it's best to hire a driver, sit back, and enjoy the ride.
Dos and Don'ts
Dos:
Hire a driver: Driving in Egypt is mental – FACT – and there are no lanes or signalling for lane changes. An experienced local driver will help you navigate Egypt safely instead of trying to drive around on your own!
Have a plan! Please don't go to Egypt and wing it. It's good to have an itinerary booked with the things you want to do. Don't get sucked into people convincing you to go somewhere on an overnight trip; chances are, if you didn't know about it or book it during your research, it's too draining to do as an overnight trip. You don't want to spend 15 hours on a bus to see temples in 30c and drive back!
Don'ts:
DON'T DRINK THE TAP WATER! It is not recommended to drink water from the tap in Egypt. However, water treatment plants in and around Cairo chlorinate the water supply, making it relatively safe for consumption. However, we still recommend drinking bottled or purified water if you are visiting. (Yes, you can brush your teeth with tap water!)
Avoid eating salads and raw veggies since they are likely washed in tap water too!
Depending on where you are going in Egypt, you should pack accordingly. For the ladies, you can wear what you like, as long as you are by the seaside. Once in the city, we recommend leaning towards the more conservative or looser outfits to avoid attention. Egypt is a progressive Islamic country, so it's always good to bear that when visiting downtown Cairo. But, once you are near the seaside, there is no need to cover up!
Here is a good rule to follow: Nothing is free! So don't go on a "free" camel ride, and don't accept any "free" souvenirs!
Helpful Arabic Words!
Hello: El Salamo Aleikom
Good morning/evening: Sabah el Kheir / Masaa el Kheir
What's your name? : (Male) Ismak eih? (Female) Esmik eih?
My name is… Ana esmi…
Thank you: Shokran
How much is this? Bkam dah?
Please: Shokran
My Arabic is poor: Ana mesh baf-ham Arabi kwayyes!
Very good: Helwa Awi
Stop: Bas
Yes: Aywa
No: La'a
Right: Yimeen
Left: Shemal
Straight: Alatool
Wed 6th Jul, 2022 @ 4:43 pm
Italian/Egyptian Jen Tyler grew up on the sandy beaches of the Red Sea and has been on the IKSURFMAG & Tonic Mag team since 2017.
Featured in this Post
Comments