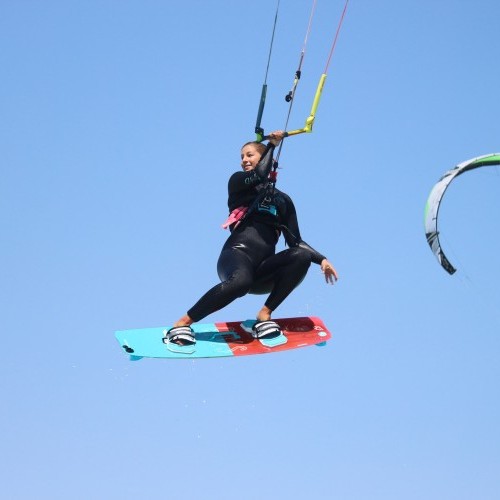 Why Visit?
Hamata is a kitesurf playground with crystal-clear water, a huge waist deep area for beginners and lots of space for the advanced ones to practice new tricks. Unlike other Egyptian spots, it is pretty green and diverse on the water with a scenic mangrove forest upwind of you and three beautiful islands with reefs a little bit further out. The spot boasts some of the best wind statistics for the whole of Egypt, making this is a perfect getaway if you're coming from Europe for just a short trip. When kiting out to the islands you can see the reefs so clearly underneath you as if you were kiting in an aquarium. Paired with sandy beaches (no sea urchins in the water), a well organised kite station and enough sun beds to chill out in between your sessions, it is all you need for a kite trip full of "eat-kite-sleep-repeat".
Wind and Weather
Hamata is windy all year round, but if you want to get the windiest times and avoid the summer heat, the best months to go are January until June and October until December. The wind is usually a bit stronger in the morning and drops just a few knots in the afternoon. You can bring your whole kite range, with the most used kites being 9m and 12m but for the lighter riders, a 7m is recommended as well. If you want to make full use of those light wind days, bring the big kites as well. From January until March and October until December you'll need a wetsuit, in the other months a shorty will be enough. For the summertime, a Lycra will do the trick.
Getting Around
The is a shuttle from Wadi Lahmy Azur hotel and from Lahamy Bay Hotel that cost 2 euro/person one way.
Getting There
You can find quite a lot of direct flights from Europe to Marsa Alam and can easily have a transfer organised from your hotel which will pick you up. Around a 2.5 hour ride from the airport later you'll arrive at the spot.
Food and Drink
The food is anything a European traveller could wish for with an Arabic twist. Even in the simpler Kite Camp, the buffets are surprising you every day with a mixture of local spices and European food. At the spot, there is a small restaurant that has all the basics you need from salads to pasta, pizza and burgers, including good espresso for the coffee addicts. Right at the spot, on the left side, there is also a tiny "Beduine-style" café, it's super sweet and traditional and within seconds you will feel like in a different world. Just go there for a cup of tea to warm you up after the session.
Nightlife
There is no nightlife in Hamata. If you would like to have a drink at night, the best option is to get yourself something at the Duty-Free at the airport when you arrive, since alcohol might not be available at the camp or is more expensive.
No Wind?
Hamata is a well-known diving destination and whenever the wind drops you have world-class conditions for diving. You can also go snorkelling, go on a quad safari or work on your backgammon skills. The spot is quite popular so it's a great place to meet other kitesurfers and hang out on the sunbeds in between sessions, you'll definitely make some new friends.
Internet
The wifi is unreliable at the Kite Camp, get yourself a local sim card with a data package at the airport or in your hotel. The mobile 3G is super fast.
Accommodation
There are a few options for accommodation, the most basic one and closest to the spot is the Kite Village Camp. It's basically a camp made out of caravans with wood panelling so you have a terrace and some seating options, a table and a seat. The whole atmosphere is very comfy and chilled out, it's a good place for solo travellers since you meet new people quite easily and the camp feels like a little family. There is also a Kite Village Hotel directly behind the kite centre, with 35 bungalows, offering breakfast and dinner, served in our restaurant in the caravan camp. If you want something a little more upmarket and don't mind staying a bit further away from the spot book into a hotel, you can also go to the Wadi Lahmy Azur Resort (****) or LahamiBay Beach Resort (*****). Both hotels offer free transfers to the kite spot.
Egypt
Error getting country data...
Featured
Maui is a can't-miss kiteboarding destination. With warm weather, consistent wind, and an endless list of no-wind activities, a visit to Maui is a no brainer. A strong, steady wind blows from the north most of the year. During the winter months, however, southerly Kona winds can light up the southern shores. The scenic crystal blue water and lush green…
Bariloche is one of the most touristic and well-known places in Argentina, and people from all over the world come to visit it every year as every season has its magic. Bariloche is situated in a national park full of mountains, forests, lakes, and rivers topped off with super lovely kite spots, what's there not to love?! You get to…
Consistent wind, turquoise blue waters, friendly locals, and plenty of authentic experiences are a few reasons Mindoro should be on your kitesurfing holiday bucket list. Mindoro is an unspoilt slice of kiting paradise should you take a less travelled path. One of over 7000 islands in the Philippines, its proximity to the Northern point of the Philippines means it experiences…
Miriam is a watersports addict and founder of the kitesurf blog Wake Up Stoked. She travels around the world as a location-independent freelance graphic designer, chasing the wind and waves. When she's not on the water she's writing about her adventures as a kitesurfing digital nomad on her blog.
Been to Hamata? What did you think?
Where are the Best Kitesurfing Beaches in Hamata?
Hamata has just one spot which is very spacious. Kiting upwind you can get close to the mangrove forest or if you kite a bit further out you can get to three wonderful islands. The waist deep area is huge and makes this spot perfect for beginners. The spot has strong winds and flat to slightly choppy water. The water is always a bit more flat with low tide.
Wind: Cross on from the left
Waves: No
Shorebreak: No
When is the Best Time to go Kitesurfing in Hamata?
The windy months to go kitesurfing in Hamata are January, February, March, April, May, June, October, November, December
Statistics
Do you know a good kitesurfing school here?
Kitesurfing Videos and News in Hamata
1 year ago
If you're reading this, there's a high chance you've booked your flight to Egypt, or you're seriously considering travelling there! Aside from sunshine, humble people,…
9 years ago
Right out on the south most edge of the red Sea you'll find the diving resort of Hamata. It's not just blessed with perfectly clear…